In an attractive game, the two teams underscored they're very up to each other, as the lead went back and forth several times. Both teams took the lead twice, but failed to hold onto it. Neptunus the took the lead for the third time in the fifth inning and this time to keep.

There was more in this game, as it saw the comeback into action of a beloved behind-the-scenes member of the Neptunus-organization. From the bottom of the fifth inning on, Karin van Aalen returned behind the microphone as the team's Public Address Announcer. She has been the longtime Announcer of the club, dating back to the early eighties when the current stadium wasn't even built. Some years ago, she stepped down, but now she is back and it sounded like she had never been away!
Welcome back, Karin!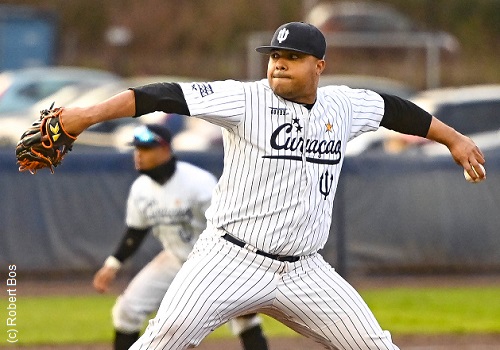 ...Diegomar Markwell was the winning pitcher...
(© Photo: Robert Bos)

Amsterdam Pirates had a surprise starting pitcher, as lefthander Jim Ploeger was named to take the mound. He got two quick outs in the first inning, then gave up a single to Dwayne Kemp. He stole second base, but Ploeger closed with a strikeout, then retired the side in the second at bat.

In the bottom of the third inning, Neptunus opened the score. With one out, Greg Muller singled and moved when rightfielder Kalian Sams made an error. Sams returned from the States a week ago to prepare with the Netherlands Team for the upcoming European Championship, but he eligible to play for Amsterdam Pirates. Muller was unable to advance on an infield-hit by Coco Johnson, but then scored on a single by Stijn van der Meer. Hereafter, the at bat ended when Dwayne Kemp grounded into a double play.
Amsterdam Pirates faced Diegomar Markwell. The lefthander retired the side in the first inning, but then got some baserunners in the second. With one out, Kalian Sams walked and with two outs, Rashid Gerard singled to put runners at the corners, but a grounder ended the at bat. In the third, Roelie Henrique singled with one out, but then Sharlon Schoop grounded into a double play.
In the top of the fourth, Markwell had a tough inning. He saw Pirates take the lead, but the team failed to take more distance, leaving three runners behind. Markwell walked lead-off hitter Gilmer Lampe, then made a throwing error followed a comeback infield-hit by Denzel Richardson, which led to runners on second and third base. Lampe scored then tying run when Kalian Sams hit a sacrifice fly and Richardson scored the go-ahead run when Kenny Berkenbosch followed with a single. Next batter Rashid Gerard reached on an infield-hit and after Niels van Weert had flied out, Pirates got runners on second and third base when Markwell uncorked a wild pitch. He then got the bases loaded when Max Clarijs walked. With that, Pirates had a chance to add some more runs, but the at bat ended when Berkenbosch was forced out on a grounder by Roelie Henrique.
Neptunus answered with two runs in its fourth at bat. This time, it was the home-team that got the bases loaded when Gianison Boekhoudt walked, Dudley Leonora singled and Shaldimar Daantji reached on a bunt-single. Jim Ploeger then struckout next batter Quintin De Cuba, but hereafter, he gave up a single to Benjamin Dille that tied the score at 2-2. After Ploeger also struckout Greg Muller, Neptunus took a 3-2 lead when Leonora scored on a passed ball. The bases got loaded again when Coco Johnson walked and now it was Neptunus that failed to take more distance, as Ploeger closed by striking out Stijn van der Meer.

In the top of the fifth, it was Amsterdam Pirates that took the lead again. Sharlon Schoop led off with a walk and Gilmer Lampe followed with a homerun to make it a 4-3 score. The next three batters were then retired.
In the bottom of the fifth, Neptunus also scored two runs to take the lead for the third time. Dwayne Kemp led off with a double and moved to third base on a passed ball with one out. When next batter Dudley Leonora walked, a pitching change followed, as Mike Groen took over. He got a foul-out, but then encountered some problems with his control. With two outs, he hit Quintin De Cuba with a pitch, which loaded the bases. He then walked Benjamin Dille, which brought in the tying run and followed with a wild pitch that gave Neptunus a 5-4 lead. Groen closed with a strikeout, but the lead had changed teams again.
Amsterdam Pirates got its lead-off hitter on base in the sixth when Rashid Gerard singled. His pinch-runner Delano Selassa was left behind on first base, as Diegomar Markwell retired the next three batters.
Neptunus added an insurance run in the bottom of the sixth. With one out, Stijn van der Meer and Dwayne Kemp singled. With two outs, Dudley Leonora delivered a runscoring single to make it a 6-4 score.
Neptunus got two more baserunners in the remainder of the game. In the seventh, off of new pitcher Maickel Rietel, Quintin De Cuba led off with a single. His pinch-runner Kaj Burema (who made his debut in the Neptunus-team) advanced on a sacrifice bunt by Benjamin Dille, but stranded on second base. In the eighth, Dwayne Kemp (who was 4-for-5) singled with one out, but was eliminated at first base in a double play after next batter Gianison Boekhoudt flied out in leftfield.
Amsterdam Pirates got a chance to do some more scoring in the seventh and eighth inning.
In the seventh, Kevin Kelly took over the Neptunus-pitching. He struckout Sharlon Schoop and Gilmer Lampe, but then gave up singles to Denzel Richardson and Kalian Sams. But they stranded on first and third base.
With one out in the eighth, Kelly walked Niels van Weert and Max Clarijs and was replaced by Misja Harcksen. He struckout Roelie Henrique and got a grounder from Sharlon Schoop to end this scoring opportunity.
In the top of the ninth, Harcksen retired the side, striking out two batters.