(Story by Marco Stoovelaar; Photos by Quick Amsterdam & Marco Stoovelaar)
IN MEMORIAM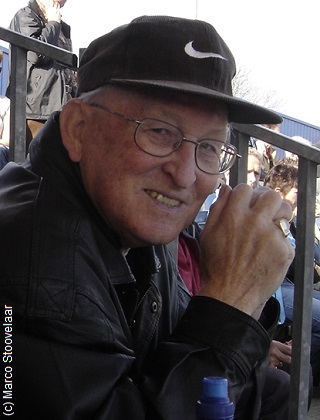 ...Wim van der Poel...
(1926 - 2019)...
(© Photo: Marco Stoovelaar)

Former Amsterdam-administrator Wim van der Poel passed away
Nederlands

AMSTERDAM (Neth.) - Former Rayon Amsterdam-administrator Wim van der Poel passed away early Saturday-morning (September 21) at age 93. Mr. Van der Poel, who had been closely involved in activities of Quick Amsterdam and Amsterdam Pirates, had some health problems in the last few years, but despite that, he remained active and frequently visited baseball-games.

The memorial service will be held on Thursday, September 26 at 3 PM at Crematorium Westgaarde at the Ookmeerweg 275 in Amsterdam.

It is possible to say farewell to Wim van der Poel at his home on Tuesday, September 24 from 2-4 PM and on Wednesday, September 25 from 7-9 PM.

Willem van der Poel, junior was born in Amsterdam on April 5, 1926 and has been active in baseball since the late forties.

Wim van der Poel started playing baseball at Quick Amsterdam, the oldest baseball- and softball-club in the Netherlands. Quick Amsterdam was founded in 1913 and included legendary players and board-members as Emile Bleesing and M.C. (Maarten) Bakker, both baseball-pioneers.

In the fifties, Van der Poel started doing some administrative duties at Quick Amsterdam. He was asked to become a member of the board and in 1958-1960, Van der Poel was the Secretary of the club. In the same years, his wife Tiny van der Poel-van Wiltenburg was the club's Treasurer. In August of this year, Wim and Tiny van der Poel were married for 66 years.

Tiny van der Poel became an Official Scorer in both baseball and softball in 1977. She retired as Scorer after the 1997 season, then was a Scoring Observer for some ten more years thereafter.

In the early sixties, the Van der Poel-family transfered to HVA. There, Wim van der Poel became one of the youth-coaches, joining, Jaap Meeder and Paul Hamstra. In 1967, HVA merged with Rap, which later became Amsterdam Pirates. At Rap, their sons Laurens and Steven also went on to play. Laurens played in the main-squad of the club during the 1982 season, the first of Amsterdam Pirates in the Dutch big league.

At Rap, Wim van der Poel initially did some more playing baseball, but also played softball for a few years. Van der Poel was always closely involved in youth activities in baseball and served in committees. He also started coaching and led several baseball youth teams of the club through the seventies.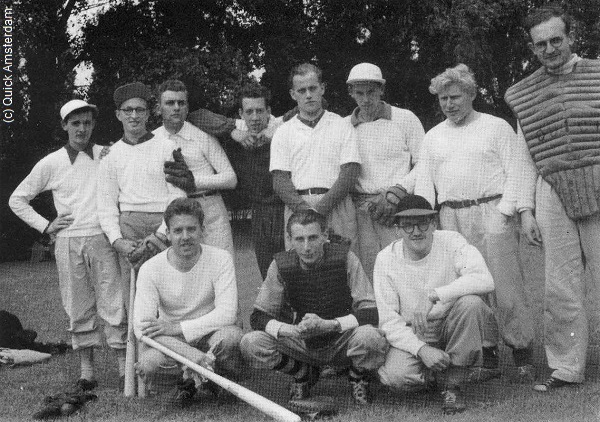 ...A team-photo of the baseball-team of Quick Amsterdam in the fifties...
...Back: Gerard Gielen, Wim van der Poel, Ben van Wattingen, Hans de Wilde...
...Henk Oostheim, Cees van Smirren, Dick Vonk and Pim Adriaansz...
...Front: Herke de Vries, Jan Bruijntjes and Dick van der Velde...
(© Photo: Quick Amsterdam)

Both Wim and Tiny van der Poel also became administratively involved at Rap, which changed its name to Amsterdam Pirates in 1974. Wim van der Poel became a member of the club's youth committee, as well as its financial committee. He also became a member of the board and led the club brielfy as chairman in the seventies.

Wim van der Poel not only was active in the boards and committees of Quick Amsterdam and Rap/Amsterdam Pirates. He also was a member of several commissions in the Rayon Amsterdam in three different decades since the late sixties. He also led the Rayon as its Chairman.

In 1969, Van der Poel joined the Youth Committee of the Amsterdam Rayon. A year later, he became the secretary and stayed on in this position for four years, then chaired the Committee in 1974. Other members in 1969 include chairman Willem Niepoth, secretary Nico Smith and members Jan Klein, Gerard Wijbrandts and Arno Snellenburg. Other members in following years include Loek Loevendie, Dolf Davidson, Joke Lammen, Wim Joost, Benno Niemeijer, Miel van Heuven, Roel Post (chairman in 1972), Bertus Caldenhove (chairman in 1973), Coen Stoovelaar and Victor van Swede. Loevendie also was the chairman of this Committee in 1970-1971.

In the same period (1969-1973), Wim van der Poel also was a member of the Financial Committee of the Amsterdam Rayon. Other members in these years include Hennie Brands, Wim Endel, Wim Kwekkeboom and Cees Boer Jr..

Wim van der Poel returned to two Amsterdam Committees in 1980. He was a member of the Youth Committee in 1980-1982 and the Committee for Competition Affairs in 1981-1982. In the Youth Committee in these years, Van der Poel was the chairman in 1980-1981 with members including Herma Hodde, Lex Rimini and Frans Schreuder. The latter was very active for many years in youth development in Amsterdam and at schools. Members of the Competition Committee in these years included Vita Aussen, Jannie Koot, Frans Mäkel, Peter Schüler and Nico Smith. In 1982 both Committees were combined into one so-called Executive Committee. Van der Poel became the treasurer of this Committee, which was chaired by Nico Smith.

A third stint as administrator in Amsterdam began in 1990. This time, Wim van der Poel was the Chairman of the Board of the Amsterdam Rayon. He held this position for two years. In 1992, all nine existing Regional Rayons were dissolved, while four new Districs were created. Amongst the members of the Board in his two years as Chairman were Margot Wielinga, Lex van de Poel, Herma Hodde and Vita Aussen. In 1992, Van der Poel was a member of the Financial Committee of the new District Noord.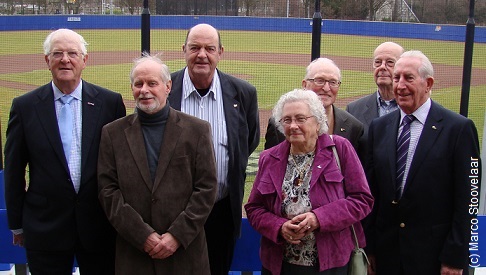 ...Wim van der Poel poses with other former members...
...of the board of Amsterdam Pirates during the...
...club's 50th anniversary in 2009...
...Left to right: Loek Loevendie, Rob Carstens,...
...Jaap van der Zee, Tiny van der Poel,...
...Wim van der Poel, Henk van Ede and Maarten van Erk...
(© Photo: Marco Stoovelaar)

In following years, Van der Poel withdraw somewhat and just enjoyed going to games. Not only to watch the baseball-team of Amsterdam Pirates, but also to accompany his wife Tiny when she was assigned as Official Scorer. After Tiny had retired as Official Scorer, the two kept on attending baseball-games regularly. Besides that, they also attended most of the meetings of De Kieviten, which not only is a baseball- and softball alumni-club, but also supports several initiatives of clubs throughout the country. In 1997-2006, Wim van der Poel was a member of the financial committee of De Kieviten.

Despite some health problems in the past few years, Wim van der Poel remained a frequent visitor of games of Amsterdam Pirates, the club of which he was an Honorary Member. Of course always accompanied by Tiny.

Wim van der Poel always had a smiling face. Even during his health problems, there always was a broad smile and he remained positive and cheerful. Van der Poel had a characteristic laugh, which was very recognizable for those who have known him through the years.

Wim van der Poel enjoyed being under people, always had time for a talk, showed interest and was very pleasant company. He will surely be missed by many, especially within the big Pirates-family, which recently also had to say goodbye to former board-member Ruud van der Wal, former player Benno Niemeijer and former clubhouse-volunteer Alie van Erk.

The webmaster of Grand Slam * Stats & News offers his condolences to Wim's wife Tiny, his sons Laurens and Steven, grandchildren, great-grandchildren and other family and wishes them a lot of strength with this loss.

(September 23)