(Story by Marco Stoovelaar; Photo: ANP Photo/Flip Martens)
IN MEMORIAM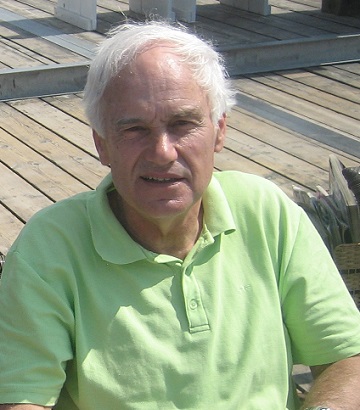 ...Benno Niemeijer...
(1941 - 2019)

Former Dutch big league-pitcher and administrator Benno Niemeijer passed away
Nederlands

LEIDEN (Neth.) - Former Dutch big league-pitcher Benno Niemeijer has passed away on Thursday, August 22 at the age of 78. While Niemeijer pitched only two seasons in the Dutch big league, he had a long career in playing baseball. In the seventies, he also was a member of the Board of the Amsterdam Region (or Rayon).

On Friday, August 30, at 11 AM, it is possible to say goodbye to Benno Niemeijer at Uitvaartcentrum De Laatste Eer at the Kamerlingh Onnesstraat 62 in Rijnsburg. Thereafter, a private crematiom ceremony follows.

Bernhard Willem Jan Niemeijer was born in Haarlem om February 1, 1941. While he was known as 'Benno' to most of his teammates and throughout his career in baseball, he mostly called himself 'Ben'. He was a doctorandus (Master of Science) in economics.

Niemeijer played for Amsterdam-based HVA after the main squad of that club won the title in the First Division in 1964 and promoted to the Dutch big league. He then played the next two seasons with HVA in the higest league. Before coming to HVA, Niemeijer played for Kennemerland in Haarlem.

While HVA had two tough seasons in the big league, the team played several fine games against higher qualified teams. Niemeijer, who was a lefthanded pitcher, was involved in some of these games.

On May 2, 1965, HVA opened the season at Haarlem Nicols, one of the strongest teams in the league. The then 24-year old Benno Niemeijer was the starting pitcher for HVA, which was coached in these years by legendary coach Wim Geestman, Sr.. It was an exciting and suspenseful game, as Niemeijer had a great outing and held Nicols scoreless, while giving up five basehits. It was reported that he pitched 'with great knowledge'. Besides that, he was supported with some fine defensive plays, highlighted by actions from short stop Peter van 't Klooster (the father of future big league- and National Team-player Dirk van 't Klooster). Niemeijer went the distance for HVA and Nicols won the game 1-0, scoring the lone run in the bottom of the ninth inning. In that at bat, Boudewijn Maat singled, advanced on a grounder by John Busch and scored on a walk-off single by Ben Tromp. With this, Heman Beidschat, who had entered the game in the sixth inning for Nicols, became the winning pitcher.

On June 19, 1965, Benno Niemeijer had another fine outing. This time against reigning champion Sparta, where players such as Hudson John, Hamilton Richardson, Simon Arrindell, Hans Augustinus and Josť Faneyte played. In later years, Niemeijer and Faneyte (the father of future big league- and Netherlands Team-players Rikkert Faneyte and Martijn Faneyte) became teammates while playing for Rap. In Rotterdam, the game against Sparta ended in a 3-3 tie in twelve innings. HVA opened the score with two runs in the third inning on singles by Leo Vonk (bunt), Niemeijer, Jo Bouwman and Jan Goossen. On the mound, Niemeijer gave up his first basehit in the sixth inning when Hamilton Richardson singled and brought in the first Sparta-run. In the seventh, Sparta took a 3-2 lead when an error enabled Toon Fabrie and Hans Augustinus to score. But in the eighth inning, HVA came alongside on a hit by Goossen. Niemeijer threw all twelve innings and gave up up only six basehits, while walking seven batters and striking out six. Afterwards, he was nicknamed the 'conqueror of Sparta'. The starting pitcher that day for Sparta was Hans Bouwen, who passed away a month ago on July 21. The next day, Sparta recorded a comfortable 19-8 victory.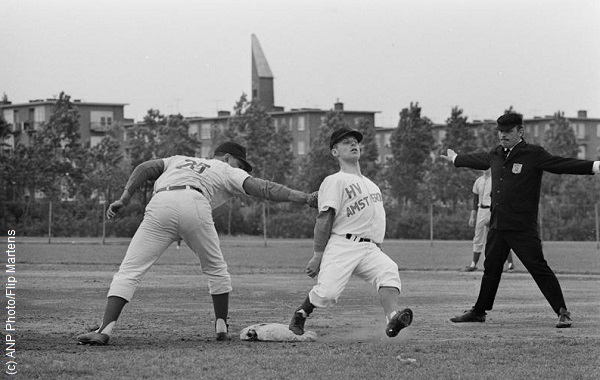 ...HVA (and later Rap) played its home-games at Sportpark Jan van Galen...
...On the photo, a moment from the home-game against ABC...
...HVA-runner Leo Vonk returns, while 1B Hugo Walker tries to tag him...
...Umpire Dick van der Klaauw gives the safe-signal...
(© Photo: ANP Photo/Flip Martens)

A week later, HVA played another great game, this time forcing extra innings against league-leader Haarlem Nicols. That game also ended in a tie, 1-1. Niemeijer didn't pitch in that game. Going the distance for HVA was Ruud Geestman, who later went on to play professional soccer. Nicols scored its run in the second inning, but HVA came alongside in the seventh when Tonny Wijnands homered.

Niemeijer's teammates at HVA were pitchers Ruud Geestman and Wim Geestman, Jr., catchers Arnoud Blom and Rob de Leeuw, infielders Han Gordinou de Couberville (2B), Jan Goossen (3B), Peter van 't Klooster (SS), Leo Vonk (2B) and Tonny Wijnands (1B) and outfielders Jo Bouwman, Peter Broeshart and Canadian Terry McIntosh. Joining the team in 1966 was first baseman Jan van Wieringen. While having two tough seasons, HVA prolonged its stay in the highest division in both 1965 and 1966. But after the 1966 season, Wim Geestman, Sr. stepped down as Head Coach, while several players left the team. Niemeijer left to play at a lower level for Bloemendaal. Some players stayed with HVA and went on to play several seasons for Rap.

HVA, which played its home games at the baseball-field at Sportpark Jan van Galen, merged in December 1966 with Rap. The new combination continued to play as Rap. While the club was entitled to play in the highest division, it voluntarily withdraw its team to play in the First Division. Taking the spot of HVA was Storks from The Hague. Storks had played a play-off for promotion against HCAW and had lost this series. Rap, which already had a successful name in youth-baseball, continued to play at its new site for many years. In 1974, the name was changed to Amsterdam Pirates. Several seasons, Pirates was very close to promotion, but in 1981, the baseball-squad promoted to the Dutch big league.

After having played a few seasons for Bloemendaal, Niemeijer came to Rap. Still a very effective pitcher, he mostly played in the second team. He also played softball for several seasons. In the late seventies, Niemeijer went on to play for BSM in Bennebroek.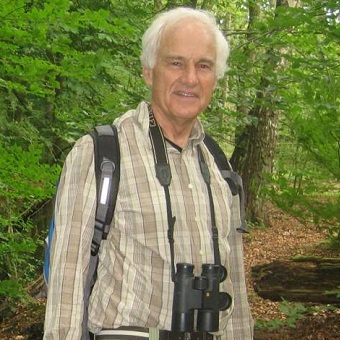 ...Benno Niemeijer enjoyed walking in...
...the nature to spot birds...

In 1971, Benno Niemeijer was a member of the Youth Committee of the then-Rayon Amsterdam. That Committee was chaired by Loek Loevendie with Wim van der Poel being the Secretary/Treasurer. Other members were Dolf Davidson, Miel van Heuven, Wim Joost (the father of future big league- and Netherlands Team-player Marcel Joost and future big league-softball-player Monique Joost) and Joke Lammen.

In 1972, he became a member of the Board of the Amsterdam Department. A year later, Niemeijer became the Secretary of the Board, a position he held through 1976. Other members of the Amsterdam-Board in those years were Wim Niepoth (chairman 1972-1973), Lex Rimini (chairman since 1974), Wim Ascherman, Bertus Caldenhove, Jogriet Endel, Wim Endel, Joke Lammen, Elly Nijhuis, Henk Ronnenbergh and Coen Stoovelaar. Nijhuis played for many seasons in the Dutch big league for HHC and the Netherlands Softball Team. Caldenhove, Ronnenbergh and Stoovelaar all umpired in the Dutch baseball big league. Stoovelaar is the father of future big league- and National Team-player Ronald Stoovelaar and baseball/softball Official Scorer Marco Stoovelaar, who also is the webmaster of this site.

In 1984-1986, Benno Niemeijer was the Secretary of the Section Board Baseball of the Royal Netherlands Baseball and Softball Association (KNBSB), which was chaired by Rob Hoogkamer, who later became a member of the Board of the KNBSB and still is very involved with his club UVV. Other members in these three years included Maarten Evertse (the father of big league-pitcher Jan Evertse), Jan-Willem van der Horst, Wim Kerkhoven, Dave Sanders, Bert Staller and Aart Wedemeijer. For many years, Evertse was the Public Address Announcer in the baseball big league for Sparta. Van der Horst was the longtime baseball commissioner for competition affairs. Staller and Wedemeijer were longtime baseball-umpires in the big league. Wedemeijer is the father of former Official Scorer Harry Wedemeijer.

Benno Niemeijer always remained an driven baseball- and softball-fan and also remained active in the sports. Through the years, he stayed a frequent visitor of games of Amsterdam Pirates, as well as Adegeest, the club in Voorschoten, where he lived.

Benno Niemeijer always has a smile on his face and was a good listener during discussions. He loved following American baseball, especially pitching and he could talk very seriously about pitching techniques and how to throw pitches. Benno also was an avid lover of nature and birds. He liked to hike in the nature, made several trips abroad and was very active in and devoted to the protection of birds.

The webmaster of Grand Slam * Stats & News offers his condolences to the family of Benno and wishes them a lot of strength with this loss.

(August 26)

(Private photos published with permission of the family)