(Story by Marco Stoovelaar; Photos courtesy of National Baseball Hall of Fame)
IN MEMORIAM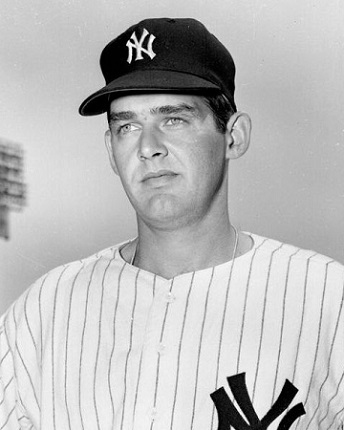 ...Don Larsen...
(1929 - 2020)...

Pitching legend Don Larsen, who threw lone World Series Perfect Game, passed away
Nederlands

HAYDEN, Idaho (USA) - Pitching-legend Don Larsen, who in 1956, pitching for New York Yankees, threw the only Perfect Game in World Series-history, passed away on Wednesday, January 1, at age 90.

Don James Larsen was born on August 7, 1929 in Michigan City, Indiana. The righthanded pitcher was signed in 1947 as an amateur Free Agent by St. Louis Browns, which moved to Baltimore after the season to become the Baltimore Orioles. Larsen made his Major League-debut in 1953, pitching for the Browns. In that season, he was 7-12 with a 4.16 ERA and struckout 96 batters in 192 2/3 inning.

In November 1954, Don Larsen was traded by Baltimore Orioles to New York Yankees in a trade that involved seven Baltimore-players and ten New York-players. Larsen then pitched for New York in 1955-1959. There, he was a teammate of several other wellknown Yankee-players, including Yogi Berra, Mickey Mantle, Hank Bauer, Whitey Ford, Enos Slaughter, Bill Skowron, Elston Howard and Gil McDougald. Famous short stop Phil Rizzuto (The Scooter) was a teammate for two seasons and future Yankees-Manager Billy Martin for three seasons.

It was with the Yankees that Larsen wrote baseball-history. On October 8, 1956, at Yankee Stadium in The Bronx, filled with 64,519 spectators, 27-year old Don Larsen was the starting pitcher for New York in Game 5 of the World Series against Brooklyn Dodgers (current Los Angeles Dodgers). At that moment, both teams had won two games. Both teams were led by two legendary Managers, Casey Stengel for New York and Walt Alston for Brooklyn. Larsen had been the losing pitcher in Game 2, leaving the mound in the second inning in a game that the Dodgers won 13-8. Three days later, Larsen was back on the mound and this time, he retired all 27 batters he faced in a row, needing only 97 pitches to do so. There were two important moments that contributed to the Perfect Game. In the second inning, Jackie Robinson led off for the Dodgers and hit a line drive towards third base. The ball jumped from the glove of third baseman Andy Carey and bounced to short stop Gil McDougald, who got the ball in time at first base. In the fifth inning, centerfielder Mickey Mantle made a great running catch in left/centerfield on a line drive from Gil Hodges. The game ended with a famous moment. Pinch-hitter Dale Mitchell got a called strikeout, then catcher Yogi Berra jumped up, cheered and leaped into the arms of Larsen. New York won the game, 2-0 and went on to win the World Series, 4-3.

Larsen's No-Hitter was the only one in the postseason until Roy Halladay (Philadelphia Phillies) threw one in the 2010 National League Division Series. But Larsen's accomplishment remains the only Perfect Game.

In December 1959, Don Larsen and Hank Bauer were amongst four players who were traded by New York Yankees to Kansas City Athletics (the current Oakland A's). Amongst the three players coming to the Yankees from the A's was Roger Maris, who in 1961 hit 61 homeruns to break the 'unbreakable' all-time single-season record, which was set in 1927 by legendary Babe Ruth, who then hit 60 homeruns to break his own record.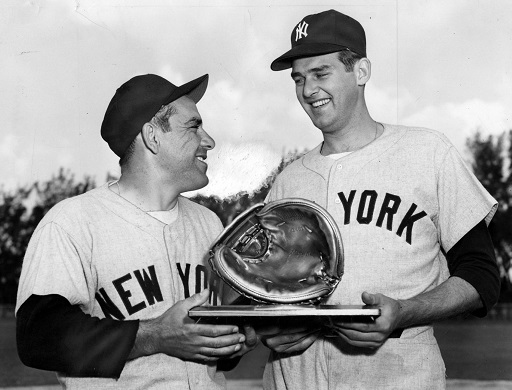 ...Don Larsen with catcher Yogi Berra...

Larsen was unsuccessful in his first season with Kansas City (1960), as he was 1-10 with a 5.38 ERA. From the following season on, Larsen was mostly used as a reliever after having been primarily a starter in the first eight years of his career. In 1961, Larsen was 1-0 in eight appearances (one start) for Kansas City, but then was traded in June to Chicago White Sox, which included a total of eight players. After completing the season with Chicago (7-2), Larsen was traded again. In November 1961, Chicago traded the pitcher to San Francisco Giants for whom he then pitched in 1962 and 1963.

Another transfer followed in May 1964 when Larsen's contract was purchased by Houston Colt .45s (the current Houston Astros). In the remainder of the 1964 season, Larsen was 4-8 with a 2.26 ERA for Houston. In April 1965, after having made only one start for Houston Astros, he was traded to Baltimore Orioles. At Baltimore, Larsen was used as a reliever in the remainder of the season, starting one game in 27 appearances. In 1966, one day before the start of the regular season, Larsen was released by Baltimore.

Larsen then didn't play in the Major League in 1966. A year later, he was signed as Free Agent by Chicago Cubs. Larsen pitched in only three games for the Cubs during the 1967 season, which was his last as an active player.

In 14 Major League-seasons, Don Larsen pitched in 412 games (171 starts) and was 81-91 with a 3.78 ERA. In 1,548 innings pitched, Larsen struckout 849 batters, walked 725 and gave up 1,442 basehits.

Major League Baseball Commissioner Rob Manfred stated in a press release: ,,Don Larsenís perfect game in Game Five of the 1956 World Series at Yankee Stadium is one of the most memorable achievements in the history of our National Pastime. His unexpected performance on that Monday afternoon has remained unique for 63 years and counting. On a team of many stars, Don illustrated that anyone can make history -- even perfection -- on our sportís biggest stage. On behalf of Major League Baseball, I extend my deepest condolences to his family, friends and the fans he touched during his life in our great game.''

New York Yankees also issued a statement. ,,We are deeply saddened to learn of the passing of Don Larsen, who remained a welcome and familiar face at our annual Old-Timersí Day celebrations in the decades following his playing career. Donís perfect game is a defining moment for our franchise, encapsulating a storied era of Yankees success and ranking among the greatest single-game performances in Major League Baseball history. The unmitigated joy reflected in his embrace with Yogi Berra after the gameís final out will forever hold a secure place in Yankees lore. It was the pinnacle of baseball success and a reminder of the incredible, unforgettable things that can take place on a baseball field. The Yankees organization extends its deepest condolences to Donís family and friends during this difficult time. He will be missed.''

(January 2)