(Story by Marco Stoovelaar)
IN MEMORIAM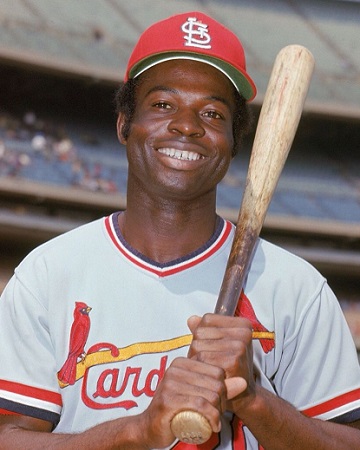 ...Lou Brock...
(1939 - 2020)

Major League-legend, Stolen Base-leader and Hall of Famer Lou Brock passed away
Nederlands

ST. LOUIS, Missouri (USA) - Outfielder Lou Brock, who was the all-time Major League-leader in Stolen Bases and was elected into the Hall of Fame in 1985, passed away on Sunday (September 6) at age 81. Brock was a legendary player in the rich history of the St. Louis Cardinals for whom he played in sixteen of his nineteen seasons (1961-1979) in the Major League. In 2015, Brock's left leg was amputated under his knee because of an infection related to diabetes. In April 2017, he announced that he was diagnosed with multiple myeloma, which is a blood cancer, but two months later, it was said that the cancerous cells were gone.

Brock's passing comes less than a week after another beloved Major League Baseball-great passed away. On Monday, August 31, pitching-great Tom Seaver passed away at age 75. No batter faced Seaver more than Brock. And no pitcher threw more to Brock than Seaver. Brock was 38-for-152 (.250) off of Seaver, including one homerun. Seaver struckout Brock 21 times. The two also faced each other in Seaver's lone No-Hitter on June 16, 1978 when he pitched for Cincinnati Reds against St. Louis Cardinals.

Louis Clark Brock was born on June 18, 1939 in El Dorado, Arkansas, but at a very young age, he moved with his family to Collinston, Louisiana. Brock listened to radio broadcasts of the St. Louis Cardinals and attended Southern University in Baton Rouge. There, he played in the baseball-team and then immediately showed his skills and speeds on the basepaths. While playing in college, Brock was selected for the National Team of the USA for the 1959 Pan American Games. The third edition of this multi-sports event was held in Chicago back then where the baseball-games were played at Comiskey Park and Wrigley Field, the homes of the Chicago White Sox and Chicago Cubs. In the tournament, Brock batted 1-for-10 for Team USA, which finished in third place.

While Brock will remembered for his successful seasons with the St. Louis Cardinals, he made his Major League-debut playing for Chicago Cubs. Coincidentally, the two teams played against each other on Sunday. Before the game, a moment of silence was observed to remember Brock.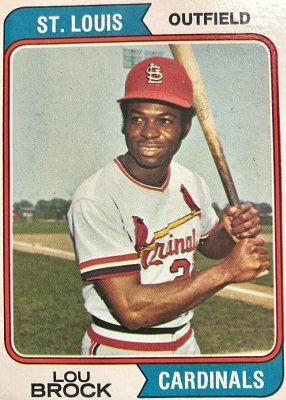 ...1974 Baseball Card...

In 1960, Lou Brock attended a try-out for the Cubs, who then signed him in August of that year. In his first professional season (1961), Brock played for St. Cloud Rox in the so-called C-level Minor League and became the Best Hitter of the Northern League with a .361 batting average. Brock played in 128 games for St. Cloud, which were his lone games in the Minor League. In September of the same year, Lou Brock made his debut in the Major League and played in four games for Chicago.

The following season (1962), Brock was a regular player. He batted .263 in his rookie-season, hit nine homeruns and also stole the first 16 bases in his career. A year later, his stats were almost equal, he batted .258 with nine homeruns and stole 24 bases.

In 1964, Brock started the season again with the Cubs. While he showed he had speed and was a great baserunner, his hitting needed improving. And so, on June 15, 1964, he was part of a 6-player trade between Chicago and St. Louis Cardinals on the final day of the trade deadline. St. Louis wanted to increase speed in its team. And they got it. In the remainder of the 1964 season, Brock batted .348 and stole 33 bases. In the following years, Brock moved from rightfield to leftfield, developed into a driven leader on and off the field and he became the all-time Stolen Base-leader.

In 1965, his first full season with St. Louis, Brock stole 63 bases, but also continued showing he had power as a hitter. The lefthanded hitting Brock hit 16 homeruns and batted in 69 runs.

In eight of the next nine seasons, Lou Brock led the National League Stolen Bases, including a career-high 118 in 1974. In 1966, he led the league with 74 stolen bases, ending the reign of Maury Wills (Los Angeles Dodgers), who had led the league in the six previous seasons. In 1974, Brock also was selected for the All Star Game for the fourth time and finished in second place in the voting for Most Valuable Player. That Award went to Steve Garvey (Los Angeles Dodgers). Brock would play in two more All Star Games (1975, 1979).

Also in 1974, then 35-year old Lou Brock set a single-season record with his 118 stolen bases. On September 10, he tied and broke the record of 104 set by Maury Wills in 1962.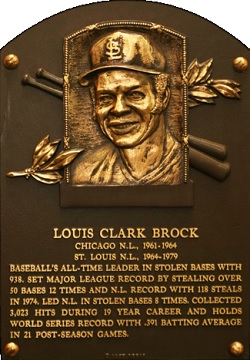 ...Lou Brock's...
...Hall of Fame Plaque...

On August 29, 1977, in an away-game against San Diego Padres, Lou Brock stole his 893rd base. With that, he became the all-time leader and broke the career-record of legend Ty Cobb, who had stolen 892 bases in his 24 Major League-seasons (1905-1928), including 22 with Detroit Tigers. Cobb's record stood for almost 50 years and was one of the records that were considered as unbroken. Other 'unbreakable' records included the 714 homeruns hit by Babe Ruth and the consecutive game-streak of 2,130 played by Lou Gehrig.

In the early sixties, when there was no video,Brock acquired a movie camera and filmed pitchers of opposing teams from the dug-out to study their windups and the way they made their pick-off moves. This would not be allowed under the current rules, as electronic recording equipment in the dug-out is prohibited.

Brock, who mostly was a lead-off hitter, retired after the 1979 season, which was his 16th with St. Louis. In his final season, at age 40, on August 13, Brock became the 14th player in history to hit his 3,000 basehit, which he hit against his former team, Chicago Cubs. In his 19-year Major League-career, Lou Brock played in 2,616 games and batted .293 with 3,023 basehits, including 149 homeruns. Brock scored 1,610 runs and batted in 900.

And he stole 938 bases, which then was the all-time record in the Major League. He stole 888 of these bases while playing for St. Louis. On May 1, 1991, Brock's Major League-record was broken by Rickey Henderson (Oakland A's), who on that day stole his 939th base. Henderson is the current recordholder with 1,406 stolen bases. But Lou Brock still is the all-time Stolen Base-leader in the National League with his 938 steals. Henderson also had broken Brock's single-season Stolen Base-record of 118 in 1982. Nowadays, Henderson's career-record is considered 'unbreakable', as are the 5,714 StrikeOuts from Nolan Ryan and the consecutive game-streak of 2,632 played by Cal Ripken, Jr.. On Sunday, it was celebrated that Ripken's broke Gehrig's record 25 years ago, which had stood for 56 years.

In 1964, 1967 and 1968, Lou Brock played in the World Series with St. Louis. The team won in 1964 and 1967, respectively beating the New York Yankees (4-3) and Boston Red Sox (4-3). In 21 World Series-games, Brock batted .391 and stole fourteen bases. His .391 average is still the highest for players who played in 20 or more World Series-games and his 14 stolen bases are also a record.

In 1979, at the end of his career, Lou Brock's uniform number 20 was retired by the St. Louis Cardinals. In 1985, Brock was inducted into the National Baseball Hall of Fame in the first year of eligibiliy, along with legendary knuckleball-pitcher Hoyt Wilhelm. Brock was also inducted into the Missouri Sports Hall of Fame (1992), the St. Louis Walk of Fame (1994), the Arkansas Sports Hall of Fame (1995) and the St. Louis Cardinals Hall of Fame (2014).

...In Memoriam Tribute Lou Brock by Major League Baseball...

After he had retired, Lou Brock turned to a complete other career and was very successful as a florist-businessman in St. Louis. He also was an television-analyst for ABC's Monday Night Baseball and the Chicago White Sox in respectively 1980 and 1981. But he stayed active for the Cardinals, where he was a special instructor coach during Spring Training.

Lou Brock was well-respected and much-liked throughout Major League Baseball by players, coaches and officials.

William O. DeWitt, Jr., the Principal Owner of the St. Louis Cardinals, said in a statement: ,,Lou Brock was one of the most revered members of the St. Louis Cardinals organization and one of the very best to ever wear the Birds on the Bat. Lou was a Hall of Fame player, a great coach, an insightful broadcaster and a wonderful mentor to countless generations of Cardinals players, coaches and members of the front office. He was an ambassador of the game around the country and a fan favorite who connected with millions of baseball fans across multiple generations. He will be deeply missed and forever remembered''.

Major League Baseball Commissioner Rob Manfred issued the following statement: ,,On behalf of Major League Baseball, I send my condolences to the family and friends of Hall of Famer Lou Brock, as well as the loyal fans of the St. Louis Cardinals. Lou was among the gameís most exciting players, becoming the 14th player in history to reach 3,000 hits and holding Baseballís all-time record for stolen bases in a season and career for many years. He was known for his dominant performances in his three career World Series. Lou was an outstanding representative of our National Pastime and he will be deeply missed''.

Jane Forbes Clark, Chairman of the National Baseball Hall of Fame and Museum, said: ,,Lou Brock perfected the art of the stolen base over a 19-year Hall of Fame career and cherished his membership in the Hall. For decades after his election in 1985, he and his beloved wife Jackie would return to Cooperstown each summer, and his smile would brighten Induction Weekend. On behalf of the Board of Directors and the entire staff of the Hall of Fame, we send our deepest condolences to Jackie and the Brock family''.

The webmaster of Grand Slam * Stats & News offers his condolences to the family of Lou Brock and wishes them a lot of strength with this big loss.

(September 7)