(Story by Marco Stoovelaar; Photo courtesy of Feyenoord-archive & Private Photo)
IN MEMORIAM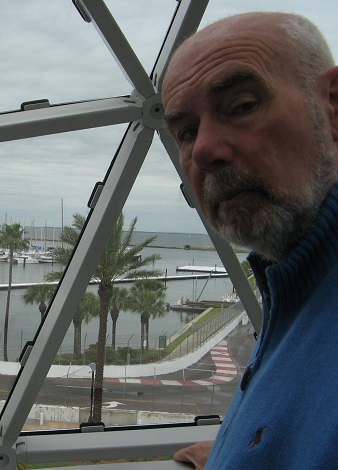 ...Piet Burg...
(1946 - 2020)...
(© Private Photo)

Former big league-player Piet Burg passed away
Nederlands

ROTTERDAM (Neth.) - Piet Burg, who briefly played baseball in the Dutch big league, passed away on Tuesday, February 4, at age 73.

The memorial service will be held on Wednesday, February 12, at 1:30 PM in Yardenhuis van Rotterdam at the Maeterlinckweg 101 in Rotterdam.

Piet Burg was born on May 7, 1946 in Rotterdam. It was in that city that he got involved in baseball, the sport he played himself for several years. While playing for Feyenoord, Burg reached the main-squad and played in the highest division.

For many years, Piet Burg was a loyal fan of games of Curaçao Neptunus. He not only visited almost all home game of the team at its home-site in Rotterdam, he also frequently traveled with the team to away-games. Piet Burg, always accompanied by his wife Corry, also regularly traveled with Neptunus abroad when the team participated in European Cup-tournaments. Unfortunately, due to his health condition, he attended the games seated in a wheelchair the past few years.

Piet Burg played baseball for Feyenoord. In the sixties, he was added to the main-squad of the club, sharing the first base position with Jan van Gent. In 1968, with Wim Onderstal as Head Coach, Burg played for Feyenoord when the team won the Championship-title in the First Division and promoted to the big league.

The championship was accomplished in a memorable game. After having won the title in Pool B of the First Division, Feyenoord faced Pool A-champion Giants Diemen on September 22, 1968 at its home-site at Sportcomplex 'Varkenoord' in Rotterdam and won 5-2. In the top of the sixth inning, Giants took a 2-0 lead thanks to Rob Tromp and Ruud Koene. With two outs, Giants-pitcher Piet Ferwerda hit a grounder, ran towards first base, overstretched somewhat, but was eliminated. With that, the inning ended and Giants Head Coach Reggie Smith told Ferwerda to do easy and take some time to recover from his speedy run that ended the at bat. However, Home Plate Umpire Lou Meijer thought that took too long and didn't allow Ferwerda to throw to warm-up pitches in the bottom of the sixth. That decision was argued, Ferwerda got a warning and Smith filed a protest. When the bottom of the sixth began, Ferwerda was too much upset and his brother Mink Ferwerda took over. However, things then went wrong for Giants Diemen and the game turned the way of Feyenoord. Ton Steenbruggen and Ton van Uitert both singled, then Feyenoord took a 3-2 lead when Huub Kohl followed with a homerun. In the eighth inning, Feyenoord added two insurance runs when Irvin Simmons hit a 2-run homerun with Jan van Gent on base. Unfortunately, both Kohl and Steenbruggen also passed away last year.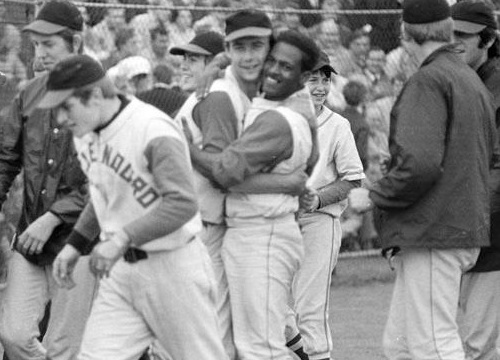 ...Piet Burg (center) embraces Irvin Simmons after his homerun...
...in the deciding game of Feyenoord against Giants Diemen...
...Walking in the front at left is Huub Kohl...
(© Photo courtesy of Feyenoord Archive)

Piet Burg's teammates in the Championship-team of Feyenoord in 1968 were Harrie Blijden, Marcel de Bruyn, John Colette, Jan van Gent, Huub Kohl, Frans Luijcx, Rob Nugteren, Paul van den Oever, Irvin Simmons, Ton Steenbruggen, Ton van Uitert, Aad Verheul, Ton Verheul and Wil de Waard.

Most of them also played for the team the next year and so, during the 1969 season, Burg made his debut in the highest league. In that season, Feyenoord finished in fourth place. The team then also included Paul Koster, Frank Luyando, Herbert Ramlal and Fred Rietdijk. While Burg was not a regular player, he also played for the team in parts of the following few seasons when Feyenoord finished in fourth place in the early seventies.

In later years, Piet Burg began doing more administrative duties. Amongst those activities in the nineties, he was the Team Manager of the second baseball-team of Feyenoord.

In 1998, Feyenoord merged with Sparta to become Sparta-Feyenoord. The club went on to play at Feyenoord's new site (since 1992) at Sportpark 'Beverwaard'. Piet Burg remained active for the new club and in the early 2000s, for some seasons, he also was the Team Manager of the main-squad that played in the big league.

Despite his health problems, Piet Burg always remained positive. He kept on visiting baseball-games of Neptunus as much as possible. He always enjoyed being on the field and talking with his baseball-friends.

The webmaster of Grand Slam * Stats & News offers his condolences to Piet's wife Corry and other family and wishes them a lot of strength with this big loss.

(February 8)