(Story by Marco Stoovelaar; Photos by ANP Photo/Flip Martens, Sparta Rotterdam & Archive)
IN MEMORIAM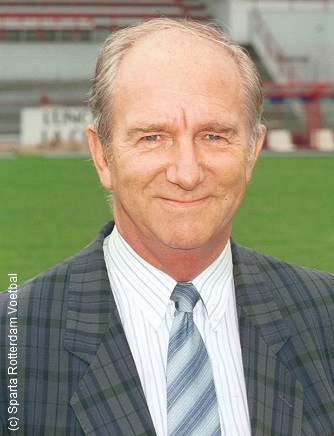 ...Henk Hendriks...
(1934 - 2020)...
(© Photo: Sparta Rotterdam)

Former Sparta-player and coach Henk Hendriks passed away
Nederlands

ROTTERDAM (Neth.) - Henk Hendriks, who has been associated with sports club Sparta for over seventy years, passed away on Thursday (May 7) at age 85. Hendriks played 16 seasons and coached in eight seasons for the baseball-team of Sparta with whom he captured seven Dutch Championship-titles. He also was active for many years in the soccer-section of the Rotterdam-based club.

Hendrik Aloisius (Henk) Hendriks was born on May 28, 1934 in Rotterdam. In 1947, he joined Sparta, a multi-sports club where baseball and softball was played, but also soccer and cricket. For Henk Hendriks, this was the beginning of a lifelong associaton with this wellknown club. As player, coach and administrator, through the years, Hendriks had many ups and also some downs with Sparta. He was part of the team during its successful glory years in the sixties and early seventies. With an association of more than seventy years with the club, a lot can be told of Hendriks' career with Sparta.

In 1952, at age 17, Henk Hendriks made his debut in the main baseball-squad of Sparta. Amongst his teammates in that year were Cees de Bruin, Lou Ignatius, Jo Buizert, Ton Fabrie, hardthrowing pitcher Jaap de Koning and John Heyt. The following year, Heyt became the Head Coach of the team and with that, he became one of the first coaches in Dutch baseball. In earlier years, a team-captain made the decisions regarding line-ups and changes. Heyt became the mentor of Hendriks and a close friend.

From 1953 on, Henk Hendriks was the third baseman for Sparta. In the fifties, but also in following years, the team did not underwent much changes. And so, besides De Bruin, Ignatius, Buizert, Fabrie and De Koning, other longtime teammates of Hendriks in these years included Cor Bazuin, Hans Corpeleijn, Wim Corpeleijn, Henk Ras, Theo Witstok and Ton Wijnands. In 1954, Sparta promotes to the First Division, which then was the highest league. With that, Sparta became the first team outside Amsterdam and Haarlem to reach the top division. In 1957, Sparta qualifies for the newly created Major League, which becomes the highest league in 1958.

In his playing days, Hendriks mostly is the lead-off hitter. He walks a lot and reaches base frequently. Thanks to his speed, regularly on an infield-hit or bunt-single. Hendriks is a contact-hitter, but also has some power, as he also records some homeruns. Hendriks also is a good baserunner and scores a lot of runs.

On April 18, 1959, Henk Hendriks plays in his lone official game for the Netherlands Baseball Team, which then was led by Head Coach Martin Jole. Playing in Eindhoven, the team wins 5-1 against Belgium. Other players in the Orange Team during that game included Nol Houtkamp, Henk Keulemans, Leo Kops, Gé Oosterbaan, Jan Smidt and Dolf de Zwart. In 1960, Hendriks is part of the preliminary team that is led by American Coach Ron Fraser. In that year, Hendriks plays one game for the Netherlands B-squad. In these years, Hendriks also played some games for the Rotterdam All Star Team.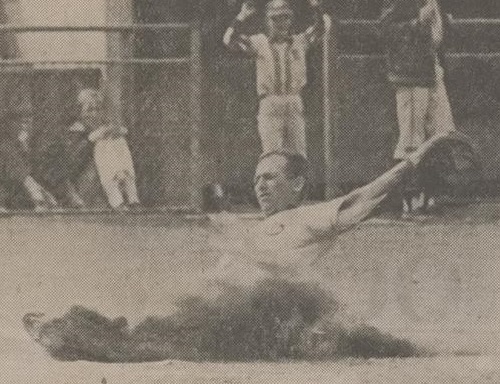 ...Henk Hendriks scores a run for Sparta in the 1965 season...
(© Archive Photo; Photographer unknown)

De Bruin, Fabrie, De Koning, Corpeleijn and Witstok also were teammates of Hendriks through the successful sixties. Also playing for Sparta in many of these seasons were Hans Augustinus, Harry van der Berg, Piet Bouts, Jan van Tol and Piet van der Wilk. From 1960 on, four Antillian players joined Sparta, Simon Arrindell, José Faneyte, Hamilton Richardson and Hudson John. Sparta already had some very experienced players since the fifties, but the addition of these players made it a more complete team. The contributions of Arrindell, Faneyte, Richardson and John resulted in the successes of the team in these years. And four Dutch Championship-titles in a 5-year period. In 1961, Arrindell became the new third baseman of Sparta and Hendriks took over the short stop-position from De Bruin.

From 1962 on, Sparta played its home-games at the new baseball-field located at Sports Complex Nieuw-Vreelust. The new field was close to the site where the team had played its games in earlier seasons, the Sparta soccer-stadium 'The Castle'. It was at the new site that the baseball-team of Sparta recorded its Championship-titles to become the most successful Rotterdam-based baseball-team. From 1961 on, led by its passionate Head Coach John Heyt, the team became a contender for the title. Heyt, who lived with his family in Amsterdam, kept a strict discipline in the team. He had a lot of baseball-knowledge and built a team that became known for its winning attitude. Together with Arrindell, Richardson, De Bruin and Fabrie, Henk Hendriks belonged to a productive group of hitters. They frequently got on base, scored runs and batted in runs.

Sparta opened the 1963 season with a 3-0 win against the strong team of Amsterdam-based OVVO. Pitcher Jaap de Koning gave up only one basehit (hit by Wim Crouwel). In the second inning, basehits by De Bruin and Hendriks led to an 1-0 score, which was enough, thanks to the strong pitching of De Koning. For Sparta, this game was the start of a successful season. On Sunday, August 25, at home, Sparta played a double-header against Schoten from Haarlem. Double-headers were played regularly throughout the season in the early sixties. The opener against Schoten was exciting. Sparta opened the score in the fourth inning when Simon Arrindell hit a triple and Hamilton Richardson followed with an inside-the-park-homerun. The speedy Richardson hit the ball into left-centerfield, which was very deep at the Nieuw-Vreelust field. However, Sparta trailed 4-2 halfway the fifth inning. A 2-run homerun by Wim Corpeleijn tied the score. In the sixth, Schoten re-took the lead, but again Sparta came alongside. In the eighth, it was Henk Hendriks, nicknamed 'King of Walks', who brought in the tying run. In this game, Hendriks walked five times, but this time, he reached on a bunt-single, enabling Harry van der Berg to score the tying run. The game needed extra innings and the decision fell in the bottom of the twelfth. Ruud Zijlstra was the pitcher for Schoten and while he had no good outing, he went the distance. In the twelfth, Theo Witstok and Henk Hendriks both walked, then the bases got loaded when Jaap de Koning reached on an error. Hereafter, Zijlstra issued his 19th walk in the game to José Faneyte, which led to the winning run. With that, Sparta won the game 7-6. Moments later, word came that title-contender OVVO had lost against EHS. And with that, Sparta became the first team outside Amsterdam or Haarlem to capture the Dutch Championship-title. Since 1922, all titles had gone to teams from these two cities. Playing for Sparta in this first Championship-season were Arrindell, Augustinus, Van der Berg, Bouts, De Bruin, Corpeleijn, Fabrie, Faneyte, Hendriks, Ton Ignatius, De Koning, Richardson, Leen Staub, Van Tol, Van der Wilk and Witstok, while John Heyt was assisted by Lou Ignatius and Hans van Dijk. After the team had captured the title, Heyt was named Member of Merit of Sparta, which celebrated its 75th anniversary, as the original soccer-club was founded in 1888.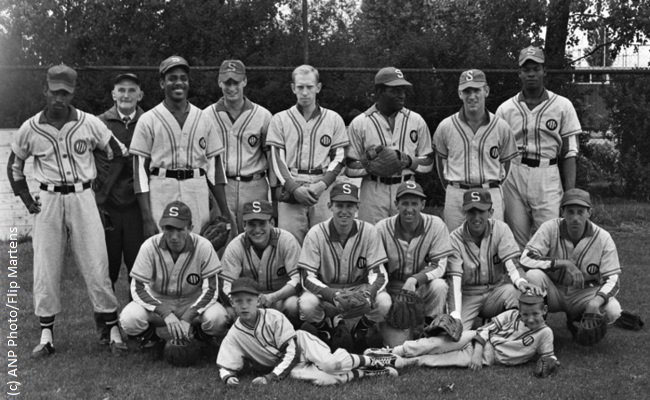 ...The Championship-team of 1964...
...Back row: José Faneyte, Van Huut (trainer), Simon Arrindell, Hans Bouwen,...
...Theo Witstok, Hudson John, Cees de Bruin and Hamilton Richardson...
...Front row: Henk Hendriks, Hans Augustinus, Harry van der Berg...
...Jaap de Koning, Piet van der Wilk and Toon Fabrie...
(© Photo: ANP Photo/Flip Martens)

Coach John Heyt is generally known as being one of the best coaches in those years. Heyt clearly is the leader of the team. During the 1964 season, he Heyt states that he wants to move to the dug-out in the future to coach from there, like Managers do in American baseball. He added that Hendriks, who then is still playing himself, will become his successor as 3B Coach. In this season, Hendriks returns as third baseman, as Arrindell becomes the new second baseman, taking over from Wim Corpeleijn, who had retired. De Bruin returns to the short stop-position. Completing the infield is first baseman Piet van der Wilk.

As Dutch champion, Sparta qualifies to play for the European Cup for the first time in 1964. In those years, teams play a series of games either at home or abroad en route to a final game. In the First Round, Sparta wins 8-3 at home against Luchtbal (Belgium) to reach the Second Round. Hendriks scores the first run for Sparta in the first inning on a basehit by Arrindell. In the Second Round, Sparta travels to Madrid (Spain) to play against Piratas Madrid. In the first inning, Richardson, Arrindell and John hit three concecutive homeruns, but Sparta ends up empty-handed, losing 8-7, and is eliminated.

In August 1964, Sparta wins 4-2 vs. Ajax in a home-game. Afterwards, the players travel to Haarlem to watch the game between Haarlem Nicols and OVVO. In the Pim Mulier Stadium, OVVO shuts out contender Nicols 8-0 and with that, Sparta captures its second consecutive Championship-title.

In 1965, Sparta again plays for the European Cup. At home, the team wins against Stratford (England) and Germania (Germany), 12-2 and 11-0, but loses 4-2 in the final against Milano in Italy.

After having finished in second place in 1965, Hendriks and his teammates are successful again in the following seasons.

In 1966 and 1967, Sparta again is crowned as Dutch Champion, meaning the team had captured the title four times in five years. In 1967, some young and talented players joined the team from within the club, pitcher John van Westrenen and infielders Fred Beckers and Ed van der Berg, the younger brother of Harry.

Tragedy struck Sparta on New Year's Day 1968. On the evening on January 1, 42-year old Sparta-coach John Heyt, his wife Wil and their 15-year old daughter Marijke left a restaurant in Schiedam. Driving through dense fog and on a poorly lit road on a dark evening, a turn is missed and the car of the Heyt-family ends up in the water. Although help was quickly on the spot, the three didn't survive the accident and drowned. A few days later, the Dutch baseball-world mourns the loss of the well-liked and respected Heyt and his family, while the entire team of Sparta accompanies the three to their final resting place.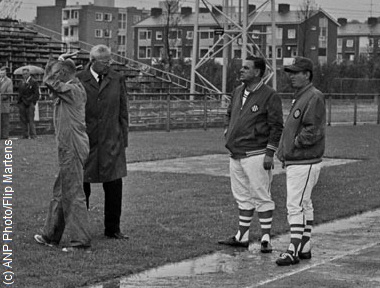 ...Henk Hendriks (right) and Head Coach John Heyt...
...discuss the field conditions with Home Plate Umpire...
...Piet van Deenen (dark goat) and a groundskeeper...
...before the game of Sparta at Haarlem Nicols was...
...was cancelled during the 1967 season...
(© Photo: ANP Photo/Flip Martens)

Three weeks later, Henk Hendriks is named Heyt's successor. After having discussed a new coaching-situation some years before, Heyt and Hendriks had talked about it again during the 1967 season. From 1968 on, Heyt was to become the Manager and Hendriks was to become the coach at third base. So, it was no surprise that Hendriks, who was very close to Heyt, became the new Head Coach. After being appointed, Hendriks said in an interview in De Tijd-newspaper: ,,I hate to have to start as a coach in this very sad way. However, the moral obligation to continue John's work was the most important to me.'' Hendriks planned to continue to coach in the style of Heyt. Hendriks: ,,I have learned a lot from him. Our ideas did not differ much from each other, but I am a little younger and I want to modernize the training a bit. Make it more personal, perhaps a training camp abroad. Intensify contact with players''.

By becoming the new Head Coach, the 33-year old Hendriks retires as a player. Hendriks also liked discipline in the group of players and added conditioning training-sessions before the season. In his first season in charge, Sparta finishes in second place. In 1969, two new pitchers are added to the team, Ben de Brouwer, who came from Tilburg, and Flip le Cuivre, who came from OVVO. It is another successful season, as Sparta captures its fifth title, the first for Hendriks as coach.

In 1970, Sparta was eligible to participate again in the European Cup-tournament. However, early in the year, the European Baseball Federation decided that players born outside Europe were not eligible to play for a country during European Championships. Sparta opposed this decision and withdraw from the European Cup. Halfway the season, the team suffered a big setback. Star-player Hamilton Richardson conducted practice sessions of the baseball-team of Botlek, also a Rotterdam-based club in those years. Showing how to make a sliding, Richardson broke his leg and was out for the remainder of the season.

In May 1970, Henk Hendriks became a member of the Technical Committee of the Netherlands Baseball Association. Other members of the committee were Jan Molenaar, Han Urbanus, Dick Vonk and Aart Kruijs. In November, as its Delegation Leader, Hendriks accompanied the Netherlands National Baseball Team to Colombia, where the team participated for the first time in a World Championship. Three months later, a separation followed between the Netherlands Association and National Team Head Coach Charles Urbanus (sr.), as things didn't went well during the event in Colombia. In September 1971, Hendriks leaves the Technical Committee and is succeeded by Gé Oosterbaan.

In his fourth season as Head Coach of Sparta, there is success again in 1971, as the team captures its sixth Championship-title. Unexpected, as Flip le Cuivre and Piet Bouts had left the team after the 1970 season and John van Westrenen had to undergo a knee-injury and was not allowed to play this season. A year earlier, Simon Arrindell and Hudson John had left the team. In 1970 and 1971, Hendriks added some young talented players to his team, such as Jan Kramer Freher, Rudi Stentler, Ferry van Vogelpoel, Jan Switser and Jan de Vos.

After celebrating the title in 1971, Hendriks announced his retirement due to his busy regular work. ,,Therefore, I'm unable to coach for the full hundred percent. And I cannot do that'', Hendriks said in a newspaper-interview. In September 1971, former EHS/Haarlem Nicols-player Gé Oosterbaan is named the successor of Hendriks. Oosterbaan, who had some four year of coaching-experience, becomes the first outside-coach to lead Sparta. John Heyt had led Sparta for 15 years, then Hendriks four years.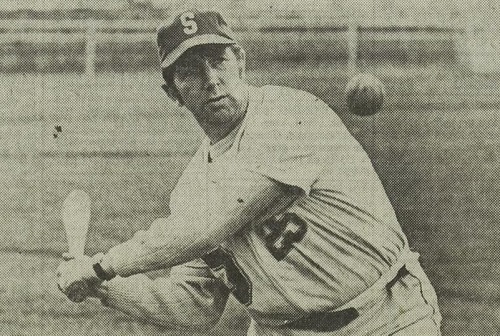 ...Henk Hendriks as Head Coach during the 1972 season...
(© Archive Photo; Photographer unknown)

In 1972, Hendriks was to be the Business Manager of Sparta with Oosterbaan doing the coaching. However, during a trainingcamp before the season, Sparta and Oosterbaan unexpectedly separate. Oosterbaan stated that ''he had his own way of coaching, but that Sparta had some difficult players with many demands'' and asked to be relieved of his duties. Sparta said that it was a lack of communication, while a player said that Oosterbaan was ''to sweet as a coach''. And so, Hendriks returned as Head Coach and again showed, he liked discipline. Before the start of the season, he sent all players a letter saying that long hair was no longer allowed. In an interview in De Tijd (April 26, 1972), Hendriks said: ,,Call me conservative or old-fashioned, but I don't think long hair suits baseball, it's very inappropriate, baseball is a fresh sport''.

1972 had a new format of the season for the highest division. The ten teams were divided into two pools of five, meet each other throughout the season, but two separate standings were made up. After the regular season, the two winners would meet in the best-of-five Holland Series to play for the Championship-title.

1972 was to become a difficult season for Sparta. In the European Cup-tournament, Sparta was eliminated in the First Round, losing to Nettuno. Afterwards, the team suspended a player. In the final weekend of the season, on September 2, after having played against OVVO, things heated up in the dressing room, resulting in an affray between two players. It was already dormant throughout the season that there were some arguments and conflicts within the group of players, which included some different characters and some hot-heads. One of the reasons for this were injuries to its four National Team-players Ben de Brouwer (unable to pitch), John van Westrenen (sidelined most of season), John Jonkers (sidelined for three months) and Jan Kramer Freher (meniscus). Also, some players felt they were passed by others and announced they would leave the team. The next day, Sparta had to play in Haarlem against Haarlem Nicols. Hendriks was not with the team and his assistant Jan van Tol coached instead. Asked for the reason of his absence, Hendriks said he did it to get the players to repent. Despite all difficulties, Sparta wins its Pool and meets Haarlem Nicols in the Holland Series. In the regular season, Nicols was much better, closing with a 25-3 record, while Sparta was 17-9 (two games cancelled). Nicols was coached by Leo Kops, who also had to bring some discipline to his players during the season and was successful in doing that. Hendriks returns to the team for the Series, as are most of the players. Sparta loses the first game, but then wins the next three to unexpectedly capture its seventh title in ten years. After the season, Hendriks steps down as Head Coach. Hendriks is succeeded as coach by Jan van Tol. He had been Hendriks' Assistant Coach during his five years as Head Coach after having been the Assistant of Heyt for four years. Before that, Van Tol was Sparta's catcher in ten seasons.

While Van Tol prefered to be an Assistant Coach, he led the team successfully in 1973. Again, Sparta reached the Holland Series and again, Haarlem Nicols was the opponent. Before the start of the Championship Final, Van Tol asks Hendriks to be in the dug-out as a mental coach. Sparta wins its eighth Championship-title. In October 1973, Cees Herkemij becomes the new Head Coach of Sparta. Van Tol returns to his role of Assistant Coach, while Ton Benningshof also becomes an Assistant.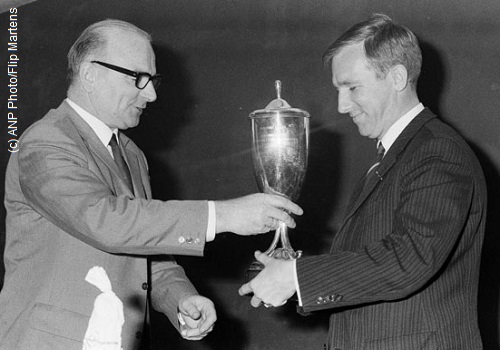 ...As Head Coach of Sparta, Henk Hendriks receives...
...the trophy for the team that recorded the most...
...homeruns in the 1968 season at the annual awards...
...presentation in Amsterdam...
(© Photo: ANP Photo/Flip Martens)

Shortly thereafter, Henk Hendriks becomes the Chairman of the Amateur Section of Sparta, which included overseeing the baseball, softball, soccer and cricket sections of the club. In 1974, Herkemij leads Sparta to its ninth Championship-title, but he leaves after the 1975 season. It was hoped that Benningshof would take over, but at the last moment, he opted to become the new Head Coach of Neptunus, also from Rotterdam. In the following weeks, there were some contacts with others, including an American coach. It was also opted to create a coaching construction for the 1976 season that included players Hamilton Richardson and John Jonkers and former player Piet van der Wilk as coaches and Hendriks as a supervisor. In November 1974, Van der Wilk, who had been Sparta's first baseman or outfielder in all nine Championship-seasons, suffered a severe accident at his work. His lower left leg was shattered, his hips and pelvis were broken, but he survived. His lower left leg had to be amputated and his playing career of course was over. But Van der Wilk returned to the field as a coach in 1976. However, the 3-man coaching staff is not working during the winter pratices, as the two players are occupied too much with the development of other players instead of with their own development as player. And so, in the end, the Sparta-board asked Hendriks to return. While inititally stating that he had to be neutral due to his position in the Amateur Section. Also, he said that he had made his plans when he first became coach. He wanted to coach for four years and then choose for his work and his family. But Hendriks accepts and becomes the Head Coach again with Van der Wilk as his assistant. Hendriks coaches from the dug-out, Van der Wilk at third base. Like he did in earlier seasons, Hendriks addresses the players shortly before the season to go over the team-rules, such as showing up on time. Hendriks in a newspaper-interview: ,,I will not tolerate that someone comes too late. Also not going on holiday during the season, I'm also surrendering my vacation. That are the consequences for playing top-baseball. Who doesn't agree with the rules can leave. No one reacted, so that means, everyone accepted the rules''.

Amongst the players in the 1976 team are Ed van der Berg, Harry van der Berg, Stanley Boutisma, Henk Daniëls, John Jonkers, Koos van der Mark, Jaap Pameyer, Hamilton Richardson, Alfio Troeman and John van Westrenen. Completing the team are youth-players Hans Kley, Ron Menheere, Hans le Pair and Paul Roodenburg. Again, Hendriks doesn't want to be paid, like Heyt before him. In an interview, he said: ,,I have been able to work in this organization for years as a player and I have had a lot of fun with it, so I think that there should be something in return for that. But that is my personal opinion''. Despite some lesser accomplishments, Sparta has a remarkable quiet season and the team-atmosphere is great.

Early 1977, American Bill Thurston becomes the new Head Coach of Sparta. He leads the team in 1977 and 1978. During the 1978 season, being 44-years old, Thurston inserts himself in some games as a pitcher. After the season, Sparta and Thurston separate and former player Cees de Bruin takes over. The accomplishments in the first weeks of the 1979 season are disappointing (the team is 2-10 and is last place) and Hendriks is brought back to assist De Bruin. A turn-around cannot be realized and Sparta relegates. De Bruin steps down and Ton Benningshof becomes the new Head Coach of Sparta. Led by Benningshof in 1980, two young players make their debut. Rob Hendriks, the son of Henk, and Tony Benningshof, who is a son of this years coach. Two years later, Eric de Bruin, the son of Cees, plays in his first games for Sparta.

In 1981, led by Hamilton Richardson, Sparta promotes and returns to the highest league in 1982. Richardson also heads the team in 1982 and 1983. In 1984, Piet van der Wilk is the Head Coach of Sparta, assisted by Koos van der Mark. In another difficult season, Sparta again is in jeopardy of relegating. And so, once more, in June, Henk Hendriks is asked to return to the dug-out. The Sparta-board names Hendriks responsible for the coaching from the dug-out, while Van der Wilk and Van der Mark become his assistants. After Hendriks returns, the team wins three of its first four games, including good result in relegation-contender Giants Diemen. The approach and discpline of Hendriks is successful again and the peace returns in the team, which prolongs its stay in the big league. To bring back the fighting mentality in the team, Hendriks brings back former player Fred Beckers, who had retired eight years earlier to focus more on his busy work as a butcher. This season, Hendriks also coaches his son Rob, who also is a third baseman (and pitcher). Years later, Rob steps into the footsteps of his father, as he also becomes a coach. In 1997-1999, Rob was the Head Coach of Sparta. He is still active as coach. Last season, Rob was one of the coaches of the women's softball-team of Twins Oosterhout. Rob's teammates this season Tony Benningshof and Eric de Bruin do the same, as they also becomes coaches, like their fathers. 1984 is the last season that Henk Hendriks is a coach of the main-squad.

Rob's sister Marion Hendriks played softball for both Sparta and Schiedam.

In 1986, Hendriks became the Secretary of the baseball-section of Sparta, succeeding John van Westrenen. Hendriks held the position for one year and then was succeeded by Jan Evertse, who returned in this position after having being the club's Secretary for many year before Van Westrenen took over in 1985. After having been Secretary, Hendriks also was the club's Chairman for some time.

Hendriks also played soccer for Sparta in the fifties. He played in two games for the main-squad, but then choose to focus on baseball. Since the seventies, Hendriks served in different positions for the professional soccer-section of Sparta. In 1974, he became a member of the board of this section, then in 1979, he took over as Secretary. From January 1, 1994 through July 1, 1995, Henk Hendriks was the first Technical Director for the professional soccer-section of Sparta Rottterdam. For his many contributions to the club, Hendriks was named Honorary Member in 1971. He remained a frequent visitor of the Sparta soccer-games until some years ago when he started to develop some health problems.

Henk Hendriks was a 'Spartan' in heart and soul and was one of the club's icons. As a player and a coach, he gave the full hundred percent and expected that also from his teammates and his players. While being in charge of the team as the Head Coach, he never put himself above the team, as everyone was equal and only by working together, successes could be accomplished. And success is something Henk Hendriks surely accomplished! Henk Hendriks will be be missed by many.

The webmaster of Grand Slam * Stats & News offers his condolences to Henk's wife Gré, their son Rob, their daughter Marion, their grandchildren and other family and wishes them a lot of strength with this big loss.

(May 11)