(Story by Marco Stoovelaar; Photo by Henk Seppen)

Peter Brink succeeds Johan Brandsma as new Commissioner for Baseball Umpires
Nederlands



NIEUWEGEIN (Neth.) - Former umpire Peter Brink is the new Baseball Umpires Commissioner, the Royal Netherlands Baseball and Softball Association (KNBSB) announced on Thursday (January 16). Brink succeeds Johan Brandsma, who stepped down in October last year.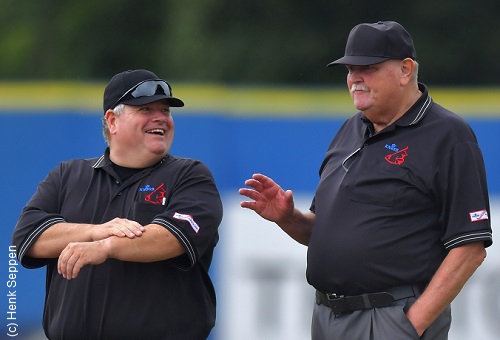 ...Peter Brink (left) with Fred van Groningen Schinkel during...
...the latter's final game on July 22, 2017 in Amsterdam (Neth.)...
(© Photo: Henk Seppen)

Peter Brink becomes the eighth Baseball Umpires Commissioner, since the position was introduced in 1990. Back then, Cees Bouterse was the first former umpire to head the Umpires' Commission as its Commissioner. Bouterse is the longest serving Commissioner, as he led the umpires for eight years and five months before stepping down in September 1998. The second longest tenure is held by Fred van Groningen Schinkel, who was Commissioner for eight years (two terms), before being succeeded by Johan Brandsma in Otocber 2014.

After Johan Brandsma stepped down in October, a procedure was started to name a successor. Effective January 1 of this year, Peter Brink was named as new Commissioner by the board of the KNBSB.

In a statement released by the KNBSB, Peter Brink says: ,,I like to work with and for officials. There are enough challenges, like the expansion of a clear and transparent policy with which everyone can continue his or hers hobby with pleasure and in a relaxed atmosphere. We also will work at individual growth, which will create an enthousiastic group, meaning others can see that being an official is fun. With this, the level and the total of members has to grow.''

Peter Brink now will compile a new steering committee for baseball-umpires, who will support him with his duties.

Peter Brink has been an experienced umpire, who unfortunately had to retire due to an injury during the 2018 season. After having started his umpiring career in the southern region of the country, Brink promoted to the national level. During the 2009 season, he made his debut in the Dutch big league, officiating in two regular season-games. In following seasons, Brink was a member of the umpire-corps that led games in the highest league through 2018.
Commissioners Baseball Umpires
1990 - Sept. 1998
Cees Bouterse
Oct. 1998 - March 1999
Ben Lens
March 1999 - May 2001
Dick Bliek
May - July 2001
Gerben Hardeveld (interim)
July 2001 - Oct. 2006
André Schrijber
Oct. 2006 - Oct. 2014
Fred van Groningen Schinkel
Oct. 2014 - Oct. 2019
Johan Brandsma
Jan. 2020 - current
Peter Brink
Since 2010, Brink got an assignment in the postseason of the highest Dutch league annually, including working the Holland Series in 2014, 2015 and 2016.

After having retired, Brink remained active, as he became an Umpire Observer. In that position, he observed umpires during games, advised them and accompanied them, which he already had done during some previous seasons, while being active himself.

Internationally, Peter Brink was assigned to several tournaments. He made his international debut in 2013, when he officiacted at the European Championship, B-Pool in Switzerland. The following year, Brink was assigned to European Cup-tournaments in Belgium and Belarus.

In 2015, he was one of the umpires during an European Championship Qualifier in Croatia. Two more assignments followed in 2016 when he was active at the U18 European Championship (Spain) and the U21 European Championship (Israel). After having been an umpire at the Federations Cup (Spain) in 2017, Peter Brink closed his international career with two events during the 2018 season. He then was assigned to the U18 European Championship (Italy) and the European Championship Qualifier (Ireland).

Last year, Peter Brink made his international debut as commissioner when he assigned in that position for the U18 European Championship Qualifier in Sweden.

(January 16)