(Story & Photo by Marco Stoovelaar)
IN MEMORIAM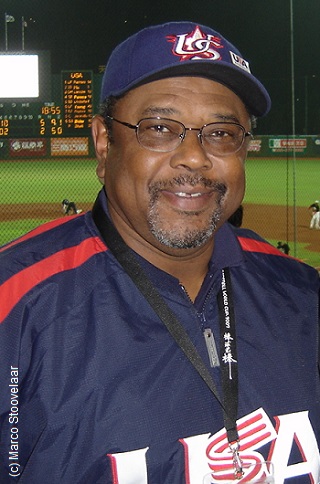 ...Bob Watson...
(1946 - 2020)...
(© Photo: Marco Stoovelaar)

Houston Astros-great; Former General Manager & MLB-Executive Bob Watson passed away
Nederlands

HOUSTON, Texas (USA) - Bob Watson, who was a star-player for Houston Astros in the seventies, passed away on Thursday (May 14) at age 74 after a long illness, resulting from kidney problems. After his playing career, Watson became one of the first African-American General Managers in Major League Baseball. He also was a Vice-President for Major League Baseball for more than ten years.

Robert José (Bob) Watson was born on April 10, 1946 in Los Angeles. After attending High School and College, Watson signed a contract with Houston Astros in January 1965. At age 19, the talented Watson made his professional debut, playing in Single-A in 1965. On September 9, 1966, at age 20, he made his Major League-debut when he was inserted as a pinch-hitter against Los Angeles Dodgers. It was to be his lone at bat in his lone big league-game during the 1966 season. Watson played in six games in 1967 then appeared more frequently in games over the next three seasons, before becoming a regular player in 1971. In 1967, 1968 and 1969, he also played at the Double-A and Triple-A level. Initially, Watson was a catcher, but was an outfielder and first baseman (his prime position) when he played in the Majors.

Watson, who was a productive batter, played in fourteen seasons for Houston through June 1979. In his seasons with Houston, amongst his longtime teammates were position-players such as Enos Cabell, César Cedeño, José Cruz, Cliff Johnson, Roger Metzger, Doug Rader and Jim Wynn (who passed away on March 26 at age 78) and pitchers Joaquin Andujar, Larry Dierker, Ken Forsch, Joe Niekro, J.R. Richard and Joe Sambito.

In June 1979, Watson was traded to Boston Red Sox for whom he played in the remainder of the 1979 season. After that season, Watson became a Free Agent in November, then was signed seven days later by New York Yankees. With New York, Watson played in the 1981 World Series and then hit a homerun in his first at bat.

Bob Watson played for New York in three full seasons (1980-1982). Amongst his wellknown teammates there were position-players Bucky Dent, Reggie Jackson, Graig Nettles, Lou Piniella, Willie Randolph and Dave Winfield and pitchers Rich Gossage, Ron Guidry and Tommy John.

Ater having played in seven games for New York in the 1982 season, Watson was traded to Atlanta Braves in April of that year. He then played for Atlanta through 1984. There, he was a teammate of knuckleball-pitcher Phil Niekro, the brother of Watson's former Houston-teammate Joe Niekro.

In 19 Major League-seasons, Bob Watson played in 1,832 games. In these games, he collected 1,826 basehits, including 184 homeruns. Watson scored 802 runs, batted in 989 and finished his career with a .295 batting average. Watson, who was nicknamed 'The Bull', played in two All Star Games for the National League-team (1973, 1975).

In his career, Watson batted for-the-cycle twice and became the first player to accomplish this feat in both leagues. In 1977, he recorded a single, double, triple and homerun while playing for Houston Astros (then National League), then hit-for-the-cycle again while playing for Boston Red Sox (American League) in 1979.

Watson wrote history on May 4, 1975 when he scored what was the one-millonth run in Major League-history. On that day, playing for Houston, he scored when Milt May homered against San Francisco Giants in Candlestick Park in San Francisco. Watson scored the run some four second before Dave Concepcion, who had hit a homerun for Cincinnati Reds. In later recalculations however, it was determined that the historic run was probably not scored by neither of them.

After his playing career, Bob Watson was the Hitting Coach for Oakland Athletics (1985-1988). He then became the Assistant General Manager of Houston Astros after the 1988 season. In 1993, Watson was hired as General Manager by Houston and with that, he became the second African-American General Manager in MLB-history. As Assistant General Manager, Watson was involved in the decision-making regarding an important trade in August 1990. Houston traded popular righthanded reliever Larry Andersen to Boston Red Sox in exhange for then-third baseman and Minor Leaguer Jeff Bagwell. Watson had an eye for talent, as Bagwell played for Houston in 1991-2005 as its first baseman, became one of its most productive players and was elected into the Hall of Fame in 2017. After the 1995 season, Watson became the General Manager of New York Yankees. In 1996, New York won the World Series for the first time since 1978. With that, Watson became the first African-American General Manager to win a World Series. Watson was New York's GM through 1997.

Since late 1997, he worked for Major League Baseball until 2010. Watson first was the Vice-President in charge of discipline, then Vice-President of rules and on-field operations.

In 1999-2009, Bob Watson also worked for USA Baseball, the American Baseball Federation. In his role as General Manager, Watson was responsilble for compiling the rosters for Team USA for international competitions. In these years, Team USA was very successful, including winning the Gold Medal at the 2000 Olympic Games in Sydney (Australia). After the team failed to qualify for the 2004 Olympics in Athens (Greece), Team USA won the Bronze Medal at the Olympics in Beijing (China) in 2008. The team also won the World Championship in 2007 (Taiwan) and 2009 (Italy). When Watson became Team USA's General Manager in 1999, active professional players were first allowed to play for their country in international events. During the events, the sympathetic and always smiling Watson of course was in attendance each time Team USA played.

Bob Watson also was closely involved with Baseball Assistance Team (BAT), since it was founded in 1986. The charity has awarded 42 million dollar since to members of baseball families in need of short-team financial help. Watson played an important role for BAT, which also provides health care, food etc. to these families.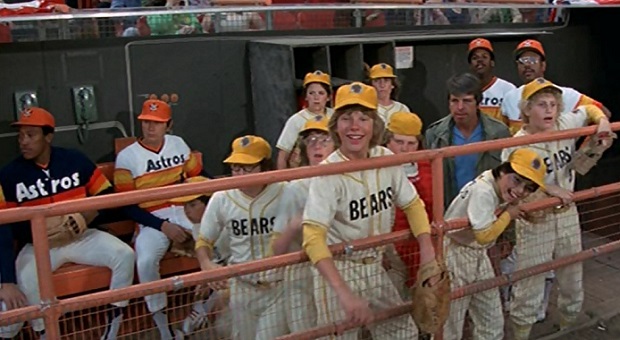 ...Bob Watson (standing in the back at right) making a cameo in the...
...movie 'The Bad News Bears in Breaking Training' (1977)...
...Standing besides Watson is César Cedeño; Standing in front of Cedeño is...
...William Devane; Sitting at left are pitchers J.R. Richard and Ken Forsch...
(Publicity Photo)

In 1977, Bob Watson played a small role (cameo) in the baseball/comedy/drama-movie The Bad News Bears in Breaking Training, which starred William Devane as coach Mike Leak. In this movie, the Bears-team played in the Astrodome, which then was the home of Houston Astros. Besides Watson, some other Astros-players also played a small part, including César Cedeño, Enos Cabell, Ken Forsch and J.R. Richard and Manager Bill Virdon. Also starring were Jackie Earle Haley as player Kelly Leak and Chris Barnes as player Tanner Boyle. Haley and Barnes also played in the first movie, 'The Bad News Bears' (1976). Haley then also played in the third movie, The Bad News Bears Go to Japan (1978).

In March of this year, Houston Astros dedicated the Bob Watson Education Center at their Urban Youth Academy. Also this year, Watson was a member of the second class to be inducted into the Astros Hall of Fame.

Houston Astros released the following statement: ,,This is a very sad day for the Astros and for all of baseball. Bob Watson enjoyed a unique and remarkable career in Major League Baseball that spanned six decades, reaching success at many different levels, including as a player, coach, general manager and MLB executive. He was an All-Star on the field and a true pioneer off of it, admired and respected by everyone he played with or worked alongside. Bob will be missed, but not forgotten. We were proud to honor Bob's legacy with the dedication of the Bob Watson Education Center at the Astros Youth Academy in March. A fitting tribute to what he meant to the Astros organization and to the game of baseball. We send our heartfelt condolences to his wife, Carol, his daughter Kelley, his son, Keith and to the rest of his family, friends and many admirers''.

Major League Commissioner Rob Manfred said in a statement: ,,Bob Watson was a highly accomplished figure in our National Pastime and a deeply respected colleague for those of us at Major League Baseball. He was an All-Star during his 19-year Major League career and a groundbreaking executive in the front office. Bob rose up to become general manager of the Astros in 1993 and made history as the first African American GM of a World Series champion with the 1996 Yankees. He then oversaw all on-field operations for the Commissioner's Office and played a pivotal role in USA Baseball's success internationally, including its Olympic Gold Medal in the 2000 Sydney Games. Bob was known for some of the unique moments of his generation, including scoring the millionth run in baseball history and a memorable role in The Bad News Bears in Breaking Training. But I will always remember the outstanding example that Bob set for others, his years of model service to the Baseball Assistance Team and the courage with which he met his health challenges in recent years. On behalf of Major League Baseball, I extend my deepest condolences to his wife Carol, their children and his many friends and admirers across our game''.

Paul Seiler, Executive Director/CEO of USA Baseball, said in a statement: ,,'Bull' was one of those rare people in life who made everyone around him better, both on the field and off. His baseball résumé is legendary, but the impact he made on others in every walk of life is what truly sets his legacy apart. Personally, and professionally, I am honored to have called him a friend and humbled to have learned so much from him. On behalf of USA Baseball, our hearts are heavy today for his wife, Carol, his children, Keith and Kelley, and for all who were lucky enough to have known him''.

The webmaster of Grand Slam * Stats & News offers his condolences to Bob's wife Carol, his daughter Kelley, his son Keith and other family and wishes them a lot of strength with this big loss.

(May 16)