(Story by Marco Stoovelaar; Photos by ANP Photo/Flip Martens & Archive)
IN MEMORIAM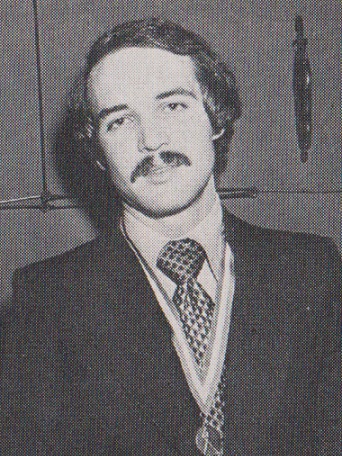 ...Douglas Morton...
(1949 - 2020)...
(© Archive Photo)

Former pitcher Douglas Morton passed way; American dominated Dutch big league
Nederlands

RICHARDSON, Texas (USA) - American pitcher Douglas Morton, who dominated in the Dutch big league in the seventies and eighties, passed away unexpectedly on April 19 at age 70. Morton pitched in the highest Dutch baseball division for ten seasons and frequently led the league with his accomplishments. He is the all-time leader in strikeouts by foreign righthanded pitchers in the Dutch Major League.

Douglas Orla Morton was born on December 8, 1949 in McPherson, Kansas and grew up in Wichita, also in Kansas. There, he attended Friends University, where he played for the Falcons baseball-team, first as an infielder, later as pitcher. His father Orla Homer Morton also attended Friends University and played American football (quarterback, halfback), basketball and was a sprinter, while studying at the Wichita-based university in 1931-1934. Morton Sr., who passed away in 1996, was inducted posthumously into the school's Hall of Fame in 2013.

While at University and pitching in the National Champinship, Morton was contacted by Major League-clubs Cincinnati Reds and Philadelphia Phillies. As it was not sure whether or not he would get a contract, Morton decided to travel and see something of the world. And so, at age 24 in the Fall of 1974, he first traveled to Amsterdam as a tourist to visit his sister and her husband, who then lived in the Dutch capital. Not knowing baseball was played in the Netherlands, Morton got in contact with former baseball-player/coach Gé Hoogenbos, who at that time was the baseball-reporter for De Telegraaf newspaper. That led to a meeting with Simon Heemskerk, who then was the coach of Haarlem Nicols. Shortly thereafter, Dougkas got a try-out and in 1975, he joined Nicols, who also arranged a place to stay and work for him. From then on, Morton played for one of the most successful teams in Dutch baseball-history. During his 10-year career in the Netherlands, he was called either Douglas or Doug. In his first season, his name was sometimes listed as Douglas O. Morton or erroneously as Douglas O'Morton.

Morton played for Haarlem Nicols in 1975-1981. After the 1981 season, there was a big surprise, as Morton transfered from Nicols to UVV for whom he played in 1982-1984. His first three seasons with Nicols were very successful, as the team captured the Dutch Championship-title three years in a row, also won the Dutch Cup in these three years and won the European Cup in 1975. While playing for Haarlem Nicols, Morton met and dated Betty Boon, the daughter of Nico Boon, who then was the team's Business Manager. Betty was the love of his life, the two married in December 1976, Morton learned to speak the Dutch language and they lived in Haarlem for the next years. After the 1984 season, the two moved to the USA.

Through the years, several good American baseball-players have played in the highest Dutch league. But in the seventies and eighties, there were some of the best American players, who all added something extra to the team they played for. Such as Craig Montvidas (1975; 1977-1979 Giants Diemen, 1976 Kinheim, 1980-1984, 1986 HCAW), Steve Matthew (1977-1987 Giants Diemen, 1988-1989 Almere Giants '24) and Craig McGinnis (1980-1986 Giants Diemen, 1987-1989 Haarlem Nicols) and of course Morton himself. These four have something in common. Besides all sharing the 'M' as first letter of their family-name, they all played for many years in the Netherlands, stayed to live there and married a Dutch girl.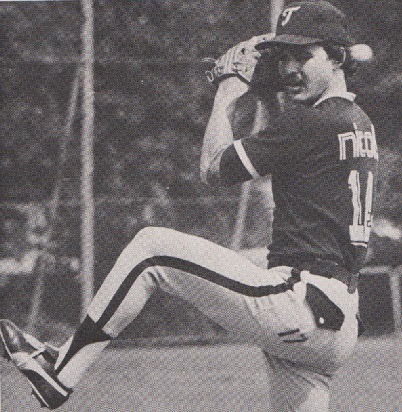 ...Douglas Morton pitching for Nicols in 1981...
(© Archive Photo)

In 1975 through 1979, only a few teams in the big league had American players. Besides Morton, Montvidas and Matthew, amongst the players coming to the Netherlands in these years were John Barrett (ADO, 1975), Bernie Beckman (Giants Diemen, 1978), Brian Lewis (UVV, 1978-1979), Bill Nardi (UVV, 1978-1979), Mike Ocon (Sparta, 1978), Richard Reichle (HCAW, 1978/Neptunus, 1979), Steve Donovan (Kinheim, 1979-1980/Neptunus, 1981-1982/HCAW, 1984), Terry Hensley (Giants Diemen, 1979), Ed Pikor (Kinheim, 1979-1980) and Louie Schultz (Neptunus, 1979-1980). Barrett later became a coach and then was a longtime baseball and softball-umpire.
From the early eighties on, most teams in the Dutch big league had two American players. Besides McGinnis, amongst the other wellknown players who from then on went to play in the Dutch big league in these years were Kevin McDonald (Feyenoord/Neptunus), Joe Westmoreland (UVV), Scott Donop (HCAW), Eddy Rose (Giants Diemen), Joe Ross (Quick Amersfoort/UVV), Leo Kalinowski (Amsterdam Pirates), Marc Morrison (Haarlem Nicols), Brian Petroff (Sparta), Paul Stockley (Amsterdam Pirates), Andy Jarvis (Haarlem Nicols), Jerry Lane (Amsterdam Pirates), Frank Millerd (ADO/Amsterdam Pirates), Kevin Spicer (Amsterdam Pirates), Bill Swiacki (Sparta) and Dave Bisceglia (Hoofddorp Pioniers). Like Morton, Matthew, Montvidas and McGinnis, several of these players also played more than one season or stayed to live for several years in the Netherlands.

Many of these players also played for the Dutch American All Star Team, which played several practice games against the Netherlands Baseball Team as preparations for international events. In 1979, the Dutch American All Stars participated in the Haarlemse Honkbal Zesdaagse (Haarlem Baseball 6-day Tournament), which was a mini-version of the bi-annual Haarlem Baseball Week. In that event, Morton won the award for Best Pitcher, while Steve Matthew was the tournament's Most Valuable Player. Former Netherlands Team Manager Ernie Myers led the team.

Amongst Morton's teammates in his first four seasons at Haarlem Nicols were Jersey van Doornspeek, Ton de Jager, Henny Jenken, Jan-Dick Leurs, Boudewijn Maat, Robert Maat, Leo Naaktgeboren, Harm Schildmeijer and Harry van der Vaart. From his fourth season on, some of the older players retired. Also, several younger players were added to the team from either youth-teams of Nicols or from other clubs, including Frank Bos, Frans de Bruijn, Ron Giroldi, Bill Groot, Marcel Joost, Hans Lemmink, Thijs Vervaat, Haitze de Vries and Pim Winkel. Morton's American teammates in his years at Haarlem Nicols were Steve Steitz, Bill Kelley, Gary Holland, Jack Shine, Bill Nardi and John Brickley. Steitz also was one of the coaches in 1975, while Simon Heemskerk, John Barrett, Huub Kohl and Jan-Dick Leurs were Morton's coaches in later years. Amongst his teammates at UVV were Reinier Abrahamsen, José Acebal, Judsel Baranco, Carlos van Heyningen, Louis Jacobs, Jos Kervers, Danny McNurlin, Paul Mulder, Erik Ronnenbergh, Martin Ronnenbergh and Olav Starreveld. In the three seasons that Morton pitched for UVV, the Head Coaches were Ad Brevet, Joe Ross and Cees Herkemij.

Besides being an outstanding pitcher, Douglas Morton also was a good batter. Especially in his first three seasons (1975-1977) when he batted .340 in 1975 and .324 in 1977. In those years, the designated hitter-rule was not yet in use in the Dutch competitions. In 1973, the DH was introduced in the American League, one of the two Major Leagues. The other league, the National League, has never had a DH. The rule was adopted in the Netherlands in 1978, but many pitchers continued batting themselves. In later years, Morton batted less, but sometimes he was a DH himself. In his ten seasons, he batted .272 with 77 basehits (six homeruns), scored 42 runs and batted in 45.

As a pitcher, Douglas Morton dominated in most of his ten seasons and was well respected in the Dutch league. In the years Morton was active in the Netherlands, many pitchers went the distance and the righthander was amongst them. Of the 135 games he started, Morton completed 120. He led the league in complete games in 1979 (16) and 1980 (17).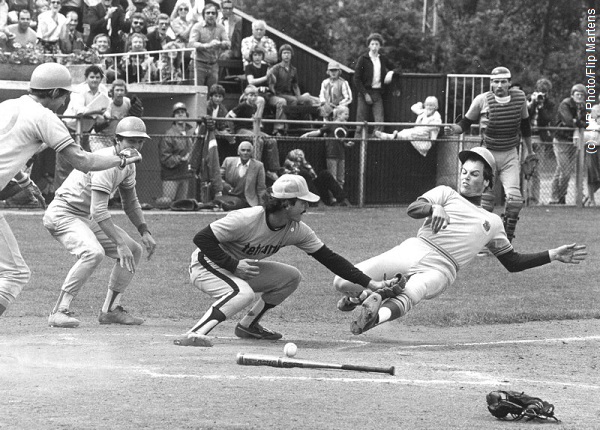 ...Douglas Morton tries to tag out the sliding Charles Urbanus in a...
...home-game against Amstel Tijgers on June 17, 1979...
...But the ball is thrown erroneously by catcher Hans Lemmink (background)...
...in a disastrous fifth inning for Nicols when a basesloaded...
...double play-grounder towards third base by Harm Horeman results in...
...3 errors and 4 runs; At left, Arnold Smith and Don Wedman already have...
...scored, while Horeman would score himself behind Urbanus...
(© Photo: ANP Photo/Flip Martens)

In 1976 and 1977, Douglas Morton set a record by going unbeaten in two consecutive seasons. He won 11 games in 1976, then 16 more in the following year. In both years, Morton won the award for Best Pitcher of the season. In his first season (1975), he was 6-1, which means that Morton was 33-1 in his first three seasons in the Netherlands big league! He also led the league in ERA in 1975 (1.32) and 1976 (1.65). Morton, who was a well-liked teammate, led the league in strikeouts in 1977 (182). In his first seasons, Morton had a very effectice fastball and slider and always wanted to throw the ball low in the strikezone. During his delivery. he dropped somewhat with his body, resulting in his right leg sliding over the ground. In later years, he relied more on his curve.

After Nicols had captured the title again in 1976, Nol Beenders, who then pitched for Haarlem-based Kinheim, reacted: ,,I have the feeling that that good arm of Morton probably has been to good for Dutch baseball''.

Douglas Morton always has been very serious and driven about playing the best possible baseball. In an interview with Frank Snoeks for Inside-magazine in June 1981, the two talked about pitching as perfect as possible. Morton had a remarkable statement, saying the most perfect game would be one in which a pitcher throws only 27 pitches. ,,It was the first time that I heard someone say that'', Snoeks said to the author of this story on Monday-evening. ,,I said to Morton that it would not be possible to strikeout someone in such a game. He then answered that it is not about striking out a batter, but to throw as little as possible balls in a game''. In the same interview, it was also mentioned that when Morton pitched for Nicols, everyone expected the team to win. Morton said: ,,It is not that bad that people think that Nicols wins when I pitches, but the bad thing is that the team thinks the same way. That has to change. The players have to think that we win, because we play well''.

In his ten Dutch seasons, Douglas Morton won 104 games and lost only 33, while also earning 11 saves. Morton closed his Dutch career with a 2.27 ERA. The righthander had a wonderful control, as he struckout 1,286 batters and walked only 168 in 1,271 innings pitched. In 1984, his final season in the Netherlands, pitching for UVV, Morton was mainly used as a closer. He then led the league with 21 appearances and five saves.

While he said that he not really was a strikeout-pitcher, Douglas Morton's 1,286 strikeouts are the most thrown by a righthanded foreign pitcher in the Dutch Major League. The total is the second highest amongst American pitchers, trailing lefthander Craig McGinnis, who recorded 1,571. He is also is one of some twenty pitchers with 100 or more victories. Morton's 120 complete games are the third most on the all-time list in the Dutch big league. The list is headed by Bart Volkerijk (202) and Orlando Stewart (142).

In an obituary in the Dallas Morning News of April 26, it is stated that Douglas Morton had a great sense of humor, loved sports and was a big fan of the Texas Rangers (baseball), Dallas Mavericks (basketball) and Dallas Cowboys (American football). Through the years, the Morton-family lived in various cities in the USA. They later settled in Richardson, Texas, which is a northern suburb of Dallas. After he ended his baseball career, Douglas Morton worked in sales and enjoyed gardening in his free time.

The webmaster of Grand Slam * Stats & News offers his condolences to Doug's wife Betty, their sons Brandon and Bryan and other family and wishes them a lot of strength with this big loss.

(April 28)

It is possible to place personal memories of Douglas Morton at this condolence-register.