(Story by Marco Stoovelaar; Photo by Robert Bos)


Tom de Blok losing pitcher in Mexican debut
Nederlands



PUEBLA (Mexico) - Pitcher Tom de Blok made his debut in the Liga Mexicana de Béisbol on Thursday (July 1) when he was the starting pitcher for Pericos de Puebla in a home-game against Tigres de Quintana Roo. On Thursday, the teams played a double-header and Tigres won both games, 5-2 and 6-4.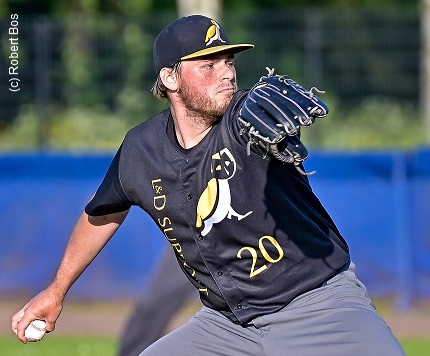 ...Tom de Blok pitching this season...
...for L&D Amsterdam Pirates...
(© Photo: Robert Bos)

The 25-year old De Blok signed a contract with the team from Puebla after completion of the WBSC Baseball Final Qualifier. In that event, De Blok was one of the pitchers of the Netherlands Baseball Team. Before traveling to Mexico, the righthander pitched in the Dutch big league for reigning champion L&D Amsterdam Pirates for whom he was 3-2 this season. During the Qualifier, the games were played at Estadio Hermanos Serdán, the home of Pericos de Puebla. De Blok was scouted during the tournament and had a strong outing against the Dominican Republic. He then threw five scoreless innings in a game that was eventually won by the Dominicans with a 4-3 score on an error in the ninth inning.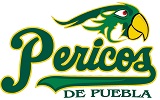 With his strong performance, Tom de Blok attracted attention from scouts and after completion of the event, he signed with Pericos de Puebla. While the Netherlands Team traveled home, De Blok stayed behind in Mexico to join his new team. Pericos de Puebla announced the addition of De Blok on Sunday and confirmed that he was added to the active roster immediately, taking the spot of Dominican Gabriel Arias, who has a shoulder injury.
The club then also announced that De Blok would be the team's starting pitcher on Friday in a home-game against Leones de Yucatán in the opener of a 3-game series. But in a rainy week, the rotation changed and instead, De Blok started on Thursday in the first game of a double-header against Tigres de Quintana Roo.
In his debut against Tigres, De Blok gave up a run in the first inning when Alejandro González scored on a sacrifice fly by Reynaldo Rodríguez. In the fifth inning, Rodríguez again brought in a run with a sacrifice fly. De Blok threw five innings in which he struckout four batters. He also walked five and gave up seven basehits.
The team from Cancún added three runs in the sixth at bat. The third run was also batted in via a sacrifice fly, this hit by Rubén Sosa. Later in the at bat, Jovan Rosa added a 2-run single.
Tigres-starter Carlos De León held Puebla hitless in five innings Curaçao-born pitcher Wendell Floranus closed the game for Tigres and earned his fifth save. Last year, Floranus pitched in the Dutch big league for Quick Amersfoort.
A week ago, De Blok and Floranus were teammates in the Netherlands Team during the Qualifier.
(July 1)