(Story by Marco Stoovelaar)

Draw European Championship; Netherlands in Pool D
Nederlands



TURIN (Italy) - The online draw for this years European Championship took place on Wednesday (March 3) in Circolo Esperia in the Italian city of Turin. Reigning champion Netherlands will open in Group D. The game-schedule will be announced later.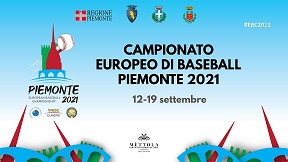 The 36th Championship is currently scheduled for September 12 through 19 and will be held in the historic Piedmont Region, which is located in the northwest of Italy. The games will be played in Turin, Avigliana and Settimo Torinese. Stadio Baseball Paschetto in Turin will be the main-site of the event.
For the first time, sixteen countries will participate in the European Championship. The twelve countries that participated in 2019 will return. They will be joined by the winners of the four Qualifying Tournaments at the B and C-level. These tournaments are scheduled to be played on June 29/30 through July 3/4 in Utena (Lithuania), Belgrade (Serbia), Moscow (Russia) and Bratislava (Slovakia).
In this years preliminary round of the Championship, there will be four groups of four teams each.
Host Italy will play in Group A. During the draw on Wednesday, the Italians got company from Belgium, Austria and the winner of the Qualifier in Lithuania.
In Group B, Spain, Germany and Croatia will play, together with the winner of the Qualifier in Serbia.
Group C is compiled of Israel, France, Great Britain and the winner of the Qualifier in Russia. In July/August, Israel will represent Europe in the Olympic Games in Japan.
The Netherlands will open in Group D and will meet Sweden, the Czech Republic and the winner of the Qualifier in Slovakia in the preliminary round.
In 2019, when the European Championship was held in the German cities of Bonn and Solingen, the Netherlands captured its third consecutive title by winning 5-1 against Italy in the Final. Spain then ended in third place, followed by Israel, the Czech Republic and Germany in the top-6.
The Netherlands is the recordholder with 23 European titles. Italy has ten. Since the first edition was organized in 1954, only two other countries won the title. Spain in 1955 and Belgium in 1967.
(March 3)