(Story by Marco Stoovelaar; Photo by Henk Seppen)

Regular professional season in South Korea starts with rain
Nederlands






SEOUL / CHANGWON / INCHEON / SUWON (South Korea) - The regular season in the professional Korea Baseball Organization (KBO) in South Korea opened on Saturday (April 3). On that day, five games were scheduled, but four were cancelled due to rain. On Sunday, all five games were played in the KBO League.
Last year, the start was postponed from March 28 to May 5, but nevertheless, all teams played a normal 144-game schedule. That led to the latest conclusion ever, as the season ended on November 24 when NC Dinos won its first-ever title by winning the Korean Series against Doosan Bears in six games. This year, the season started on schedule and spectators are allowed, but with several measures, including social distance. In the Seoul-area, ten percent of the stadiums is allowed to be filled with fans. In other stadiums, thirty percent is allowed.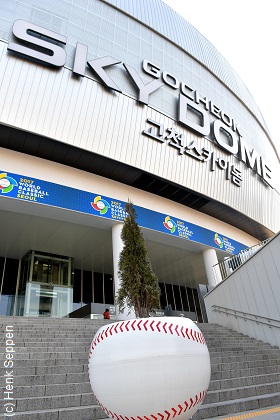 ...In 2017, the Gocheok Sky Dome...
...was the site of the First Round...
...of the World Baseball Classic...
(© Photo: Henk Seppen)

On Saturday, the lone game that was not cancelled on Opening Day was played indoors in the Gocheok Sky Dome in South Korean capital Seoul. Last season, all postseason-games after the first round were played in Gocheok Sky Dome. In 2017, the First Round of the World Baseball Classic was played in this stadium with the participation of host South Korea, Chinese Taipei, Israel and the Netherlands.
In its first game on Saturday, the home-playing Kiwoom Heroes outscored Samsung Lions, 6-1 at the Gocheok Sky Dome. The team led 2-0 after five innings, then took more distance by scoring three runs with two outs in the sixth at bat. Jung-hoo Lee led off with a single, then Byung-ho Park doubled. With two outs and first base open, Hye-seong Kim was walked intentionally. But hereafter, a run was scored when Dong-won Park walked and two more on a following single by Woo-hyun Song. This was all done off of American starter David Buchanan, who was replaced by Hyun-jun Lim after giving up the single to Song.
On Sunday, Kiwoom Heroes also won the second game, this time winning 7-4, thanks to a 6-run rally in the fifth inning. Lions initially took an early lead by scoring three runs in the third inning, two of them on an error. In the bottom of the fifth, Heroes rallied for six runs. Su-hwam Kim led off with a homerun, then the second run was scored on a single by Hye-Seong Kim. The home--team then took a 4-3 lead thanks to a 2-run single by American David Freitas. With the bases loaded, two more runs were added on a single by Su-hwan Kim and a walk for Dong-won Park, who both batted for the second time in this at bat. Kim had led off the inning with a homerun, then Park was hit by a pitch thereafter. Heroes added a run in the sixth when Byung-ho Park hit a 2-run homerun. Lions then scored its final run in the eighth.
Doosan Bears opened on Sunday with a 4-1 win against KIA Tigers at home in the historic Jamsil Baseball Stadium in Seoul, which was the host of the baseball-tournament in the 1988 Olympic Games. Trailing 1-0, the home-team rallied for four runs in the eighth inning. Jae-ho Kim led off with a single, then his pinch-runner Soo-haeng Jo advanced on a sacrifice bunt and scored the tying run on a single by Kyoung-min Heo. After a pitching change, Cuban Josť Miguel FernŠndez walked, which led to another pitching change. Kun-woo Park then hit a 3-run homerun to put Bears ahead.
At Munhak Baseball Stadium in Incheon, SSG Landers won 5-3 at home against Lotte Giants, but was outhit 12-9. Jeong Choi and Joo-hwan Choi both hit two homeruns for Landers. They hit back-to-back homeruns in the eighth inning. Jun-tae Kim and Hoon Jung homered for Giants.
Shin-soo Choo was the designated hitter for SSG Landers and was 0-for-3 with a walk. The 38-year old Choo returned to South Korea after having played in 16 Major League-seasons through last year with Seattle Mariners (2005-2006), Cleveland Indians (2006-2012), Cincinnati Reds (2013) and Texas Rangers (2014-2020). In 2018, Choo played in the All Star Game. Last year, the designated hitter donated 1,000 dollar to all 190 Minor League-players in the organization of the Texas Rangers, who were unable to play, as the entire Minor League-season was canceled due to the coronavirus pandemic. He also donated 200,000 dollar to a charity fund in the city of Daegu, which was the hardest hit city in South Korea. Choo played in 1,652 Major League-games and collected 1,671 basehits, including 218 homeruns.
At Changwon NC Park in Changwon, home-playing NC Dinos lost 2-1 to LG Twins. Dinos, which last season won its first title by winning the Korean Series, opened the score in the first inning when Sung-bum Na homered with two outs. Twins came alongside in the third, then took the lead in the seventh on a single by Hyun-soo Kim, but then also left the bases loaded.
At Suwon KT Wiz Park in Suwon, KT Wiz opened at home with a walk-off 3-2 win against Hanwha Eagles. In the top of the first inning, Eagles opened the score, but the home-team took a 2-1 lead in the fifth. Sung-woo Jang led off with a homerun, then the second run was scored on a sacrifice fly by Woo-jun Shim. Eagles came alongside in the sixth. The decision the fell in the bottom of the ninth. With one out, pinch-runner Min-sub Song was on first base. He stole second base, then scored the winning run on a walk-off single by Jung-dae Bae.
(April 3-4)