(Story by Marco Stoovelaar; Video by MLB Video)




Ozzie Albies named as non-starter for Major League All Star Game
Nederlands




NEW YORK, New York / DENVER, Colorado (USA) - On Sunday (July 4), the reserves and pitchers were announced for the Major League All Star Game, which will be played on Tuesday, July 13 at Coors Field, the home of Colorado Rockies in Denver. Amongst the players who were named to fill out the rosters of the American League and National League All Star Teams was Ozzie Albies. The Curašao-born second baseman of Atlanta Braves will be on the roster of the National League All Star Team.

...Ozzie Albies has 5 hits (2 HRs) with 7 RBI's for Atlanta...
(© MLB Video)

On Thursday, the starters were named for the 91st All Star Game. Xander Bogaerts (Boston Red Sox) will be in the starting line-up as short stop for the American League All Star Team.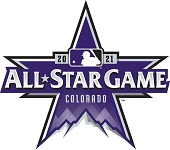 Last year, the All Star Game plus all surrounding activities, such as the Futures Game, Home Run Derby and All Star Celebrity Softball Game were cancelled due to measures against the spread of the coronavirus (COVID-19). All these events then would be held at Dodger Stadium, the home of Los Angeles Dodgers. Instead, Los Angeles now will be the host next year.
Ozzie Albies was one of the three finalists for second base in the National League. He finished in second place in the second phase of the voting process behind Adam Frazier (Pittsburgh Pirates), who will be the starting second baseman.
Currently, Albies is the fourth best hitter of Atlanta Braves with a .265 batting average. But he leads the team with 83 basehits, one more than Freddie Freeman, who will be the starting first baseman for the National League. Albies also leads Atlanta with 59 runs batted in, eight more than Ronald Acu˝a, Jr., who will be one of the starting outfielders in the All Star Game. With his 59 RBI's, Albies is in second place in the National League, one less than Adam Duvall (Miami Marlins). Albies also has the most doubles (23) and triples (5) of the Atlanta-team and is in third place with 15 homeruns, behind Acu˝a (23) and Freeman (17). And he is in second place with 13 stolen bases, three less than Acu˝a.
Last Wednesday (June 30), Albies was 5-for-6, including two homeruns, scored four runs and batted in seven for Atlanta in a 20-2 win against New York Mets.
The 24-year old Albies plays in the Major League since 2017 when he made his debut playing for Atlanta. Through Sunday, he played in 485 games in his 5-year career, hitting 533 basehits, including 75 homeruns. This this will be his second All Star Game. He also was a non-starter in 2018 when the Game was played in Washington, DC.
(July 4)