(Story by Marco Stoovelaar; Photo by Henk Seppen)

Las Tunas wins opener of second Cuban Semi-Final
Nederlands



SANCTI SPÍRITUS (Cuba) - Leñadores de Las Tunas opened the best-of-seven Semi-Final against reigning champion Cocodrilos de Matanzas on Sunday-afternoon (March 7) with a 4-2 victory. The winner of this series will advance to the all-deciding Championship Final of the 60th edition of the Cuban Serie Nacional de Béisbol. Game 2 will be played on Monday.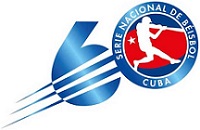 Las Tunas led twice, but Matanzas came alongside both times. The team then scored two unearned runs in the eighth, which proved to be decisive.
Las Tunas reached the Semi-Final last Thursday by winning the belated best-of-five Quarter Final against Avispas de Santiago de Cuba. After the first game of this series was played on January 26, it was put on hold as there were several positive cases of the coronavirus (COVID-19) in the team of Santiago de Cuba and also some in the team of Las Tunas. The series resumed on February 28 in Camagüey.
Matanzas had reached the Semi-Final by completing a 3-0 sweep on February 16 against Elefantes de Cienfuegos.
The Semi-Final between Matanzas and Las Tunas initially was scheduled to be played in Camagüey. However, last Thursday, it was announced that the series was moved to Sancti Spíritus. The reason to move the series was that there is somewhat of a raise of coronavirus cases in Camagüey. To help the local government to concentrate more on this situation, the playing site was changed.
The winner of the Semi-Final will meet Alazanes de Granma in the best-of-seven Championship Final. On February 27, Granma won its best-of-seven Semi-Final against Vegueros de Pinar del Río 4-2 to become the first finalist.
---
Matanzas vs. Las Tunas
At Estadio José A. Huelga in Sancti Spíritus, Las Tunas opened the score in the top of the first inning off of starter Yoanni Yera Montalvo. With one out, the lefthander gave up a homerun to deep leftfield by Andrés Quiala Herrera.
In the bottom of the first inning, Las Tunas-starter Carlos Juan Viera Alvarez gave up a lead-off single to Aníbal Medina Pérez. But he was forced out, then a double play ended the first at bat of Matanzas.

After being retired in order in the second inning, Matanzas came alongside in the third. With two outs, Yadil Mujica Díaz and Aníbal Medina Pérez both singled. Next batter Ariel Sánchez Sánchez also singled on a line drive to leftfield and that enabled Mujica to score the tying run. However, Medina got in a rundown between second and third when he tried to advance to third base on what appeared to be a throw to the plate. Instead, the throw went to third base and Medina was tagged out near second base, which ended the at bat.
Las Tunas re-took the lead in the top of the fourth. With one out, Yosvani Alarcón Tardio doubled and moved to third base on a single by Rafael Viñales Alvarez. He then scored on a sacrifice fly from his brother Yordanis Alarcón Tardio. Viñales stranded on second base.
The new lead was shortlived, as Matanzas scored the tying run in the bottom of the fifth. Eduardo Blanco Díaz led off with a double and moved to third base on an one-out single by Yadil Mujica Díaz. Moments later, Blanco scored on a single by Aníbal Medina Pérez to make it a 2-2 score. Mujica advanced to second base, then stole third base shortly thereafter, but the inning ended with a strikeout.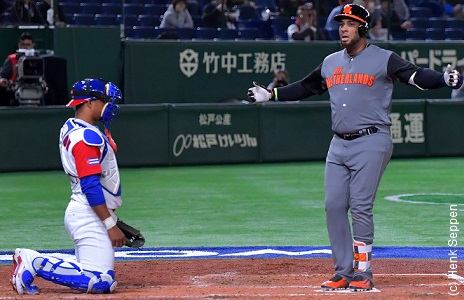 ...Cuban catcher Yosvani Alarcón sees Wladimir...
...Balentien score for the Netherlands during the...
...2017 World Baseball Classic in Tokyo (Japan)...
...The Netherlands wins 14-1 in seven innings...
...In the Semi-Final opener, Alarcón batted 3-for-4...
...for Las Tunas, scored a run and batted in one...
(© Photo: Henk Seppen)

Both teams were retired in order in the sixth inning, but reached base again the next at bat bat. But Las Tunas then left a runner behind on first base and Matanzas on second base.

Las Tunas took the lead for the third time in the top of the eighth off of starter Yera when the Matanzas-defense made two costly errors, resulting in two unearned runs. Lead-off hitter Yuniesky Larduert Domínguez reached when his hit into the outfield was missed, then moved on a hard line drive infield-hit to short by Andrés Quiala Herrera. The two advanced on a wild pitch. With one out, Yosvani Alarcón Tardio singled. That brought in Larduert and moved Quiala to third base, but he also was able to score when an outfield-error followed. On the error, Alarcón advanced to second base. To set up a force play, next batter Rafael Viñales Alvarez was walked intentionally. Alarcón and Viñales were left behind, as the next two batters were retired.

In the bottom of the eighth, Matanzas left a runner behind on second base. The reigning champion got on base again in the bottom of the ninth, but that happened with two outs. Pinch-hitter Juan Miguel Vázquez Trujillo then singled. After Vázquez was replaced by pinch-runner Edel Tamayo Román, next batter and pinch-hitter Willian Luis Campillo also singled. Luis also was replaced by a pinch-runner, as Roberto Alvarez Cárdenas was inserted. With that, Matanzas has the tying run on base with two outs. But hereafter, Anibal Medina Pérez popped the ball up into foul territory where it was caught by veteran catcher Yosvani Alarcón Tardio to end the game. Alarcón batted 3-for-4 with a double, scored a run and also batted in a run.

Carlos Juan Viera Alvarez went the distance for Las Tunas. The righthander gave up ten basehits and struckout five batters. Las Tunas collected eight basehits, which were recorded by the three Official Scorers.

(March 7)