(Story by Marco Stoovelaar; Photos by Henk Seppen & Robert Bos)

Roster Netherlands Team announced for European Championship
Nederlands



NIEUWEGEIN (Neth.) - The 24-man roster of the Netherlands Baseball Team for the upcoming European Championship in Italy has been announced on Tuesday (September 7). Four players will make their debut in the Kingdom Team, which will be led by Manager Evert-Jan 't Hoen. Two players will make a comeback in the National Team, which travels to Italy on Wednesday.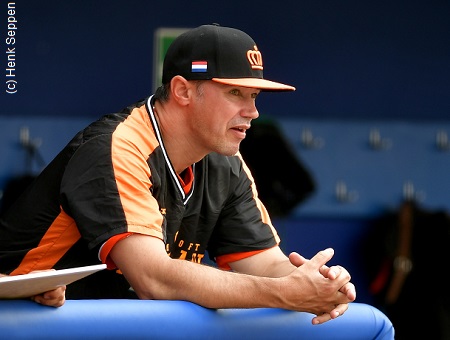 ...Netherlands Team Manager Evert-Jan 't Hoen...
(© Photo: Henk Seppen)

The 36th edition of the European Championship will be organized in the Piedmont-region, which is located in the northwest of Italy. Games will be played at three locations, Torino, Settimo Torinese and Avigliana. The Championship opens on Sunday, September 12 with eight games. The Final will be played on Sunday-evening, September 19 in Torino, which also will host the Bronze Medal-game on the same day.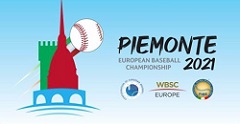 The Netherlands opens the event in Group D and will meet the Czech Republic, Slovakia and Sweden in the Preliminary Round.
The other Groups look as follows:
Group A: Austria, Belgium, Greece and Italy.
Group B: Croatia, Germany, Spain and Ukraine.
Group C: France, Great Britain, Israel and Russia.
The Orange Team begins the tournament on September 12 in Torino against Slovakia. That will be a first, as both countries never played against each other before. The next day, in Avigliana, the Netherlands meets the Czech Republic. On September 14, the team closes the Preliminary Round against Sweden in Settimo Torinese.
The two best teams of each Group will advance to the Quarter Finals. If all goes well for the Netherlands Team and it wins Group D, the team meets the number 2 team of Group C on the evening of September 16 in Torino. When the Netherlands finishes in second place, it will play against the winner of Group C in Avigliana, also on September 16 (evening).
Sixteen players on the roster of the Netherlands Team play in the Dutch big league. Four teams from the highest division are represented. Traditionally, the most players play for the top-2 teams in the league, Curaçao Neptunus and L&D Amsterdam Pirates. Seven players on the Orange-roster play for Neptunus, which on Sunday became the first team to qualify for the Holland Series. Six players play for reigning champion Pirates, which faces a 2-1 deficit in its best-of-five Play-Off against HCAW, which has two players on the Netherlands Team-roster. Silicon Storks has one player in the National Team.
The remaining eight players play abroad. Three of them play professionaly in the USA in Minor League-teams (Ray-Patrick Didder, Junior Martina, Franklin Van Gurp) and one plays professionally in Mexico (Wendell Floranus). Two play in the Curaçao Baseball League (Calten Daal, Juremi Profar) and one each play in the German Bundesliga (Mike Bolsenbroek) and Italian Serie-A (Jiandido Tromp), who this season was the second best hitter in the team of T&A San Marino. The outfielder batted .415 with five homeruns and led the team with 34 runs scored. He was third with 26 runs batted in. With San Marino, Tromp captured the Championship-title in the Italian Serie-A, winning the best-of-five Italian Series against UnipolSai Fortitudo Bologna, 3-1. Tromp batted .313 in the Final Series. Bolsenbroek captured the German title with Heidenheim Heideköpfe after winning the best-of-five Championship Series (3-1) against Bonn Capitals.
Four players will make their debut in the Netherlands National Team, being pitchers Jayden Gonesh and Aaron de Groot, infielder Junior Martina and outfielder Julian Rip.
...Jayden Gonesh & Aaron de Groot...
(© Both Photos: Henk Seppen)
Jayden Gonesh and Aaron de Groot both played for the Netherlands Under-23 Team that captured the title at the European Under-23 Championship last month in Italy. Gonesh was the starting pitcher in the Final against Germany, but had a no-decision. He struckout three batters, walked two and gave up two hits and one run in 2 2/3 inning. The righthander pitched in two games in the event and was 0-0 with an 1.91 ERA and four strikeouts in 3 2/3 inning. De Groot pitched in three games in relief and was the winning pitcher in each of these games. In 6 1/3 inning, the righthander struckout 15 batters and walked only one. He gave up no runs and won the Best Pitcher Award.

Julian Rip also played for the Under-23 Team and led the team with a .600 batting average (12-for-20) with three doubles and three triples. He scored eleven runs and batted in seven. Rip was also the Best Hitter of the tournament. After returning from college in the USA, Rip batted .552 in 15 games in the regular season for HCAW with three doubles and one triple. He scored eleven runs and batted in five. In the three Play-Off games against Amsterdam Pirates, Rip batted 3-for-12 (.250).

Short stop Junior Martina is playing in his second professional season in the organization of the Washington Nationals. This season, he started in Single-A, hitting .269 (81-for-301) in 80 games for Fredericksburg Nationals with 13 doubles and three homeruns. Martina scored 35 runs and batted in 36. On August 24, Martina was assigned to Wilmington Blue Rocks, which plays in High-A. Since then, the infielder played in seven games for his new team, hitting .231 (6-for-26).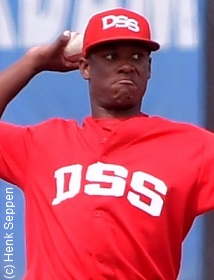 ...Junior Martina playing...
...for DSS in 2018...
(© Photo: Henk Seppen)

Martina made his professional debut in 2019, playing in Rookie League and Single-A Short Season, hitting .320 with 13 extra-basehits. Last year, the entire Minor League-season was cancelled due to the coronavirus (COVID-19) pandemic. Instead, Martina played in the shortened Dutch big league-season for Twins Oosterhout. He then played in 16 games, hitting .315 with seven runs scored and six batted in. Before turning professional, Martina played in the Dutch big league in 2018 for DSS, hitting .204 in thirteen games.

Two players are returning in the National Team, pitcher Kaj Timmermans and utility player Ray-Patrick Didder. Both last played in the Orange Team in 2019. Timmermans then made his debut participating in the World Port Tournament in Rotterdam (Netherlands). Later that year, Didder made his debut during the Premier12 in Mexico. Didder is currently playing for Rocket City Trash Pandas, the Double-A Team of Los Angeles Angels, which plays its home-games in Madison, Alabama. In 96 games, the outfielder hits .240 (79-for-329) with 21 doubles, five triples and five homeruns, scoring 53 runs and batting in 39.

Eight players who were on the 26-man roster of the Netherlands Team for the Final Baseball Olympic Qualifier in June in Mexico are not on the roster this time. That are pitchers Tom de Blok, Jair Jurrjens and Diegomar Markwell, infielders Yurendell de Caster and Curt Smith and outfielders Randolph Oduber and Ademar Rifaela. Pitcher Orlando Yntema initially also was on the roster, but due to an injury, he was replaced by Arij Fransen. Veteran lefthander Diegomar Markwell of Curaçao Neptunus played in his 100th official international game during the tournament in Mexico. Outfielder Randolph Oduber played for Hoofddorp Pioniers this season, but left the team in early August and returned to Aruba.

After completion of the Olympic Qualifier, pitcher Tom de Blok stayed behind in Mexico as he signed a professional contract with Pericos de Puebla, which plays in the Liga Mexicana de Béisbol. However, after only one start, the righthander was released as the club announced that ''he was not able to continue with the team due to an injury''. In his Mexican debut, De Blok was the starting pitcher and threw five innings. He struckout four batters, walked five and gave up seven basehits and two runs and also was the losing pitcher. De Blok returned to the Netherlands and re-joined L&D Amsterdam Pirates. Last Sunday, he made his first appearance after returning from Mexico, throwing one inning against HCAW in Game 3 of the best-of-five Play-Offs. However, it was announced that De Blok was not yet fit enough to be part of the team, as is the case with pitcher Orlando Yntema.

Last week, it was announced that the technical staff of the National Team has decided to add some younger players after completion of the Olympic Qualifier and that some veteran players would not return. Besides Markwell and Oduber that also includes longtime Netherlands Team-players Yurendell de Caster and Curt Smith. When the roster for the Olympic Qualifier was announced in June, some (veterans) were not selected at that moment, including pitcher Rob Cordemans, catcher Gianison Boekhoudt, infielder Stijn van der Meer and outfielders Gilmer Lampe and Kalian Sams. Lampe and Sams were recovering from injuries when the roster for Mexico was compiled. They all participated in several events for the team in 2019.

In a press release, Technical Director Tjerk Smeets said a new direction was chosen after the team had not qualified for the Olympic Games. Smeets: ,,We have had the luxury of being able to build on the same group of top players for years. After the Olympic Qualifier, we made the choice with the National Team Head Coach and the technical staff to fit in a number of younger players and start with a rebuild. In recent years, we have clearly focused on the Under-18 and Under-23 age categories. This is done financially, through the use of coaching and the organization of training camps around important tournaments. This year it has already resulted in two European titles and you now see that three boys from Under-23 are moving up to the A-Team''. While compiling the new roster, the technical staff look at what combination of experience and youth could be selected. Smeets: ,,In conversations with the National Team Head Coach and the other coaches (in the staff), for this European Championship, we took a good look at which of the slightly older players still performed well and can still fulfill a mentor role in this team with their experience, so that we can achieve a nice balance of youthful talent and experience in our selection. We have a very solid roster. The objective is clear: we want to become European Champion''.

The roster for the Netherlands Team looks as follows: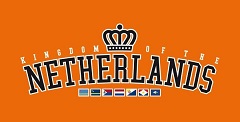 Pitchers (11):
Mike Bolsenbroek (Heidenheim Heideköpfe, Germany), Wendell Floranus (Tigres de Quintana Roo, Mexico), Jayden Gonesh (Silicon Storks), Mike Groen, Shairon Martis, Juan Carlos Sulbaran (all L&D Amsterdam Pirates), Aaron de Groot, Kevin Kelly, Kaj Timmermans (all Curaçao Neptunus), Lars Huijer (HCAW), Franklin Van Gurp (Everett AquaSox, High-A, Seattle Mariners-organization).
Catchers (2):
Sicnarf Loopstok(L&D Amsterdam Pirates), Dashenko Ricardo (Curaçao Neptunus).
Infielders (6):
Calten Daal (Wildcats, Curaçao), Dwayne Kemp, John Polonius (both Curaçao Neptunus), Junior Martina (Wilmington Blue Rocks, High-A, Washington Nationals-organization), Juremi Profar (Santa Maria Pirates, Curaçao), Sharlon Schoop (L&D Amsterdam Pirates).
Outfielders (4):
Roger Bernadina (Curaçao Neptunus), Denzell Richardson (L&D Amsterdam Pirates), Julian Rip (HCAW), Jiandido Tromp (T&A San Marino, San Marino).
Utility (1):
Ray-Patrick Didder (Rocket City Trash Pandas, Double-A, Los Angeles Angels-organization).
Coaching Staff:
Evert-Jan 't Hoen (Manager), Sidney de Jong (Bench Coach/Hitting Coach), Wim Martinus (1B Coach), Ben Thijssen (3B Coach), Robin van Doornspeek (Pitching Coach).
Supporting Staff:
Harmen Bakker (Strength & Conditioning Coach), Quintijn van der Roest (Physical Therapist), Louie-Jay Sienders (Bullpen Catcher), Niels van Weert (Team Manager), Seb Visser (Media Officer).
(September 7)