Neptunus had a productive first at bat tonight off of starting pitcher Juan Carlos Sulbaran and took an early lead. Stijn van der Meer and Roger Bernadina led off with singles. An attempt to bunt them over to the next base failed, as Van der Meer was forced out at third base when next batter Dwayne Kemp's bunt was fielded by Sulbaran, who then eliminated the lead runner. Moments later, Neptunus opened the score when Bernadina scored from second base on a single by Dudley Leonora. Hereafter, it was Kemp who was forced out at third base on a grounder by John Polonius, then Sulbaran closed by striking out Gianison Boekhoudt.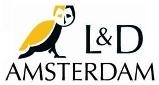 The Neptunian offense was then silenced hereafter by a dominating Sulbaran, who allowed only one more basehit in the remainder of the game. In the next six innings, the righthander struckout a batter in each of these innings and retired the side four times. Through the seventh, Neptunus got only two baserunners, who both were left behind on second base.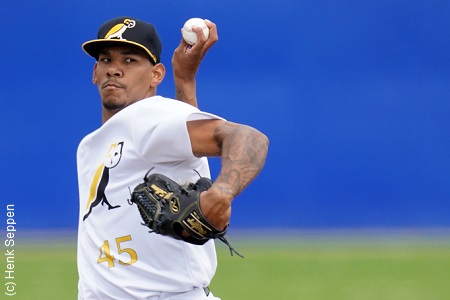 ...Juan Carlos Sulbaran...
...Complete Game 4-hitter...
(© Photo: Henk Seppen)

Trailing 1-0, Amsterdam Pirates came into scoring position in its first at bat off of Diegomar Markwell, who also was the starting pitcher for Neptunus in the opener last Saturday. Working on less than five days rest, the lefthander needed a lot of pitches and appeared to miss some speed and sharpness. With one out in the bottom of the first inning, Markwell walked Gilmer Lampe. He then struckout Sharlon Schoop, but Denzel Richardson followed with a single. The latter was forced out on a grounder by Kalian Sams.

In the second inning, Pirates got the bases loaded with no outs off of Markwell, but failed to score. Sicnarf Loopstok led off with a single and Kenny Berkenbosch walked. Pirates was then more successful with a bunt than Neptunus in the first inning. Rashid Gerard also bunted the ball back towards the mound, but he reached first base safely with a bunt-single, which loaded the bases. Although there were no outs, Markwell was clearly in problems and needed twelve pitches on the first three batters, next batter Raydley Legito went after the first pitch he saw and grounded into an 1-2-3 double play. That was a big support of Markwell at that moment. The inning then ended when Roelie Henrique flied out.

But Amsterdam Pirates then came alongside in the bottom of the third inning when Gilmer Lampe led off with a homerun. After Sharlon Schoop had popped out, Denzel Richardson singled. He moved into scoring position when Kalian Sams flied out. That also led to a pitching change, as Kevin Bakker was inserted to take over from Diegomar Markwell. Bakker, who made his Holland Series-debut, saw next batter Sicnarf Loopstok hit a line drive, but that was caught by second baseman Dwayne Kemp. Markwell threw 49 pitches in the 2 2/3 inning he threw, which is his shortest outing this season. Last Saturday, Markwell threw the first four innings for Neptunus, using 71 pitches. He shortest outing before that came on July 4 when he also pitched four innings in relief against Silicon Storks.

Bakker retired the side in the fourth, then was supported with a double play in the fifth. In that at bat, with one out, Gilmer Lampe singled. Bakker then struckout Sharlon Schoop while Lampe took off the steal second base. But there, he was caught stealing to complete the double play.

Neptunus left runners on second base in the fourth and sixth inning. With two outs in the fourth, Juan Carlos Sulbaran walked Gianison Boekhoudt. He then advanced on a wild pitch, but a grounder by Benjamin Dille ended the at bat. In the sixth, Roger Bernadina led off with a single (the fourth and last by Neptunus tonight) and moved into scoring position on a grounder by Dwayne Kemp. Sulbaran then struckout Dudley Leonora and Bernadina was left behind when John Polonius flied out.

Amsterdam Pirates then broke the 1-1 tie in the bottom of the sixth inning. Denzel Richardson led off with a single, which led to the next pitching change at the side of Neptunus. Misja Harcksen took over, but he walked Kalian Sams. Two fielder's choice-grounders followed, one of them producing the go-ahead run. First, Sams was forced out at second base on a grounder by Sicnarf Loopstok. That brought Richardson to third base and he then scored when Loopstok was forced out at second base on a grounder by Kenny Berkenbosch. Harcksen closed by striking out Rashid Gerard, but Pirates led 2-1.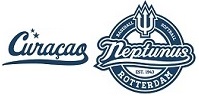 In the top of the seventh inning, Juan Carlos Sulbaran retired the Neptunus-side for the fourth time and struckout his seventh batter.
Moments later, Pirates added an insurance run. This also was an unearned run, as lead-off hitter Raydley Legito reached on a throwing error by short stop John Polonius, which enabled him to reach second base. Legito was then successfully moved to third base via a sacrifice bunt by Roelie Henrique and he scored when Gilmer Lampe followed with a single. Pirates got another runner in scoring position when Sharlon Schoop was hit by a pitch. Lampe and Schoop were left behind, as Denzel Richardson flied out and Kalian Sams struckout, but the home-team now led 3-1.
In the top of the eighth inning, it was Neptunus that got its lead-off hitter on base via an error. Third baseman Rashid Gerard made a throwing error on a lead-off grounder by pinch-hitter Christian Diaz. But he was then forced out on a grounder by Stijn van der Meer, who was forced out himself hereafter on a grounder by Roger Bernadina. He stranded on first base when Dwayne Kemp flied out.
Amsterdam Pirates got two more baserunners in the bottom of the eighth, but they were left behind. With two outs, Rashid Gerard singled. Veteran righthander Berry van Driel, who will retire after the season, then became the fourth pitcher for Neptunus. He hit Raydley Legito with a pitch, but then closed the at bat by striking out Roelie Henrique.
Juan Carlos Sulbaran returned to the mound for Amsterdam Pirates in the top of the ninth inning. For the fifth time, the righthander retired the side. After the first two batters had grounded out, Sulbaran closed the inning and the game with a called strikeout for Gianison Boekhoudt. That was his eighth strikeout in the game and it was recorded on only the 99th pitch thrown by Sulbaran (74 of them were strikes).