(Story by Marco Stoovelaar; Photo by Henk Seppen)

Criollos in Puerto Rican Final; Second Semi-Final halted
Nederlands






SAN JUAN / CAGUAS / MAYAGÜEZ / MANATÍ (Puerto Rico) - Criollos de Caguas swept RA12 4-0 in the best-of-seven Semi-Final in Puerto Rico to reach the Championship Final, but its opponent will not be known for several days. Last Thursday (January 7), Criollos completed its sweep. The second Semi-Final between Indios de Mayagüez and Atenienses de Manatí was halted after the first game on January 2 due to five positive cases of the coronavirus (COVID-19). It is not known yet when this series of the Postemporada (postseason) will resume. Indios won the lone game played so far.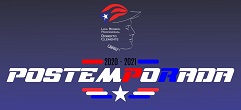 The season in the Liga de Béisbol Profesional de Puerto Rico Roberto Clemente (LBPRC) opened on December 2, three weeks later than usual and with ony four teams. In the regular season, all teams faced each other six times to play an 18-game schedule. The five positive cases were the first in the Puerto Rican baseball-season.
Semi-Final A could be completed as scheduled and Criollos de Caguas won four consecutive games against RA12, which played in the league for the first time. In July last year, former Major Leaguer Roberto Alomar announced the creation of this team. RA12 is a development team to enable young players to develop their qualities in a competition. Alomar, who was a second baseman, played in 17 Major League-seasons (1988-2004) for seven teams and was elected into the National Baseball Hall of Fame in 2011. Alomar is the President of RA12, while his father Santos 'Sandy' Alomar, Sr. is the General Manager. Alomar Sr. also was a second baseman and played in the Major League in 15 seasons (1964-1978) for six teams.
When the creation of RA12 was announced last year, it was to be the seventh team in the league. However, when the season went underway early December, only four participated. Reigning champion Cangrejeros de Santurce, Gigantes de Carolina and Tiburones de Aguadilla didn't participate. Aguadilla was to return to action this season after being absent the last three seasons due to Hurricane Maria. This was a Category 5 hurricane that struck the island of Puerto Rico in September 2017 and is regarded as the worse natural disaster in the recorded history of the country.

Criollos de Caguas opened the best-of-seven Semi-Final A against RA12 at home in Parque Yldefonso Solá Morales in Caguas with a 5-1 win on January 2, hitting only one basehit. The team scored three runs in the third at bat. Lead-off hitter Edwin Diaz was hit by a pitch and advanced on a pick-off throwing error. Kevin Santa then walked and Johneshwy Fargas followed with a runscoring single, which was to be the lone basehit in this game for Criollos. The next two runs were scored on sacrifice flies by Jarren Duran and Jonathan Morales. Two more runs were added in the eighth, the first on an error, the second on a sacrifice fly by Vimael Machin. RA12 scored its lone run in the seventh on a triple by Glenn Santiago
The next day, at Estadio Hiram Bithorn in capital San Juan, Criollos won 2-0. This time, the runs were scored on a sacrifice fly by Johneshwy Fargas and a homerun by Jonathan Morales.
On January 5, back in Caguas, Criollos recorded a 4-0 shutout in Game 3. The team scored its first run on a wild pitch in the fourth inning. Three runs were added in the seventh. Noel Cuevas then led off with a homerun and later runs were scored on a double by Jancarlos Cintron and a single by Fargas, who was unanimously named Most Valuable Player of the past regular season.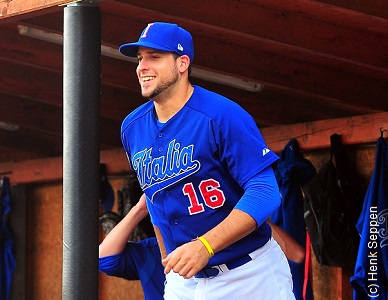 ...Alex Liddi during the 2014 European...
...Championship in the Czech Republic...
(© Photo: Henk Seppen)

On January 7 in San Juan, Criollos won 4-2. In this game, designated hitter Miguel Amaya was 2-for-3 and batted in three runs, including two with a homerun.

In Semi-Final B, on January 2, at Estadio Isidoro García in Mayagüez, Indios de Mayagüez recorded a convincing 12-2 win in its opening game against Atenienses de Manatí. The team rallied for four runs in the second inning and collected twelve basehits, including a 2-run homerun by Henry Ramos.
The next day, Game 2 was scheduled to be played in Estadio Municipal Pedro Román in Manatí. However, earlier in the day, the game was postponed due to two possible cases of the coronavirus, which were the first in the Puerto Rican Winter League. When the five positive cases were confirmed on January 4, this Semi-Final was postponed immediately until further notice after LBPRC-President Juan A. Flores Galarza and Tournament Director Carlos Berroa had consulted with the Department of Health. All players and others involved are currently in preventive isolation.
One of the players of the team from Manatí is Alex Liddi, who was the first player born and raised in Italy to reach the Major League. In the lone game played so far, Liddi was 1-for-3 and accounted for one of the three basehits his team recorded. Liddi, who was born in Sanremo (Italy), played in the Major League in 2011-2013 for Seattle Mariners and was a teammate of Dutch outfielder Gregory Halman in both the Minor League and Major League. Hereafter, the infielder played in the minors for Baltimore Orioles, Chicago White Sox, Los Angeles Dodgers and Kansas City Royals. Liddi then played in Mexico (2016-2017) and returned to the Royals (2018). In 2019, he played for Chinatrust Brothers in Taiwan and for Leones de Yucatán in Mexico. Liddi played for the National Team of Italy in several events, including the World Baseball Classic (2009), the European Championship in 2014 in the Czech Republic and 2016 in Hoofddorp (Netherlands) and the Super6 in 2018, also in Hoofddorp. In 2011, he was one of the Major League-players that participated in the youth clinics of the European Big League Tour, organized by Dutch pitcher Rick van den Hurk.
(January 9)