(Story by Marco Stoovelaar; Photos by Henk Seppen)

Águilas and Gigantes advance to Dominican Final
Nederlands






SANTIAGO DE LOS CABALLEROS / SAN PEDRO DE MACORÍS / LA ROMANA / SAN FRANCISCO DE MACORÍS (Dominican Repulic) - Águilas Cibaeñas and Gigantes del Cibao have reached the Championship Final of the Dominican Winter League, which opens on Monday (January 11). In the past few days, the two teams won the best-of-seven Semi-Finals of the Liga de Béisbol de Profesional de la República Dominicana (LIDOM). The regular season opened in November instead of October due to the coronavirus-pandemic (COVID-19).

It is a tradition that a Dominican season is dedicated to someone who has played an important tole in Dominican baseball. This season is dedicated to José Manuel Fernández García, the former President of Tigres del Licey, who passed away in 2019 at age 92. Mr. Fernández García has been the treasurer, vice-president and president of the club. He was born in Asturias (Spain), but at age 18, he moved to Santo Domingo, the capital of the Dominican Republic. For more than 30 years, he was the treasurer of Licey Athletic Club until 1995 when he became the club-president. In the years that he served on the board, Tigres won the Championship-title 13 times and also won seven Caribbean Series.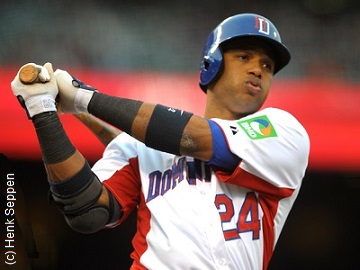 ...Robinson Canó as player of the...
...Dominican Republic during the...
...2013 World Baseball Classic...
(© Photo: Henk Seppen)

As always, several (former) Major Leaguers played in the Dominican League since November. Amongst them this season were Fernando Tatis, Jr., the star short stop of San Diego Padres, New York Yankees-outfielder Miguel Andújar, Atlanta Braves-infielder Johan Camargo, Kansas City Royals-third baseman Kelvin Gutiérrez, Free Agent-infielder Jonathan Villar (who played for Toronto Blue Jays last year), Free Agent-outfielder Juan Lagares (New York Mets in 2020), second baseman Robinson Canó, who last season played for New York Mets, outfielder Yasiel Puig and outfielder Melky Cabrera, who last played in the Majors in 2019 for Pittsburgh Pirates. Cabrera signed with New York Mets in June last year, but was released a month later.

In November, Canó was suspended for 162 games after violating Major League Baseball's performance-enhancing drugs policy. In 2017, Canó was the captain of the National Team of the Dominican Republic during the World Baseball Classic. He also played for the team during the Classics of 2009 and 2013. The Dominican squad won the event in 2013, but was eliminated for the Second Round in 2009 after losing twice to the Netherlands.

Puig last played in the Major League in 2019 for Cleveland Indians. The Cuban, who became an United States citizen in August 2019, appeared to sign a contract with Atlanta Braves in July last year. However, that deal fell through after he was tested positive for COVID-19. In 2011, Puig was a player of the National Team of Cuba, which then participated in the World Port Tournament in Rotterdam (Netherlands).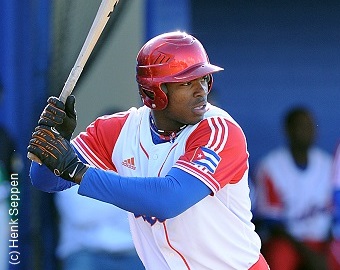 ...Yasiel Puig hitting for Cuba during the...
...2011 World Port Tournament in...
...Rotterdam (Netherlands)...
(© Photo: Henk Seppen)

Tatis and Canó played for Estrellas Orientales, Andújar and Puig for Toros del Este, Cabrera, Camargo, Lagares and Villar for Águilas Cibaeñas and Gutiérrez for Gigantes del Cibao in this season in the Dominican Winter League.

In the regular season, Gigantes, Águilas and Toros shared first place with a 16-14 record, followed by Estrallas, which was 15-15. Finishing in fifth and sixth place respectively were the two teams from capital Santo Domingo, Leones del Escogido and Tigres del Licey.

Last season, Toros del Este captured the title in the Dominican Winter League, then also won the Caribbean World Series.

Gigantes del Cibao won its Semi-Final against Estrellas Orientales, 4-2. The team decided the series on Friday (January 8) by winning 5-3 in Estadio Tetelo Vargas, the home-site of Estrellas in San Pedro de Macorís.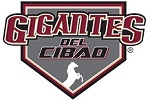 Gigantes opened the best-of-seven Semi Final A at home in Estadio Julián Javier in San Francisco de Macorís with an 1-0 score. Gigantes then also won the second and third game, respectively 4-3 and 3-2 (10 innings). But hereafter, Estrellas won the next two games, 7-6 and 5-3.
On Friday, Gigantes scored early in the sixth game against Estrellas. In the top of the first inning, Ronald Guzman singled with one out, then Kevlin Gutiérrez homered. Estrellas cut the deficit in half in its first at bat. Jeremy Peña then led off with a single and scored on a following double by Fernando Tatis, Jr..
Gigantes added a run in the second inning on a basesloaded force play-grounder by José Siri, who was the Best Hitter of the regular season with a .393 batting average. Two more runs were scored in the top of the fifth inning. Reliever Radhames Liz gave up a lead-off double to Abiatal Avelino, then got the bases loaded when he gave up a single to José Siri and walked Ronald Guzman. Hereafter, Forrest Snow took over the pitching, but was greeted with a 2-run single by Kelvin Gutiérrez, which lifted the lead to 5-1.
In the seventh inning, Estrellas narrowed the deficit to 5-3. Reliever Edgar Santana then gave up lead-off singles to Christian Bethancourt and Gustavo Nuñez. A grounder by Jeremy Peña then led to a force out, but Fernando Tatis, Jr. followed with his second double in the game, which led to two runs. Miguel Del Pozo then took over the pitching and walked Robinson Canó. But hereafter, a strikeout and force out followed.
Águilas Cibaeñas needed seven games to win Semi Final B against reigning champion Toros del Este, 4-3. The team decided the series on Saturday (January 9) with a 5-1 score.

On January 2, Toros opened the best-of-seven with a 9-1 victory, then nipped Águilas 2-1 in the second game. The next two games were won by Águilas, 3-1 and 4-1 and the team then took the lead by also winning Game 5 (9-6). On Friday, Toros equaled the Series (3-3) by winning 3-1 at home in Estadio Francisco Micheli in La Romana.
On Saturday, playing at home in Estadio Cibao in Santiago de Los Caballeros, Águilas Cibaeñas opened the score in the bottom of the third inning. Toros-pitcher Joel Peguero then walked Luis Liberato and gave up a single to Jonathan Villar, which gave Águilas runners at the corners. Villar then advanced on a passed ball, then both runners scored when next batter Juan Lagares homered.
Águilas added two runs in the seventh. Reliever Steven Wilson then gave up a lead-off double to Luis Valenzuela. His pinch-runner Yefri Perez advanced when next batter Francisco Peña reached on an error and the bases got loaded when Luis Liberato walked. A pitching change followed and Anthony Gose took over. He began with a strikeout, but then gave up a runscoring single to Juan Lagares. With two out, Peña scored the next run on a passed ball. To create a force play, the bases were loaded via an intentional walk. A pop-fly endeded the inning, three runners were left behind, but Águilas led 5-0.
Toros scored its lone run in the top of the ninth inning. Reliever Gregory Soto got two quick outs, as pinch-hitter Alen Hanson and Yasiel Puig both flied out. But hereafter, Soto got the bases loaded when he gave up a single to Jeimer Cancelario and walked Yermin Mercedes and Peter O'Brien. The run was then scored when next batter Jordany Valdespin also walked. With the bases still loaded, Soto struckout Jorge Mateo to end the game.
(January 10)