(Story by Marco Stoovelaar; Photo by Henk Seppen)

Gigantes strikes first in Dominican Final
Nederlands



SAN FRANCISCO DE MACORÍS (Dominican Repulic) - Gigantes del Cibao opened the best-of-seven Championship Final of the Liga de Béisbol de Profesional de la República Dominicana (LIDOM) against Águilas Cibaeñas with a 5-1 victory on Monday-evening (January 11). Game 2 will be played on Tuesday-evening in what is the first Final between two teams from the Cibao Region, which is located in the north of the Dominican Repulic.

Playing at home in Estadio Julián Javier, Gigantes scored early and led 3-0 after two innings. The team collected eleven basehits, including three by both Ronald Guzmán and Kelvin Gutiérrez. The latter batted in two runs. Third baseman Gutiérrez is a prospect in the organization of the Kansas City Royals.
Five pitchers limited the Águilas-offense to only four basehits. Gigantes-starter César Valdez threw five strong innings in which he gave up only two basehits.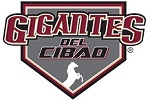 Gigantes opened the score with two runs in the bottom of the first inning off of starter Joe Van Meter, who gave up four consecutive hard hits. Lead-off hitter José Sirí lined out to short stop Oneil Cruz, then the American righthander gave up an one-out double to Ronald Guzmán and a single to Kelvin Gutiérrez. With runners at the corners, Juan Francisco also singled to bring in the first run. Next, the bases got loaded when Moisés Sierra walked. Hereafter, Gigantes added a run on a sacrifice fly by Peter O'Brien. Van Meter closed with a strikeout, but Gigantes had taken an early (and decisive) 2-0 lead.
With two outs in the second inning, Gigantes added another run, thanks to consecutive singles by Sirí, Guzmán and Gutiérrez. That led to the departure of Van Meter, who was relieved by Hector Yan.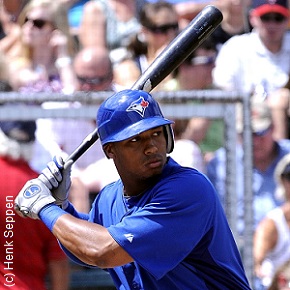 ...Moisés Sierra in Spring Training...
...with Toronto Blue Jays in 2012...
(© Photo: Henk Seppen)

Águilas scored what would be its lone run in this game in the top of the third inning off of César Valdez. After the righthander had retired the first seven batters he had faced, he gave up an one-out homerun to Francisco Peña. In the remainder of the game, Águilas got only one more runner in scoring position. That happened in the fifth inning. With two outs, Valdez gave up a triple to Luis Valenzuela, then walked Francisco Peña, but a flyout ended the at bat. In the final four innings, Águilas got only three baserunners on first base off of four relievers.

In the bottom of the fourth, Gigantes took some more distance off of reliever Lisalverto Bonilla. This time, Guzmán connected for a 2-out double and score on a single by Gutiérrez.

In the eighth inning, Gigantes got the bases loaded, but scored only once. New reliever José Cuas walked lead-off hitter Moisés Sierra, who advanced on a wild pitch. With one out, Cuas hit Oneil Cruz with a pitch and with two outs, a single by Carlos Paulino loaded the bases. Daury Torrez then took over the pitching for Águilas, but gave up a runscoring single to Abiatal Avelino. A double play ended the at bat.

The 32-year old Gigantes-rightfielder Moisés Sierra, who walked twice, played in the Major League for Toronto Blue Jays (2012-2014), Chicago White Sox (2014) and Washington Nationals (2018). He also played in the Minor Leagues in the organizations of the Kansas City Royals (2015), Miami Marlins (2016-2017) and Nationals (2018), then played for Guerreros de Oaxaca in Mexico in 2019. Last year, Sierra played for Chunichi Dragons in Japan and currently, he is a free agent.

(January 11)