Neptunus opened the score with only one run in the first inning. From there, the team took more distance and added an 8-run rally in the fifth en route to its fourth mercy-rule win in six games.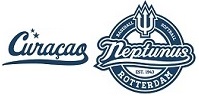 In the top of the first inning, Neptunus got six consecutive baserunners, but scored only once. Which was done without a basehit. Quick-starter Jan-Willem Geerts walked lead-off hitters Stijn van der Meer and John Polonius. A rare situation then followed, as next batter Dwayne Kemp hit a pop-fly into shallow rightfield and it was not immediately clear whether or not the ball was catchable, meaning the runners were halfway. The ball dropped and in situations like, either the batter or the runner from first to second base is eliminated, or both are safe. In this situation, it was lead runner Van der Meer who was forced out at third base (9-5)! Polonius moved to second base and Kemp reached on a fielder's choice. Hereafter, Kemp was forced out at second base on a grounder by Roger Bernadina. Next, the bases got loaded when Dudley Leonora walked and Polonius then scored when Geerts issued its fourth walk in the opening at bat to Benjamin Dille. With the bases still loaded, Geerts closed by striking out Dashenko Ricardo.
Neptunus added two runs in the second inning. With one out, Gregory Muller walked and scored on a double by Stijn van der Meer. John Polonius then walked and Dwayne Kemp added an RBI-double.
The next run was scored in the third at bat. This time, Benjamin Dille led off with a double and scored on an one-out single by Quintin de Cuba.
In the top of the fourth inning, Neptunus scored three runs to increase its lead to 7-0. Lead-off hitter John Polonius reached on an error and scored on another double by Dwayne Kemp. Roger Bernadina followed with a homerun, which led to the first pitching change of the evening. Rik Jalvingh took over from Jan-Willem Geerts. He retired the next three batters, but it was clear that Neptunus again was en route to a mercy-rule victory.

That was confirmed when the team staged an 8-run rally on seven basehits in the top of the fifth. With one out, Neptunus got the bases loaded when Gregory Muller singled, Stijn van der Meer walked and John Polonius also singled. When next batter Dwayne Kemp also singled to bring in a run, Quick went to the bullpen for the second time. Johannes Veroen Garcia took over, but he was greeted with a 2-run single by Roger Bernadina, then a 2-run double by Dudley Leonora. Benjamin Dille followed with an RBI-single. Hereafter, Louie Sienders accounted for the fourth consecutive basehit in his first at bat of the season. Sienders had entered the game in the bottom of the fourth as new catcher for Neptunus, replacing Dashenko Ricardo. For Sienders, this is his first game in the highest division since he played in 19 games for The Hawks in the 2015 season. Dille and Sienders advanced on a wild pitch and the first scored on a grounder by Quintin de Cuba. Moments later, Sienders scored on another wild pitch, which made it a 15-0 score.
Neptunus scored two more runs in the top of the sixth. With one out, rookie (and pinch-hitter) Faas Sluijter walked and scored when Dwayne Kemp homered.
Quick Amersfoort got into scoring position in the second and third inning off of Neptunus-starter Kaj Timmermans. In the bottom of the second, Rachid Engelhardt led off with a single. Timmermans struckout the next two batters, then walked Kai Berkel, but closed with another strikeout.
In the third, Arthur Lugtmeijer walked for the home-team, as did Bas Wiers with one out. With two outs, Rachid Engelhardt hit a line drive, but that was caught by second baseman Dwayne Kemp.
In the fifth, Lugtmeijer singled with one out, but this time, a double play ended the at bat.
Veteran righthander Elton Koeiman took over the Neptunus-pitching in the sixth and retired the side. In the seventh, he gave up Quick's lone run of the evening. Brian Biezen led off with a triple and scored on an one-out grounder by Kai Berkel. Koeiman then closed with a strikeout to seal the mercy-rule victory.