(Story by Marco Stoovelaar)

Gigantes also wins second game of Dominican Final
Nederlands



SANTIAGO DE LOS CABALLEROS (Dominican Repulic) - Gigantes del Cibao also has won Game 2 of the best-of-seven Championship Final of the Liga de Béisbol de Profesional de la República Dominicana (LIDOM) against Águilas Cibaeñas. On Tuesday-evening (January 12), Gigantes won 6-2 in the game that was played at Estadio Cibao, the home of Águilas. On Monday, Gigantes opened at home with a 5-1 victory.

In the opener, Gigantes opened the score early. In the second game, it was Águilas that scored first. In the bottom of the first inning, the home-team scored twice off of starter Paolo Espino. The righthanded Panamanian gave up a lead-off triple to Jonathan Villar, then an RBI-double to next batter Juan Lagares. The latter was then moved to third base on a sacrifice bunt by Melky Cabrera and scored on a following single by Rangel Ravelo.
But that was to be it for Águilas, which was held scoreless in the remainder of the game. Starting pitcher Paolo Espino recovered, then threw five scoreless innings, giving up only three more basehits. Three relievers then completed the game.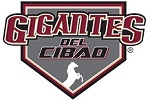 Gigantes was retired in order in its first at bat by Yunesky Maya. The team then came alongside in the second inning by scoring twice off of the righthanded Cuban. Moisés Sierra led off with a single, then Carlos Peguero followed with a double. They respectively scored on a sacrifice fly by Peter O'Brien and a single by Richard Ureña.
Gigantes took the lead in the top of the third inning when, with one out, José Sirí tripled and scored on a single by Ronald Guzmán.
Gigantes added a run in the sixth inning off of Luis Castillo, who had taken over from Maya with two outs in the fifth. With two outs and Peter O'Brien (fielder's choice) on first base, Richard Ureña hit an RBI-double.
Two more runs were scored in the seventh off of reliever Richard Rodriguez. With one out, José Sirí reached on an error, then Ronald Guzmán and Kelvin Gutiérrez followed with back-to-back RBI-doubles to lift the lead to 6-2.
Águilas got its final scoring opportunity in the bottom of the seventh inning off of reliever Edgar Santana. With two outs, Robel García and Francisco Peña both singled which led to runners on first and third base. The inning ended when a line drive by next batter Luis Liberato was caught by second baseman Richard Ureña.
Ronald Guzmán and Richard Ureña both batted in two runs and both had two basehits.
26-year old Guzmán plays in the Major League for Texas Rangers since 2018. The first baseman played in the All-Star Futures Game in 2016. The day after being called up to the Majors in April 2018, he hit a homerun. In August 2018, he became the first rookie to hit three homeruns against New York Yankees in Yankee Stadium.
The 24-year old Ureña played in the Major League for Toronto Blue Jays in 2017-2019. In the first week after being called up to the Majors, Ureña hit a homerun for Toronto in 2017. He was designated for assignment in December 2019, then was claimed by Baltimore Orioles in January last year, but he was designated for assignment again a month later. In December last year, Ureña signed another Minor League-contract with Toronto.
Game 3 of the Dominican Final will be played on Wednesday-evening at the site of Gigantes del Cibao.
(January 12)