HCAW scored its first run in the top of the first inning off of starter Twan Naessens. With one out, the righthander gave up a single to Victor Draijer and walked Arthur Bonevacia. Rodney Daal followed with a double. That brought Draijer across the plate and gave HCAW runners on second and third base. That was to be the lone run HCAW scored in the first five innings, as a force out and a foul-out ended the at bat.

From the second inning on, Twan Naessens threw four solid frames and encountered no problems. He was supported with a double play in the second inning and retired the side in the third. Naessens gave up a lead-off single to Max Draijer in the fourth, but he was caught stealing. And in the fifth, HCAW left runners behind on first and second base.
But from the sixth inning on, HCAW added six more runs.
In the top of the sixth, the team doubled its lead. With one out, Max Draijer walked. Obed Hernandez then took over the pitching from Twan Naessens, but he got the bases loaded when he walked Julian Goins and hit Jules Cremer with a pitch. The latter was forced out at second base on a grounder by Christopher Ge, but Draijer scored the second run for HCAW. A grounder ended the at bat and two runners were left behind.
In the seventh inning, HCAW scored its next run. Bob van der Meer led off with a single and Victor Draijer was hit by a pitch. Obed Hernandez then struckout powerhitter Arthur Bonevacia. Hereafter, Gedryon Basilia took over the pitching for Storks, but he gave up a runscoring single to Rodney Daal.
HCAW-starter Lars Huijer held Storks scoreless in the first six innings and in that span, the righthander got only one baserunner. After having retired the side in the first two innings, Huijer struckout lead-off hitter Roy Winkel in the bottom of the third inning with HCAW leading 1-0. But the third strike was a wild pitch, which enabled Winkel to reach first base. When a throwing error followed, he moved into second base. Winkel's pinch-runner Brandon Sint Jago advanced to third base on a grounder by Joel Hernandez, but then was left behind. In the next three innings, Huijer retired the side again, striking out four more batters.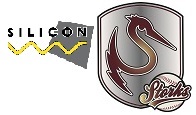 After having retired 13 consecutive batters and with HCAW leading 3-0, Huijer gave up his first run in the bottom of the seventh inning. With one out, he walked Joran Berkhout, then gave up a single to Ibrahin Redan and a runscoring single to Darren Winklaar. Huijer then struckout the next two batters.
In the top of the eighth inning, HCAW took more distance. With one out, pinch-hitter Kevin Nieveld walked in his first at bat of the season. The utility player transfered to HCAW from DSS/Kinheim after last season, but until now he has been sidelined with a hand-injury, including the exhibition season. Nieveld was forced out on a grounder by pinch-hitter Kevin Dirksen. Hereafter, HCAW got the bases loaded when Bob van der Meer doubled and Victor Draijer walked. Next batter Arthur Bonevacia then drilled the ball into deep rightfield for a grand slam homerun. And that lifted the lead to 7-1.
Storks scored its second run in the bottom of the eighth. Joel Hernandez and Joshmar Doran led off with singles, which led to the first pitching-change for HCAW. With runners on first and third base, Jack Wagner took over from Lars Huijer. Doran was forced out on a grounder by Brendly Martina, but Hernandez scored.
In the top of the ninth, Gedryon Basilia struckout three HCAW-batters. He also gave up an one-out double to Julian Goins, but he was left behind.
A suspenseful bottom of the ninth inning followed. With one out, Darren Winklaar reached on an error, then pinch-hitter Gideon Ocalia followed with an infield-hit. Winklaar then scored on a pinch-hit single by Kevin van Veen, but a crucial out also followed in this situation, as Ocalia was eliminated when he overran second base. With two outs, Joel Hernandez walked, then two runs were scored on a double by Joshmar Doran. But the inning and the game then ended when Brendly Martina flied out.