(Story by Marco Stoovelaar)

Gigantes shuts out Águilas to win third game in Dominican Final
Nederlands



SANTIAGO DE LOS CABALLEROS (Dominican Repulic) - Gigantes del Cibao shutout Águilas Cibaeñas 5-0 in Game 4 of the best-of-seven Championship Final of the Liga de Béisbol de Profesional de la República Dominicana (LIDOM) on Friday-evening (January 15). Gigantes is now one victory away from the title and qualifying for participation in the Caribbean World Series. Gigantes won the first two games with scores of respectively 5-1 and 6-2, then Águilas won 6-3 in the third game.

In Estadio Cibao, the visiting Gigantes struck in the middle innings and outhit Águilas, 10-3. Ronald Guzmán was 4-for-5 with a double and scored a run Peter O'Brien, José Sirí and Juan Francisco all homered.
Although Gigantes got some baserunners, the team was held scoreless in the first three innings by Águilas-starter Yoanner Negrin. With two outs in the first inning, Gigantes had runners on first and second base, but the inning ended when a line drive by Moisés Sierra was caught. In the second at bat, Negrin began with a walk, but was supported with a double play moments later. The righthanded Cuban retired the side in the third, then ran into problems in the fourth.
Negin began with a strikeout, but then gave up a homerun to Juan Francisco. With two outs, Peter O'Brien also homered. Next batter Richard Ureña doubled and scored the third run in the inning on a following single by Carlos Paulino. Hereafter, Luis Castillo took over the pitching and got an inning-ending force play-grounder.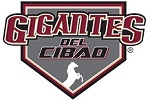 In the fifth inning, Nabil Crismatt started in relief of Castillo. The righthanded Colombian was greeted with a lead-off homerun by José Sirí, who in December signed a minor league-contract with Houston Astros. Hereafter, Ronald Guzmán hit a double. With one out, Juan Francisco was walked intentionally, but then the bases got loaded when Moisés Sierra received a normal walk. That led to another pitching change, José Cuas took over and saw another run being scored on a sacrifice fly by Peter O'Brien, which lifted the score to 5-0.
Peter O'Brien plays professionally since 2012. Since then, the American outfielder played in eight different organizations. O'Brien played in 72 Major League-games for Arizona Diamondbacks (2015-2016) and Miami Marlins (2018-2019). The 30-year old O'Brien made his professional debut in the minors with the New York Yankees in 2012-2014. In 2017, the outfielder played in the minors for four different organizations: Kansas City Royals, Cincinnati Reds, Texas Rangers and Los Angeles Dodgers. In May 2018, he was traded to Miami Marlins. In December 2019, O'Brien was signed to a minor league-contract by Atlanta Braves, but was released in August last year.
Juan Francisco, who homered in the fourth inning, played in the Major League for Cincinnati Reds (2009-2011), Atlanta Braves (2012-2013), Milwaukee Brewers (2013) and Toronto Blue Jays (2014). Hereafter, the 33-year old designated hitter played in Japan in Nippon Professional Baseball for Yomiuri Giants (2015). In 2017-2020, Francisco played in Mexico.
Starting pitcher Richelson Peña had a strong outing for Gigantes, which turned three double plays. The righthanded Dominican struckout four batters and gave up only three basehits in seven innings. Two relievers then completed the game, both pitching a hitless inning.
Águilas got only one runner in scoring position. That happened in the second inning. Lead-off hitter Rangel Ravelo then walked and advanced on a wild pitch. With one out, he moved to third base on a flyout, but was left behind.
Game 5 will be played on Saturday.
(January 15)