(Story by Marco Stoovelaar)
IN MEMORIAM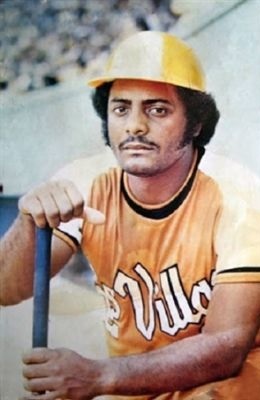 ...Pedro José Rodríguez...
(1955 - 2021)

Cuban baseball-great, 'Señor Jonrón', Pedro José Rodríguez passed away
Nederlands

CIENFUEGOS (Cuba) - Cuban baseball-great Pedro José Rodríguez, who was also known to many by his nickname 'Cheíto' and played 15 seasons in the Serie Nacional de Béisbol, passed away unexpectedly on Saturday (February 13) at age 65. It was reported that he suffered from various ailments, including diabtetes, which resulted in kidney failure. In the seventies and eighties, Rodríguez was the regular third baseman in the Cuban National Team, which then dominated international baseball. With Cuba, he celebrated many successes, won several international titles and also participated in two Haarlem Baseball Weeks. Rodríguez was generally considered one of the best powerhitters of his generation, which earned him the nickname 'Señor Jonrón' (Mister Homerun).

On Sunday (February 14), the day of his burial, there was a moment of silence before the start of the game between Cocodrilos de Matanzas and Elefantes de Cienfuegos in Sancti Spíritus in remembrance of Pedro José Rodríguez. This was the second game of their belated best-of-five Quarter Final of the Serie Nacional de Béisbol.

Pedro José Rodríguez Jiménez was born on November 26, 1955 in Sandino (Pinar del Río). He grew up in a baseball-family and went on to play himself at a young age, showing his talent and his offensive power. While playing of a National U16 Team in an international event, Rodríguez hit five homeruns in eleven games.

In 1974, at age 18, Rodríguez first played for the Cuban National Team. In that year, he participated with the strong Cuban Team in the biennial international Haarlem Baseball Week in Haarlem (Netherlands). Cuba participates for the second time and wins the eighth edition of tournament by winning all eight games it played. In his first game of the event, Rodríguez hits a homerun.

For Rodríguez, it was the start of a successful international career with the Cuban Baseball Team. The next year, at age 19, Rodríguez makes his debut in the National Team during a big regional or global event, the 1975 Pan American Games. In this Juegos Panamericanos, held in Mexico, he leads the team in homeruns and runs batted in and is 3-for-5 in the Final, which is won by Cuba. With his 19 years, Rodríguez was the youngest member of a Cuban National Team ever in a big international tournament. That record was broken some ten years later when Omar 'El Niño' Linares made his debut.

In 1976, Rodríguez won his first of four Gold Medals at a World Championship, which in that year was held in Colombia.

In 1978, Rodríguez participates in his second Haarlem Baseball Week in the Netherlands. This time, he hits five homeruns. Teammate Antonio Muñoz was the Homerun King of the tournament with six. During the event, on August 15, both Rodríguez and Muñoz hit two homeruns in a game against the National Team of Australia. Cuba finishes in third place with a 4-3-1 record.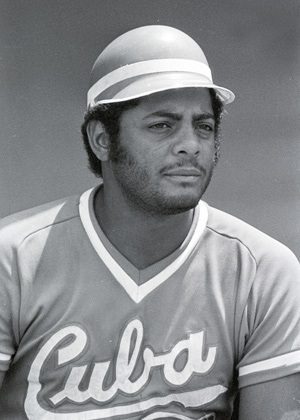 ...Pedro José Rodríguez...
...4 World Championship-titles...
...2 Pan American-titles...
...2 Central American-titles...
...2 Intercontinental Cup-titles...
...1 Haarlem Baseball Week-title...

Amongst his teammates in the two Haarlem Baseball Weeks, but also during other events in these years, were some of the best Cuban players ever, including Rey Vicente Anglada Ferrer, Armando Capiró Laferté, Luis Giraldo Casanova Castillo, Rogelio García Alonso, Félix Isasi Mestre, Pedro Jova Pérez, Fermín Laffita Pelipiche, Augustín Marquetti Moinelo, Antonio Muñoz Hernández, Juan Pérez Pérez, Rodolfo Puente Zamora, Wilfredo Sánchez González, Alfonso Urquiola Crespo and Braudilio Vinent Serrano. Manager in this successful period was legendary coach Servio Borges Tulio, who led Cuba to a gold medal at 17 different tournaments, including eight consecutive World Championships in 1969-1980.

Later in 1978, Rodríguez was part of the team that won the title at the Central American and Caribbean Games in Colombia and the World Championship in Italy. During this Juegos Centroamericanos y del Caribe, Rodríguez batted .556 and set records with 15 homeruns, 37 runs batted in and 23 runs scored. In only ten games! He shared the run-record with Armando Capiró.

During the 1978 World Championship in Italy, Rodríguez belted four homeruns. He then batted in 12 runs, sharing fifth place with Il-kwon Kim (South Korea), trailing teammate Antonio Muñoz, Tim Wallach (USA), Hiromitsu Ochiai (Japan) and Ben Richardson (Netherlands). During the event, he decided the game against Japan with a single, resulting in a 3-2 win. Later in the tournament, he homered to tie the score against the USA. Cuba won that game with a 5-3 score and remained unbeaten in the event (10-0).

Rodríguez won two more Gold Medals with Cuba in 1979. In that year, the team won the title during the Pan American Games in Puerto Rico and Intercontinental Cup in Cuba. Rodríguez led both events in homeruns, five and seven respectively. During the Intercontinental Cup, he hit three homeruns in the game against Panama and two against the USA. He led the Intercontinental Cup with 17 RBI's, 18 basehits and 15 runs scored and was named Most Valuable Player. Later in the year, Rodríguez was chosen in the top-10 of most outstanding athletes from Cuba and Latin America.

Rodríguez captured his next Gold Medal with Cuba at the 1980 World Championship in Japan.

In 1982, playing on home-soil, Cuba lost the Final of the Central American and Caribbean Games to the Dominican Republic. This was the only time during the international career of Rodríguez that he not won a Gold Medal with Cuba in a regional or global tournament.

Hereafter, three more Gold Medals followed.

In 1983, Rodríguez played for the team when it won the Intercontinental Cup in Belgium. During that event in Antwerp, he batted .378. The same year, there also was another Gold Medal during the Pan American Games in Venezuela.

In 1984, Rodríguez played in his final tournament for the Cuban Team. That was the World Championship, which was played in front of home-fans in Cuba. He then batted in eleven runs and hit six homeruns, sharing the lead with teammate Luis Casanova and Roberto Bianchi (Italy).

In his international career, Pedro José Rodríguez hit 57 homeruns and was chosen in an All Star Team seven times during international tournaments.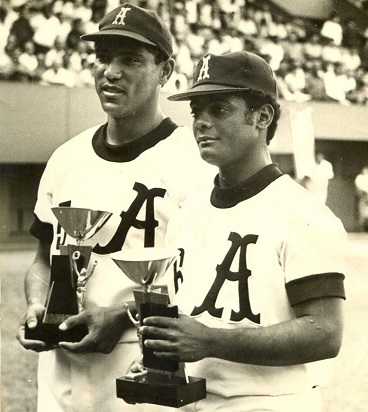 ...Pedro José Rodríguez is Rookie of the Year...
...and Antonio Muñoz Most Valuable Player...
...of the 1973-1974 Serie Nacional...

Pedro José Rodríguez played in 15 seasons of the Serie Nacional de Béisbol, which is the regular season that is played from November through February. In these years, he also played in the Serie Selectiva. This was a competition between 1975 and 1995 in which eight regional All Star Teams played in a competition from late Spring through the Summer.

Rodríguez made his debut the Serie Nacional de Béisbol in the 1973-1974 season, playing for Azucareros de Las Villas. He immediately showed his qualities, as he hit eleven homeruns to finish in third place and break the rookie-record that stood for 27 years. Rodríguez became a popular player with the fans and after the season, he was named Rookie of the Year. 27 years later, his son Pedro José Rodríguez Junior also won the Rookie of the Year Award. One of his teammates at Las Villas was legendary first baseman Antonio Muñoz, who in 1974 was named Most Valuable Player.

Initially, Rodríguez played for Azucareros de Las Villas, which was abandonded after the 1976-1977 season. He then went on to play for Elefantes de Cienfuegos.

In 1978, Rodríguez set a record in the Serie Selectiva with 28 homeruns, breaking the old record of 22, which was set by Armando Capiró in 1973. In the 1978 season, Rodríguez hit a memorable homerun off of star-pitcher Rogelio García of Pinar del Río to decide the championship. The homerun-record of 28 was broken in 1986 by Orestes Kindelán, who then hit 30.

In the 1979-1980 season, Rodríguez hit 18 homeruns and batted in 55 runs in the Serie Nacional and was named Most Valuable Player.

As mentioned, Rodríguez was considered one of the best hitters in the seventies and eighties. At age 28, he became the youngest player in the Serie Nacional with 1.000 basehits. He led the Serie Nacional four times in homeruns and twice in RBI's. He was the homerun-leader in the Serie Selectiva twice.

Rodríguez was at the top of his career in the 1984-1985 season when he was 29 years old and was sometimes named the Cuban Babe Ruth. However, he was then suspended indefinitely for possession of less than 100 American dollars, which was given to him by a Venezuelan player during a tournament. In those years, there were penalties on the possession of American currency. When his career was halted, he had hit 279 homeruns and easily would have reached the 300-mark and probably more. On the all-time list, he trailed Antonio Muñoz by only fifteen homeruns.

The suspension was lifted after 3½ years. Rodríguez made a comeback, but he wasn't the same player anymore, as he had lost his power and his condition. After his suspension, he was very disappointed and turned away from baseball. He didn't watch games on television and didn't visit games in the stadium. Rodríguez played three more seasons, but added only ten more homeruns before he retired in March 1992. When he retired, he was second on the all-time homerun-list and fourth in runs batted in.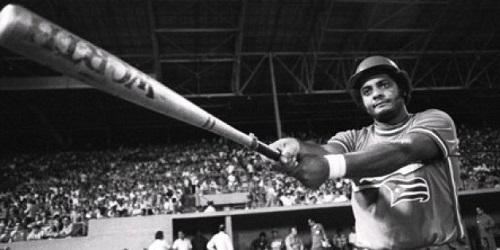 ...Pedro José Rodríguez...
...289 homeruns in 15 seasons...

In his 15 seasons in the Serie Nacional de Béisbol, Rodríguez played in 1.179 games. He collected 1.201 basehits, including 289 homeruns. Rodríguez scored 704 runs, batted in 973 and his career batting average was .287.

With his 289 homeruns, Pedro José Rodríguez currently shares tenth place with Oscar Macias Hernández on the All-Time Homerun-list of the Serie Nacional de Béisbol. The list is headed by Orestes Kindelán Olivares, who hit 487 homeruns in 21 seasons. Other players in the top-5 are Lázaro Junco Nenínger (405), Omar Linares Izquierdo (404), Antonio Muñoz Hernández (370) and Romelio Martínez Hernández (370).

After having retired as a player, Rodríguez later became an instructor at the Academia Provincial de Béisbol de Cienfuegos. At the Academy, he gave hitting instructions and worked with many talented Cuban players from the province of Cienfuegos. Amongst them Yasiel Puig Valdés and José Abreu Correa, who went on to play in the Major League. Puig is currently a Free Agent, Abreu plays for Chicago White Sox. Both also participated in the two international tournaments in the Netherlands, the Haarlem Baseball Week and the World Port Tournament. In 2002, his son Pedro José Rodríguez Román also participated in the Haarlem Baseball Week.

In 2013, Pedro José Rodríguez was one of the coaches of the National Team of Cuba during the World Baseball Classic.

Last December, Rodríguez was one of four players to be elected as fifth group into the Salón de la Fama Palmar de Junco in Matanzas. This Hall of Fame is located in Estadio Palmar de Junco, which is the oldest active baseball stadium in the world. It was here that on December 27, 1874, the first official baseball-game was played in Cuba. Also elected with Rodríguez were short stop Zoilo 'El Zorro' Versalles Rodríguez, who played 12 seasons (1959-1969, 1971) in the Major League, first baseman Julio Germán Fernández Tortolo, who played 19 seasons in the Serie Nacional and short stop Roberto 'Chico' Barbón, who in 1955 was the first Latin American player to play in the professional Japanese league. Barbón played in eleven seasons in Nippon Professional Baseball.

By many of his former teammates, as well as other dignitaries, Pedro José Rodríguez was described as an example for many. They said that he was a true exponent of the quality of baseball in Cuba. A modest man with dignity and always loyal to Cuban baseball, his country and his team.

The webmaster of Grand Slam * Stats & News extends his condolences to the family of Pedro José Rodríguez and wishes them a lot of strength with this big loss.

(February 15)