(Story by Marco Stoovelaar; Photos by Robert Bos)

Starting Pitchers for Tuesday-evening
Nederlands



AMSTERDAM (Neth.) - The starting pitchers for the lone game that will be played on Tuesday-evening (August 17) have been announced.
On Tuesday-evening, in Amsterdam, league-leaders Curaçao Neptunus and L&D Amsterdam Pirates will face each other in the final game of their 3-game series. The games in this series were scheduled for three consecutive Tuesday-evenings, as both teams participated in the European Champions Cup-tournament in the Czech Republic last month.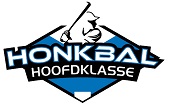 Righthander Gio de Graauw (4-0) will be the starter for home-playing Amsterdam Pirates, while righthander Aaron de Groot (2-1) takes the mound for Neptunus.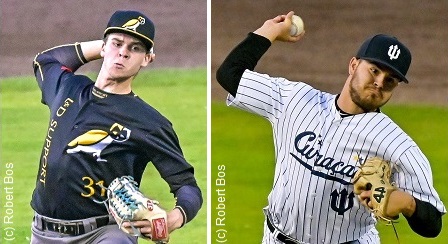 ...Gio de Graayw & Aaron de Groot...
(© Photos: Robert Bos)

Both also were the starting pitchers in the first game on August 3. De Graauw then also started in the second game on August 10. In that game, Kaj Timmermans started for Neptunus.

The previous two games ended in a shutout-victory for Amsterdam Pirates. In the first game, the reigning champion won 1-0 at home. In the second game, played in Rotterdam, Pirates won with a 6-0 score.

Coming Thursday-evening, the eight teams in the Dutch big league will begin the final 3-game series of the regular season.

On September 2, the teams in the Top-4 open the best-of-five Play-Offs (nr. 1 vs. nr. 4 and nr. 2 vs. nr. 3), while the teams in the bottom-4 begin their series of nine games.

As always, these assignments can change on game-day.

(August 16)