In today's opener, RCH-Pingu´ns initially trailed 3-0 halfway the third inning, but then staged its first 6-run rally. Storks came alongside in the top of the fifth, but the home-team immediately re-took the lead by scoring once in it fifth at bat. In the seventh inning, RCH-Pingu´ns broke the 6-6 tie tie by scoring three runs, then reached the mercy-rule 10-run difference in the bottom of the eighth with a second 6-run rally.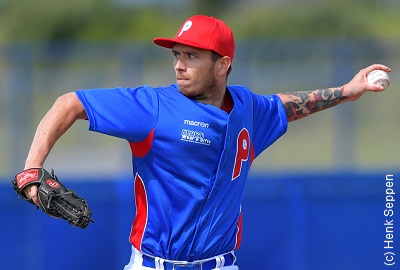 ...Dion Steijl pitching in the big league...
...for Hoofddorp Pioniers in 2017...
(© Photo: Henk Seppen)

RCH-Pingu´ns collected 21 basehits in today's game, including four by Gianni Frolijk and two homeruns by Koen Werkman. All eleven players inserted by Head Coach Marlon Frolijk recorded at least one basehit.

Former big league-pitcher Dion Steijl started for RCH-Pingu´ns and went the distance. In the 2012 and 2013 seasons, the lefthander pitched in relief in respectively twelve and thirteen games for Kinheim. Steijl then went on to play for RCH-Pingu´ns, but he made a comeback in the highest league in 2017 when he pitched in seven games for Hoofddorp Pioniers in the Championship Pool and was 1-3. Steijl then als pitched for Pioniers in 2018, appearing in 10 games (nine starts) and was 3-5 with a 5.70 ERA. After the 2018 season, the lefthander returned to RCH-Pingu´ns. In today's game, Steijl struckout three batters and gave up eight basehits, but trailed twice.

The first five innings more or less belonged to Storks. The team got into scoring position and took the lead twice, but from the bottom of the fifth, the game turned around.

Storks got its first runner in scoring position in the top of the first inning. With two outs, Ibrahin Redan hit the ball back to Dion Steijl for an infield-hit. When the pitcher followed with a throwing error, he moved to second base, but stranded there.

Storks then struck with three runs in the top of the third inning. With one out, Kelvin Knape walked and scored the first run when Brendly Martina followed with a triple. Moments later, Martina scored on a single by Joran Berkhout. He then moved into scoring position when Ibrahin Redan reached on an error and scored on a single by Sheadion Jamanika. Hereafter, it appearead as if Storks would score more runs, as the team got the bases loaded when Yurdion Martie walked. But the inning ended when Kevin van Veen grounded into a double play.

RCH-Pingu´ns answered with a 6-run rally off of three pitchers. Darryl Williams led off with a double, then Koen Werkman drove the ball over the leftfield-fence for a homerun. Daan Groenewoud followed with a single and scored the tying run when next batter Jesse Aussems doubled. With the score now at 3-3, Obed Hernandez took over the pitching for Storks. He began by striking out veteran player Ferd van Stekelenburg, but then gave up an RBI-double to Brett Thompson and a runscoring single to Gianni Frolijk. Hernandez followed by striking out Ties van der Beeke, but then gave up a double to Donny Hamelink. Renaigel Martis took over the pitching, but he got the bases loaded when he walked Darryl Williams. Another run was then scored when Martis also walked Koen Werkman. With the bases still loaded, a grounder ended the at bat, but the home-team led 6-3.

After Storks was retired in order in the fourth, RCH-Pingu´ns got the bases loaded again in the bottom of the fourth. With one out, Ferd van Stekelenburg singled and Brett Thompson doubled. With first base open, Gianni Frolijk was walked intentionally to set up a force play. With the bases loaded, Jiairo Samboe took over the pitching. The creation of a force play worked, as next batter Ties van der Beeke grounded into an inning-ending double play.
Storks came back in the top of the fifth and tied the score. Brendly Martina led off with a bunt-single, then Joran Berkhout was hit by a pitch. Martina then scored on a single by Ibrahin Redan. Sheadion Jamanika followed with a bunt-single, which moved the runners. When that was followed by a throwing error, alle runners advanced an additional base, meaning Berkhout scored. Hereafter, Redan scored the tying run on a sacrifice fly by Yurdion Martie. Two grounders ended the at bat and Jamanika was left behind on third base.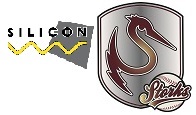 RCH-Pingu´ns broke the 6-6 score in the bottom of the fifth. Jiairo Samboe got the bases loaded quickly. He walked Donny Hamelink and Darryl Williams, then gave up a bunt-single to Koen Werkman. Another pitching change followed, as Kevin van Veen took over to become the fifth pitcher for Storks this afternoon. He got a double play-grounder from Daan Groenewoud, but that enabled Hamelink to score, which put the home-team ahead, 7-6.
Despite having two productive at bats, the scoring stopped for Storks after the fifth inning. The team got only two more runners in scoring position in the next three innings. In the sixth, Roy Winkel led off with a single. With two outs (on a strikeout), Winkel stole second base and move to third base on a throwing error, but was left behind.
After leaving two runners behind in the bottom of the sixth, RCH-Pingu´ns took more distance by scoring three runs with two outs in the seventh. After a strikeout and flyout, Kevin van Veen got the bases loaded when Daan Groenewoud singled and both Jesse Aussems and Ferd van Stekelenburg walked. Teun van der Meer followed with a 2-run single and Gianni Frolijk added an RBI-single to lift the lead to 10-6.
In the top of the eighth, Dion Steijl walked Storks lead-off hitter Kevin van Veen, then walked also Kelvin Knape with two outs, but they were left behind.
In the bottom of the eighth, RCH-Pingu´ns rallied for six runs on five extra-basehits to reach a 10-run difference and end the game! Donny Hamelink led off with a double and with one out, Koen Werkman hit his second homerun in the game. Werkman played in the big league for HCAW (2017) and DSS (2018-2019). Next batter Daan Groenewoud reached on an error and scored on a following triple by Jesse Aussems, who went on to score himself when Joey Kuijsten doubled. With two outs, Gianni Frolijk hit an RBI-triple and scored the 16th run when Ties van der Beeke delivered a walk-off single.