(Story by Marco Stoovelaar)

Caimanes comes alongside in Colombian Final
Nederlands



BARRANQUILLA (Colombia) - Caimanes de Barranquilla recorded a 5-1 victory against Vaqueros de Montería in Game 2 of the best-of-seven Championship Final of the Liga Profesional Colombiana de Béisbol on Sunday (January 17). In the opener on Saturday, reigning champion Vaqueros won 4-3. Game 3 will be played on Tuesday.

Dilson Herrera and Robinson Cabrera both had three basehits for Caimanes in Estadio Édgar Rentería. 26-year old second baseman Herrera plays in the Major League since 2014. The Colombian infielder played for New York Mets (2014-2015), Cincinnati Reds (2018) and Baltimore Orioles (2020). Last year, he played in three games for Baltimore and was designated for assignment after he struckout four times in six plate appearances.
After Vaqueros had left a runner behind in the top of the first inning, Caimanes struck with three runs in its first at bat off of starter Manaurys Correa. With one out, Harold Ramírez singled and Jhonatan Galvez was hit by a pitch. The two moved on a wild pitch, then the first run was scored on a sacrifice fly by Audy Ciriaco. Dilson Herrera followed with a single to bring in the second run. Herrera then stole second base and scored the third run in the at bat on a single by Robinson Cabrera.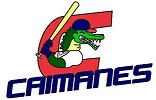 The home-team added its fourth run in the fifth inning when the Vaqueros-defense made three errors. Lead-off hitter Franscisco Acuña reached on an error, then next batter Tito Polo's sacrifice bunt also ended in an error. Both runners advanced when a pick-off to first base accounted for the third error. Acuña then scored on a sacrifice fly by Harold Ramírez.
Caimanes made it a 5-0 score in the bottom of the sixth, but it could have been more. Dilson Herrera led off with a single, but was picked off by pitcher Manaurys Correa moments later. When next batter Robinson Cabrera singled, starter Correa was relieved by Jhon Pelufo. He got the bases loaded when Adam Walker reached on an infield-hit and Sandy Leon walked. Acuña then scored on a sacrifice fly by Francisco Acuña. Hereafter, the bases got loaded again when Tito Polo walked, which led to another pitching change. Jaider Rocha took over and got a flyout, meaning three runners were left behind.
Vaqueros got its first runners in scoring position in the top of the sixth. With one out, the team had runners on second and third base, but reliever Ronald Ramírez then closed with two strikeouts.
Vaqueros scored its lone run in the seventh inning off of reliever Randy Consuegra. With one out and a runner on first base, he gave up a triple to José Brizuela.
(January 17)