Today, RCH-Pingu´ns got another fine pitching performance. In the opener in Saturday, lefthander Dion Steijl went the distance and gave up eight basehits. Today, Maickel Rietel struckout twelve batters in eight innings, then Braden Lee completed the game in the ninth. Only one batter of Storks walked.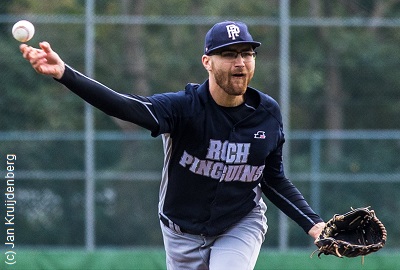 ...Winning pitcher Maickel Riettel...
...12 strikeouts...
(© Photo: Jan Kruijdenberg)

That was different the other side around, as four Storks-pitchers walked 14 batters, besides also giving up 12 basehits. In the regular season, the pitching-staff of Storks led the league with 343 walks, the most in the highest league since the pitchers of ADO walked 325 in the 2011 season. The pitching-staff of L&D Amsterdam Pirates issued the least walks with 131, followed by Curašao Neptunus, whose pitchers walked 136 batters.

RCH-Pingu´ns was productive immediately in the top of the first inning off of starter Darryl Jamoena. However, a runner was eliminated at the plate, and despite having the bases loaded with one out, only one run was scored. Koen Werkman led off with a single, then Daan Groenewoud walked. Jesse Aussems followed with a single, but Werkman was then eliminated at the plate trying to score on a nice throw from rightfielder Kevin van Veen. With one out, RCH-Pingu´ns got the bases loaded as Joey Kuijsten walked. The team from Heemstede scored its first run when Groenewoud scored on a sacrifice fly by Brett Thompson. That also moved the other two runners, but they were left behind when third baseman Brendly Martina caught a line drive hit by Gianni Frolijk.

In the next three innings, RCH-Pingu´ns was held scoreless by Jamoena, left two runners behind in scoring position and saw another runner being eliminated at the plate while trying to score.

In the second, Jelger Algra led off with a walk and with two outs, Koen Werkman singled, but thet were left behind. In the third, Joey Kuijsten singled with one out and moved on a grounder by Brett Thompson. After Gianni Frolijk had walked, Jelger Algra singled into leftfield. This time, Kuijsten tried to score from second base, but he was also eliminated at the plate on a throw from leftfielder Roy Winkel.
Trailing 1-0, Storks got an opportunity to come alongside in its first at bat off of Maickel Rietel, who pitched six seasons (2014-2019) in the Dutch big league. In 2014 and 2015, the righthander was on the mound for HCAW. Hereafter, he threw two seasons for Hoofddorp Pioniers. In the following two seasons, Rietel pitched for Amsterdam Pirates with whom he won the Dutch Championship-title in 2019. While pitching for HCAW and Pioniers, Rietel was used as both a starter and reliever. In his two seasons with Pirates, he only threw in relief.
In the first inning, the righthander gave up a lead-off single to Brendly Martina, who then moved two bases on two following grounders. But he stranded on third base, as Rietel closed with a strikeout.
In the second inning, Yurdion Martie led off for Storks with a single, but he was forced out. The team was then retired in order (two strikeouts) in the third at bat.
But in the bottom of the fourth, Storks scored twice to take the lead. Ibrahin Redan led off with a single, then appeared to be forced out on a comeback-grounder by next batter Sheadion Jamanika. However, Maickel Rietel made a throwing error, which enabled Redan to move to third base. He then scored the tying run when Yurdion Martie followed with a single. Next, Jamanika and Martie executed a double-steal. As that was followed by a throwing error from catcher Jelger Algra, Jamanika scored to put Storks ahead. Rietel then struckout Kevin van Veen, but gave up a single to Joel Hernandez, which gave Storks runners at the corners. After Hernandez had stolen second base, Rietel closed the at bat by striking out Roy Winkel and Raibiently Mercalina.
RCH-Pingu´ns came alongside in the top of the fifth inning, but again failed to do some more scoring. Jesse Aussems led off with a walk and Joey Kuijsten followed with a double. Aussems scored the tying run on a sacrifice fly by Brett Thompson. With two outs and Kuijsten on second base, Jelger Algra was walked intentionally, but thereafter, RCH-Pingu´ns got the bases loaded when Donny Hamelink received a normal walk. With three runners on base, a pitching change followed and Kelvin Knape took over. This was only his second pitching appearance this year. Knape, who is an infielder, didn't pitch in the regular season, then threw two innings in one outing in the Relegation Pool. Knape got a grounder from Darryl Williams, which led to the force out at the plate of Kuijsten and ended the at bat.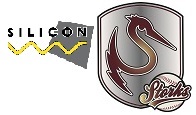 Moments later, Storks re-took the lead in the bottom of the fifth. Brendly Martina, who led the Dutch big league this season with 24 Stolen Bases, led off with a bunt-single. He moved into scoring position on a grounder by Joran Berkhout, stole third base and scored on a grounder by Ibrahin Redan. With two outs, Storks got two more baserunners when Sheadion Jamanika singled and Yurdion Martie walked. They were left behind, as a pop-up by next batter Kevin van Veen was caught in foul territory by catcher Jelger Algra.

The game then turned around in the top of the sixth when RCH-Pingu´ns rallied for four runs with two outs off of Kelvin Knape. After a pop-fly and a grounder (on a bunt) accounted for two outs, seven consecutive batters would reach base. First, Jesse Aussems singled and Joey Kuijsten walked. Hereafter, Brett Thompson delivered a single that enable Aussems to score the tying run. Next batter Gianni Frolijk also connected well. He drove the ball into right/centerfield for a double. Kuijsten and Thompson scored and RCH-Pingu´ns led 5-3. When ball-four for next batter Jelger Algra ended in a wild pitch, Frolijk moved to third base. The bases then got loaded when Donny Hamelink also walked. Shortly hereafter, Frolijk scored the sixth run for his team on a passed ball. The other two runners also advanced and the bases got loaded again when Darryl Williams received the third consecutive walk. A series of defensive moves followed. Twan Naessens took over the pitching from Knape, who was inserted into the batting order as the new short stop, while designated hitter Yurdion Martie took over the catching. That also meant that Naessens entered the batting order, as there was no DH anymore. Naessens, who was the starting pitcher on Saturday, got an inning-ending grounder, but the damage had been done and RCH-Pingu´ns led 6-3.

In the top the seventh, RCH-Pingu´ns came close to another run, but for the third time, a runner trying to score was eliminated at the plate. Daan Groenewoud led off with a single, then Jesse Aussems walked. With one out, Twan Naessens got the bases loaded when he hit Brett Thompson with a pitch. Gianni Frolijk then again connected well, but this time, he flied out to rightfielder Kevin van Veen. Groenewoud took off the score, but was eliminated at the plate, as Van Veen got the ball in time to catcher Yurdion Martie to complete a double play.

Storks was unable to come back and was kept scoreless in the remainder of the game, despite getting into scoring position in each of its final four at bats.

In the sixth and seventh inning, Storks got its lead-off batter on base. In the sixth, Joel Hernandez (who had moved from catcher to leftfielder in the top of the sixth) led off with a single. Hereafter, Storks reached the part of the batting order that was adjusted due to the defensive changes. Kelvin Knape batted instead of Roy Winkel (0-for-2, one strikeout) and flied out. Hereafter, Twan Naessens batted for Raibiently Mercalina (two strikeouts) and struckout in his first at bat of the season. With two outs, Hernandez stole second base, but he was left behind, as pitcher Maickel Rietel followed with his ninth strikeout.

In the seventh, the first two batters reached base. Joran Berkhout and Ibrahin Redan both singled. They advanced on an one-out grounder, but again, Rietel closed with a strikeout.

In the top of the eighth, RCH-Pingu´ns added an insurance run. With two outs, Darryl Williams singled and Koen Werkman walked. Pinch-hitter Ferd van Stekelenburg then delivered a runscoring single to lift the score to 7-3.

Storks got on base again with two outs in the bottom of the eighth inning. Pinch-hitter Gideon Ocalia then struckout, but reached on a passed ball and next batter Brendly Martina was hit by a pitch. A flyout ended the inning.

In the bottom of the ninth, Braden Lee took over the pitching for RCH-Pingu´ns. The righthander also got two baserunners. With one out, he gave up a single to Sheadion Jamanika and with one out, Kevin van Veen singled. But hereafter, Joel Hernandez grounded out, which ended the season for both teams.

Storks left thirteen runners behind, nine of them in scoring position.

Both clubs now will look ahead to next season and what their new situation will bring. It was reported that some of the players on the current roster of RCH-Pingu´ns either don't want to play (again) in the big league or are still in doubt of doing so. For Storks, the relegation might result in some players leaving the team. Therefore, some interesting weeks will now unfold in the transfer-period, which ends on November 15.