(Story by Marco Stoovelaar)

Indios completes sweep to become second finalist in Puerto Rico
Nederlands




MAYAGÜEZ / MANATÍ (Puerto Rico) - Indios de Mayagüez completed a 4-game sweep against Atenienses de Manatí on Tuesday (January 19) to become the second finalist of the best-of-seven Championship Final of the Liga de Béisbol Profesional de Puerto Rico Roberto Clemente. On January 7, Criollos de Caguas became the first finalist by also winning four games in a row against RA12. The Final opens on Thursday.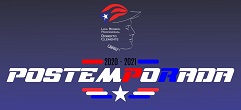 On January 2, Indios won its first game of the best-of-seven Semi-Final against Atenienses with a convincing 12-2 score. The next day, the second game was postponed due to two possible cases of the coronavirus, which were the first in the Puerto Rican Winter League. The following day (January 4), this series was halted due to five positive cases of the coronavirus (COVID-19). When the five positive cases were confirmed, this Semi-Final was postponed immediately until further notice after LBPRC-President Juan A. Flores Galarza and Tournament Director Carlos Berroa had consulted with the Department of Health. All players and others involved were placed in preventive isolation. After everyone was tested negative last weekend and after another meeting with the Health Department, the Semi-Final B resumed on Sunday (January 17).

In the second game of the series and the first for both teams in 15 days, Indios recorded a huge 30-8 win. At Estadio Municipal Pedro Román Melendez in Manatí, the visiting Indios led only 4-2 after four innings, then rallied for five runs in the fifth. Now leading 9-2, the scoring was far from over, as Indios scored nine runs in both the sixth and eighth inning. Trailing 27-2, Atenienses scored five runs in the bottom of the eighth, but Indios scored three more in the ninth. Indios collected 25 basehits off of eight pitchers, including four by Emmanuel Rivera, Danny Ortiz and Kennys Vargas. Rivera hit two 3-run homeruns and batted in ten runs. Vargas also homered twice (solo and 3-run) and had five RBI's, while Jeremy Rivera hit a solo-homerun. Edgar Corcino hit a solo-homerun for Atenienses.
In the third game on Monday, Indios again recorded a big score, this time winning 20-7. Indios broke a 3-3 tie with a 6-run rally in the top of the fourth inning. That made it a 9-3 score, but Atenienses came back to 9-7. In the top of the sixth, Indios staged another big rally and this time scored eight runs to decide the game. There were 34 basehits in this game (22 by Indios), including eight homeruns (six by Indios). Kennys Vargas (who had four hits in Game 2) today had five basehits, including a homerun and batted in five runs. Emmanuel Rivera produced four hits, as he also did the day before, two of them a homerun. David Vidal, Ivan De Jesus, Jr. and Jeremy Rivera also homered for Indios. Roy Morales was 4-for-4 for Atenienses, one of them a homerun. Edgar Corcino also homered for the home-team.
After recording two huge victories, Indios nipped Atenienses only 3-2 on Tuesday to complete the sweep and qualify for the Final. Playing at home in Estadio Isidoro Cholo García in Mayagüez, Indios scored the deciding runs in the fifth inning. The team scored its first run in the third at bat when Jeremy Rivera doubled with two outs and scored on a single by Henry Ramos. Atentienses then scored twice in the top of the fifth. Jan Hernández led off with a single and advanced on a following throwing error, then scored when José Sermo homered. In the bottom of the fifth, a homerun gave Indios a renewed lead. With two outs, the same two players were involved as in the third, Rivera singled, then Ramos homered.
(January 19)