(Story by Marco Stoovelaar; Photo by Henk Seppen)

Cuba Postseason: First Semi-Final started; Last Quarter-Final resumes in week
Nederlands



SANCTI SPÍRITUS (Cuba) - With three Quarter Finals decided in the postseason of the 60th edition of the Cuban Serie Nacional de Béisbol, it has been decided by the National Baseball Commission to go ahead with the first Semi-Final. On Saturday (February 20), Alazanes de Granma and Vegueros de Pinar del Río played the first game of their best-of-seven Semi-Final. Granma won the opener with a 9-2 score.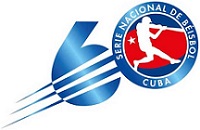 Reigning champion Cocodrilos de Matanzas also reached the Semi-Final by completing a sweep last Tuesday (February 16). Their opponent comes from the fourth and final Quarter Final between Avispas de Santiago de Cuba and Leñadores de Las Tunas, but that series is currently on hold. However, it has now been announced that this Quarter Final will resume on Sunday, February 28.
On January 31, Pinar del Río became the first team to qualify for the Semi-Final after sweeping Gallos de Sancti Spíritus in its best-of-five. Three days later, Granma won its series against Leones de Industriales, 3-2, to also advance to the Semi-Final.
The Quarter Final between Matanzas and Elefantes de Cienfuegos was postponed due to some positive cases of the coronavirus (COVID-19) in the team of Cienfuegos. On February 9, it was announced that this series would open on February 12, as all members of both teams were negative in recent tests. Matanzas then won three games in a row to reach the Semi-Final.
In the fourth Quarter Final, Santiago de Cuba opened with a 7-4 win against Las Tunas on January 26, but thereafter, this series was put on hold, as there were several positive cases in the team of Santiago de Cuba. In recent weeks, it has been reported that there had been some 20 cases (players, coaches, management, supporting staff) in the team's delegation, but that there also were a few cases in the Las Tunas-team. According to protocols, everyone was in quarantine, but there was also good news as luckily no one got ill seriously. As of now, most persons involved have been cleared and players could resume workouts at their respective home-sites and get back into shape. It has been announced that the second game of the best-of-five is now scheduled for Sunday, Februuary 28. The remaining games in this series will be played in Camagüey with a day-off between each game. On the third day after the deciding game in this series, the winner then will meet Matanzas in the second Semi-Final, which also will be played in Camagüey. The best-of-seven Championship Final then begins three days after this Semi-Final has been completed at a site to be announced.
---
Granma vs. Pinar del Río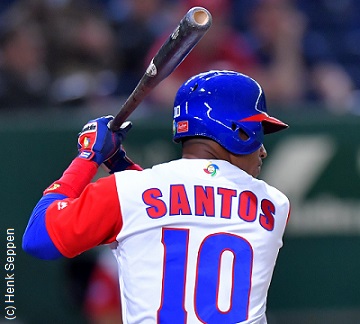 ...Roel Santos had two hits (one double),...
...scored 2 runs and had 2 RBI's for Granma...
...On the photo, Santos is hitting for Cuba...
...during the 2017 World Baseball Classic...
...in Tokyo (Japan)...
(© Photo: Henk Seppen)

Pinar del Río led 2-0 halfway the fourth inning, but was unable to hold onto it. The team opened the score in the top of the first inning. Juan Carlos Arencibia Echeverria and Reinaldo Lazaga Hernández led off with singles off of starting pitcher Lázaro Blanco Matos. Arencibia advanced to third base on a force play-grounder by Lázaro Emilio Blanco Hernández, then scored in a double steal-situation.

Pinar del Río doubled its lead in the third inning when William Saavedra Valdés homered with two outs.

Granma rallied for four runs with two outs in the bottom of the fourth off of starter Erlis Casanova Callava. Iván Prieto González led off with a single, then two force play-grounders followed. With two outs, the bases got loaded when Yulián Rafael Milán Santos was hit by a pitch and Alexquemer Sánchez Sánchez walked. Hereafter, Roel Santos Martínez and Osvaldo Abreu Sánchez followed with back-to-back 2-run doubles to turn the game around in favor of Granma.
Granma added two runs in the bottom of the sixth. Sánchez led off with a double, but then was eliminated after next batter Santos had reached on an infield-hit. Moments later, Santos advanced to third base on a single by Abreu and scored when an error followed. Abreu then scored the next run on a following double by Raico Santos Almeida.
Granma increased its lead to 9-2 in the bottom of the eighth by scoring three more runs. The team got the bases loaded quickly. Abreu led off with a walk, then Raico Santos doubled. Next, a force play was created by walking Carlos Benítez Pérez intentionally, but that was followed by a walk for Prieto. With the bases still loaded and no outs, Andrés Camilo Castro Calero was inserted as new pitcher. He was supported with a double play, as a grounder by Darién Miguel García García ended in a 3-2 force play, then a 2-3 play at first base. Pinch-runner Miguel Antonio González Puente (for Benítez) and Prieto advanced, then both scored when next batter Miguel Rafael Pita Bejerano singled.
Granma-starter Lázaro Blanco Matos threw eight strong innings, striking out six batters. Carlos René Santana Santiesteban then completed the game by throwing the ninth inning.
(February 20)