(Story by Marco Stoovelaar; Photo by Henk Seppen)

Zaragoza vs. Barcelona double-header postponed in Spain; Three teams unbeaten
Nederlands






BILBAO / BURLADA / SANT BOI DE LLOBREGAT / VALENCIA / VILADECANS / ZARAGOZA (Spain) - Three teams in the Spanish Baseball League won their third and fourth game last weekend to stay unbeaten in the new season, which opened on April 10. On Saturday (April 17), five double-headers were played with Astros Valencia, Viladecans and Tenerife Marlins Puerto Cruz all winning twice in the Liga Nacional División de Honor.

On Sunday, at Zaragoza, a double-header was scheduled between Miralbueno Zaragoza and Barcelona. However, these games were cancelled due to the coronavirus (COVID-19). A week ago, Zaragoza had opened the season with two wins.
Reigning champion Astros Valencia recorded two big victories against Toros Pamplona, which had opened the new season with two victories. At Burlada, the visiting Astros won 16-1 in the opener (8 innings), then followed with a 16-0 shutout (4½ inn.).
In the first game, Valencia led 6-1 after seven innings, then rallied for ten runs in the top of the eighth. The team collected 14 basehits, including three homeruns by Edison Damian Valerio Abreu, who batted in seven runs. Daniel Alejandro Mendez Santamaria was 3-for-3 with a homerun. 35-year old veteran and international Blake Ochoa Mendez also homered for Valencia. Mendez (3-run), Valerio (2-run) and Ochoa (2-run) all homered in the eighth inning.
In the second game,Valencia produced eleven basehits. Valerio homered again and was 3-for-3. José Vladimir Vanheneguen Vargas also homered.
Viladecans outscored Rivas Vaciamadrid, 11-3 and 13-1 (7 inn.) at home on Saturday. In the opener, Viladecans decided the game early and already led 11-0 after three innings. The teams recorded eleven basehits, including three by Denny De Jesus Nińo Villarreal, which were two doubles and a grand slam homerun. Nińo batted in seven runs.
In the second game, Viladecans collected 14 basehits and scored five runs in both the second and seventh inning. Maddiel Perez Perez was 4-for-5 for Viladecans.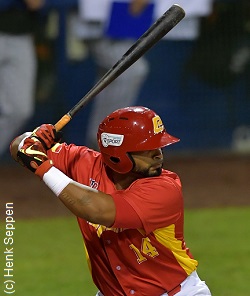 ...Lesther Galván homered...
...for Tenerife Marlins...
(© Photo: Henk Seppen)

At Campo Antonio Hervas in Sant Boi de Llobregat, Tenerife Marlins Puerto Cruz won twice at Sant Boi, 10-0 (8 inn.) and 12-2 (7 inn.), on Saturday. In the opener, the team from the Canary Islands collected twelve basehits, including three by veteran player Richard Humberto Montiel Siritt. The 41-year old Montiel is the all-time leader in several categories in Spanish baseball. Montiel leads in Basehits (581), Runs Batted In (445) and Homeruns (88). Gabriel Eloy Lino Correa and Jesús Alberto Ustariz Luis homered for the team.

Winning pitcher Antonio Noguera Rodríguez went the distance for Tenerife, struckout nine batters and gave up only one basehit. The righthander came very close to a No-Hitter, which he lost with two outs in the eighth inning. Noguera retired the first eleven batters in a row, then walked a batter with two outs in the fourth. In the sixth, Sant Boi's lead-off hitter reached on an error, as did another one with one out, but a double play followed. After having retired the side again in the seventh and with Marlins leading 10-0, Noguera was three outs away from a No-Hitter. The first two batters in the eighth grounded out, but hereafter Sant Boi-leftfielder Pablo Daniel Gonzalez Freites singled to end the No-Hitter. Noguera then closed the inning and the game with a strikeout.

In the second game, Jesús Alberto Ustariz Luis homered twice for Marlins and Lesther Aarón Galván Arévalo once. Ustariz batted in five runs. Winning pitcher Leslie Jasshin Nácar Mejías struckout seven batters in five innings and gave up only three basehits. 38-year old Nácar is the all-time StrikeOut-leader in Spanish baseball with 1.485. Ustariz (who turns 28 next week) and Galván (30) also are veteran players on the Tenerife-roster. Both are players of the Spanish National Team.

San Inazio Bilbao Bizkaia also recorded two big victories, winning 10-0 (6½ inn.) and 16-8 at home against Gavá on Saturday. In the opener, Bilbao scored six runs in the first inning to set the tone. Winning pitcher Elio Eduardo Silva Muguerza threw a complete game 3-hitter with eight strikeouts, but also walked eight batters. In the second game, Bilbao trailed 6-2 after four innings, but then scored twice and rallied for seven runs in the sixth at bat. The team collected 19 basehits, including two homeruns by Josias Ramon Sanchez Rijo and four basehits by Daniel Moreno Calero and Daniel Enrique Gonzalez Navarro.

Antorcha Valencia and Béisbol Navarra split their double-header on Saturday in Valencia. The home-team won 13-2 in the opener, thanks to a 6-run rally in the fifth. The 10-run difference was reached with a 5-run rally in the seventh. In that at bat, the bases got loaded via two walks and a hit batter. A walk then led to the first run and Edgar Aineto García followed with a walk-off, grand slam homerun! In the second game, Navarra won 11-6 on twelve basehits.

(April 20)