(Story by Marco Stoovelaar)

Caimanes forces sixth game in Colombian Final
Nederlands



BARRANQUILLA (Colombia) - Caimanes de Barranquilla struck early to win 10-5 against Vaqueros de Montería in Game 5 of the best-of-seven Championship Final of the Liga Profesional Colombiana de Béisbol on Thursday (January 21). With the win, Caimanes narrowed the deficit in the series to 3-2 and forced a sixth game. This game will be played on Saturday.

In the opener last weekend, reigning champion Vaqueros won 4-3. Caimanes then won 5-1 in the second game, but Vaqueros re-took the lead on Tuesday by winning 4-2. The team took a 3-1 lead in the Final via a 3-1 victory on Wednesday.
Caimanes opened the score in Game 5 with a 4-run rally in the top of the second inning and added two more in the third. The team lead 7-0 halfway the seventh inning. Vaqueros then scored its first run, but Caimanes scored three more runs in the ninth to lift the lead to 10-1 and seal the win. Vaqueros answered with four runs in the bottom of the ninth, but was unable to turn the game its way.
In the top of the second inning, Caimanes scored four unearned runs, as the Vaqueros-short stop Brallan Pérez made two throwing errors (he made four in the game). With one out, Dilson Herrera reached second base on a throwing error, then Robinson Cabrera was hit by a pitch. Starting pitcher Misael Silverio followed with a strikeout, which would have been the third out. With two runners on base, Pérez made another throwing error on a grounder by Christian Correa, which led to the first run and runners on second and third base. The bases got loaded when Francisco Acuña walked. All three runners would score moments later. Tito Polo singled in one run, then Evan Mendoza singled in two more runs. Polo tried to advance to third base on Mendoza's basehit, but was eliminated there. That ended the inning, but Caimanes had taken an early lead.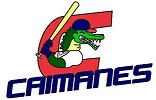 Caimanes added two runs in the top of the third. Harold Ramírez led off with a double, moved on a sacrifice bunt and scored on a single by Dilson Herrera. The latter moved into scoring position when a pick-off ended in a throwing error. With two outs, Herrera stole third base, then the bases got loaded when Jhonatan Gálvez walked and Christian Correa was hit by a pitch. That led to a pitching change. Yohandri Portal took over from Misael Silverio, but he walked Francisco Acuña, which accounted for the next run. Portal closed with a strikeout, three runners were left on base, but Caimanes now led 6-0.
In the fifth inning, Caimanes scored its seventh run. With one out, Robinson Cabrera reached on an error (the fourth by Pérez) and went on to score on a single by Christian Correa.
Vaqueros was held scoreless in the first six innings, then scored its first run (also unearned) in the seventh. American righthander David Holmberg threw seven strong innings for Caimanes and gave up only one basehit. Holmberg gave up his lone basehit with two outs in the first inning. In the seventh, lead-off hitter Silva Rubi reached second base for Vaqueros on an outfield-error. Moments later, he scored from second base on a sacrifice fly by Jordan Díaz.
Leading 7-1, Caimanes took more distance in the top of the ninth inning by scoring three runs. With one out and runners on first and third base, Jhonatan Gálvez singled in the first run. A single by Christian Correa then loaded the bases. Hereafter, Carlos De Ávila was inserted as new pitcher, but he was greeted with a 2-run single by Francisco Acuña.
Trailing 10-1, Vaqueros rallied for four runs in the bottom of the ninth. Official Scorer José Luis Vergara had his hands full in this at bat what changes were concerned. Defensively, Caimanes made several changes. The three outfielders switched places and a new pitcher, catcher and first baseman were inserted. Reliever Luis Moreno then faced three consecutive pinch-hitters. The first flied out, but the next two, Luis Castro and Rafael Romero both walked. The bases got loaded when Jairo Márquez reached on an error. A run was then scored on a force play-grounder by Elier Hernández, but the bases got re-loaded when Andrés Angulo singled. An infield-hit by José Brizuela then produced the second run and Milton Ramos followed with a 2-run single to make it a 10-5 score. That brought in new pitcher Luis De Ávila. He also got the bases loaded when he walked Brallan Pérez, but then closed the at bat and the game with a strikeout and three runners were left behind.
(January 21)