(Story by Marco Stoovelaar; Photo by Henk Seppen)

Pinar del Río wins big in second game Cuban Semi-Final
Nederlands



SANCTI SPÍRITUS (Cuba) - Vegueros de Pinar del Río won the second game of the best-of-seven Semi-Final of the 60th edition of the Cuban Serie Nacional de Béisbol on Sunday-afternoon (February 21) against Alazanes de Granma. Pinar del Río trailed 3-2, but then scored eleven runs in the seventh and eighth inning combined to record a mercy-rule 13-3 victory. Granma won the opener on Saturday with a 9-2 score. Game 3 will be played on Tuesday.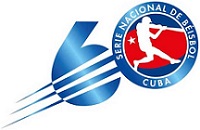 Reigning champion Cocodrilos de Matanzas also reached the Semi-Final by completing a sweep last Tuesday (February 16). They have to wait until the conclusion of the belated last Quarter Final to know who they will face. In this Quarter Final, Avispas de Santiago de Cuba plays against Leñadores de Las Tunas. Santiago de Cuba opened with a 7-4 win on January 26, but thereafter, this series was put on hold, as there were several positive cases of the coronavirus in the team of Santiago de Cuba. The series will resume on Sunday, February 28.
---
Granma vs. Pinar del Río
In the top of the first inning, Pinar del Río got a chance to open the score. Juan Carlos Arencibia Echeverria led off with a single off of starter Leandro Martínez Figueredo, but he stranded on third base.
Moments later, Granma scored the first run in its first at bat off of starting pitcher Vladimir Baños Chacón when Roel Santos Martínez led off with a homerun.
Granma got an opportunity to take some more distance in the bottom of the third inning. With one out, Roel Santos Martínez walked and stole second base, then Osvaldo Abreu Sánchez also walked. Hereafter, Santos also stole third base and when next batter Raico Santos Almeida struckout, Abreu stole second base. With first base open, a force play was created via an intentional walk for Carlos Benítez Pérez. But with the bases loaded, a grounder ended the at bat.

Pinar del Río, which used 23 players in this game, then scored two runs in the top of the fourth. With one out, William Saavedra Valdés walked and with two outs, Yaser Julio González Castro also walked. Both scored when Luis Pablo Acosta Martínez followed with a double to put Pinar del Río ahead, 2-1.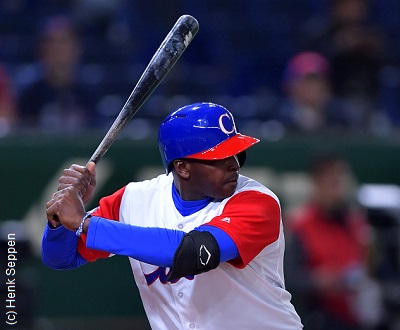 ...William Saavedra scored the first run...
...for Pinar del Río in the 4th inning...
...On the photo, Saavedra is hitting for Cuba...
...during the 2017 World Baseball Classic...
...in Tokyo (Japan)...
(© Photo: Henk Seppen)

Granma, which inserted 22 players, re-took the lead in the bottom of the sixth. Reilandy González Moreno took over the pitching for Pinar del Río. With one out, he gave up a single to Darién Miguel García Figueredo, who then stole second base and advanced to third base on a single by Yulián Rafael Milán Santos. Another pitching change followed and Frank Luis Medina García was inserted. He got a grounder from Alexquemer Sánchez Sánchez, which led to the elimination of García. With runners on first and second base, but now with two outs, Granma got the bases loaded when Roel Santos Martínez walked. Hereafter, things went wrong for Pinar del Río. First, all runners advanced on a passed ball, meaning Milán scored the tying run. The bases then were loaded again when Osvaldo Abreu Sánchez was walked and Granma scored the go-ahead run when next batter Raico Santos Almeida was hit by a pitch! Three runners were left behind when Medina closed with a strikeout, but Granma now led 3-2.

The new lead was shortlived, as Pinar del Rio struck with two rallies in the seventh and eighth inning. The team scored five runs with two outs in the seventh and added six more in the eighth at bat.

In the top of the seventh, Yaser Julio González Castro led off with a walk. Kelbis Rodríguez León then took over the pitching and began with a strikeout. Next, an error was made on a hit by Irandi Hernández Gómez. With two outs, Juan Carlos Arencibia Echeverria delivered a runscoring single that tied the score (3-3). Rodríguez then got the bases loaded when he walked Reinaldo Lazaga Hernández and was replaced by Miguel David Paradelo Aguilar. He was greeted with a 2-run single by Lázaro Emilio Blanco Hernández that put Pinar del Río ahead 5-3. Another pitching change followed. This time, Carlos René Santana Santiesteban took over, but he hit William Saavedra Valdés with a pitch and that loaded the bases. Pinar del Río then added two more runs when next batter Pedro Luis Rodríguez Candano contributed with a 2-run single.

In the top of the eighth, Pinar del Río rallied for six runs to take a 10-run difference lead. With one out, Yanciel Ajete Martínez singled and Tony Daniel Guerra Echazábal walked. With two runners on base, Erluis Blanco Reyes took over the Granma-pitching, but he got the bases loaded when he walked Juan Carlos Arencibia Echeverria (who was 3-for-4). Esteban Terry Sanz (who had entered the inning before as pinch-runner) then delivered a 2-run single. That led to another pitching change and Yunier Castillo Jerez took over and became the sixth pitcher for Granma. He saw Arencibia and Terry advance on a passed ball. With two outs, a force play was created via an intentional walk for powerhitter William Saavedra Valdés. But hereafter, Pedro Luis Rodríguez Candano (2-run), Yaser Julio González Castro and Luis Pablo Acosta Martínez (who was 3-for-5) followed with three consecutive runscoring singles. That lifted the score to 13-3.

Granma, which recorded only four basehits, was retired in order in its eighth at bat. And that ended the game via the mercy-rule.

Pinar del Río collected 13 basehits off of six pitchers.

(February 21)