(Story by Marco Stoovelaar; Photo by Henk Seppen)

Netherlands Under-23 Team off to Mexico for World Cup
Nederlands



SCHIPHOL (Neth.) - The Netherlands Under-23 Baseball Team is on its on way to Mexico, where it will participate in the third edition of the Under-23 World Cup, which will be held in the State of Sonora and opens coming Thursday. Most members of the team left on Monday and today (Tuesday, September 21) arrived in Hermosillo, where the Orange Team will play its games. Three years ago, in Colombia, Mexico captured the title. The Netherlands then finished in tenth place.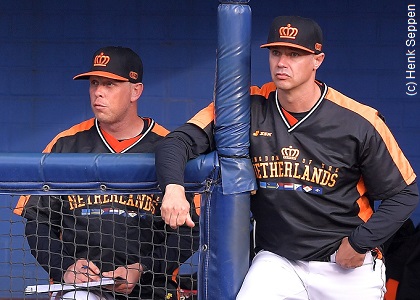 ...Sidney de Jong & Evert-Jan 't Hoen...
(© Photo: Henk Seppen)

On Tuesday-evening, the remaining nine members left after having returned on Monday from Italy, where they won the title at the European Championship in Torino on Sunday with the Netherlands National Team. That are coaches Sidney de Jong, Evert-Jan 't Hoen and Robin van Doornspeek, players Raf Cocu, Jayden Gonesh, Aaron de Groot Junior Martina and Julian Rip and Physical Therapist Quintijn van der Roest. In Italy, 't Hoen was the Manager of the Orange-squad that captured its 24th European title after winning 9-4 against Israel in the Final. De Jong was the Bench Coach and Hitting Coach of the team. In Mexico, he will be the Manager with 't Hoen as Bench Coach. Van Doornspeek is the Pitching Coach.

Cocu, Gonesh, De Groot and Rip also were part of the Netherlands Under-23 Team that captured the European title last month in Italy. Initially, eighteen of the twenty players who were on the roster for the European Under-23 Championship were also to be part of the team that will play in Mexico. The lone exceptions were infielder Diamond Silberie and outfielder Ruendrick Piternella. However, Silberie was added in the weekend as a replacement player. Last Friday, the roster for the Orange squad was announced.

Completing the 24-man roster were six players who play professionally in the Minor Leagues: pitchers Jiorgeny Casimiri, Cal Maduro and Eric Mendez, infielders Junior Martina and Jonathan Willems and outfielder Shean Michel.

20-year old righthanded pitcher Jiorgeny Casimiri started the season with FCL Blue Jays (Rookie League, Toronto Blue Jays), but was promoted to Dunedin Blue Jays (Low-A) on September 7. Since late July, Casimiri also played for Dunedin , but he returned to the Rookie League-team on August 3. For these two teams combined, he pitched in 24 games in relief and is 3-3 with a 6.68 ERA and 36 strikeouts in 31 innings. Last season, Casimiri, who was born in The Hague, played in the Dutch big league for Curaçao Neptunus.

19-year old Aruban-born Cal Maduro appeared in 21 games as reliever in the Rookie League-teams of the Kansas City Royals (ACL Royals Blue and ACL Royals Gold). In these 21 games, the righthander is 1-4 with one save, a 4.76 ERA and 35 strikeouts in 34 innings.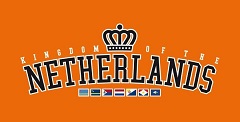 21-year old Aruban-born Eric Mendez plays professionally since 2018. The righthander was in June assigned to ACL Diamondbacks. Half July, Mendez promoted to Visalia Rawhide (Low-A). Mendez also is a reliever. He appeared in 24 games and is 3-1 with three saves and a 2.70 ERA, striking out 41 batters in 30 innings.
22-year old Curaçao-born second/third baseman Jonathan Willems played for three teams this season, Dayton Dragons (High-A, 37 games), Chattanooga Lookouts (Double-A, 3 games) and Louisville Bats (Triple-A, 19 games). For these three teams combined, he played in 59 games and batted .219 with two homeruns and twelve runs batted in. Willems plays professionally since 2016 in the Cincinnati Reds-organization. This year, he began in High-A, then promoted to Triple-A at the end of June. On August 6, he was assigned to the Double-A team and five days later, he returned to the High-A team. Last Saturday, Willems was placed on the Injured List.
23-year old, Curaçao-born outfielder Shean Michel plays professionally since 2015 in the organization of Atlanta Braves. This season, he plays for Rome Braves (High-A). In 75 games, he is hitting .205 (53-for-258) with eleven doubles, four triples and five homeruns, scoring 35 runs and batting in 28.
Junior Martina, who plays in High-A (Washington Nationals), also was a member of the Netherlands Team that won the European title on Sunday.
Diamond Silberie will replace Jonathan Willems, who is unavailable to play due to an injury.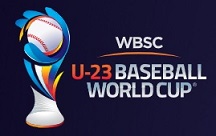 In Mexico, the Netherlands will play in Group B in the Preliminary Round and will play its games in Hermosillo. The Orange Team plays its first game on Thursday-evening (September 23) against Venezuela at 7:30 PM local time (4:30 AM Friday, Dutch time, 9-hour difference).
Hereafter, the Netherlands meets South Korea (Friday), Colombia (Saturday), Panama (Sunday) and Nicaragua (Monday) in the Preliminary Round.
Group A is formed by Chinese Taipei, Cuba, the Czech Republic, the Dominican Republic, Germany, Mexico and will play in Ciudad Obregon.
The Super Round begins on Wednesday, September 29. The three best teams of both Groups will continue playing for the first through sixth place in Hermosillo. The lower three teams will play for the seventh through twelfth place in Ciudad Obregon. The Final is scheduled for Saturday, October 2 in Hermosillo.
The Under-23 World Cup was scheduled for last year, but then was postponed to this year due to the coronavirus pandemic (COVID-19). Because of the postponement, players up to the age of 24 are eligible to participate. Initially, the Netherlands didn't qualify for the event, as only the two finalists of the 2019 European Championship qualified. However, this Summer China, Japan, New Zealand and South Africa withdraw from participation. Just before the start of the European Under-23 Championship in Italy, the Netherlands, Colombia, the Dominican Republic and Panama received a wild card and were invited to participate to take the spots of the teams that had withdraw.
The roster looks as follows:
Pitchers (12):
Kevin Bakker, Aaron de Groot (both Curaçao Neptunus), Jiorgeny Casimiri (Dunedin Blue Jays, Low-A, Toronto Blue Jays-organization), Raf Cocu, Koen Postelmans (both Twins Oosterhout), Jasper Elfrink (HCAW), Jayden Gonesh (Silicon Storks), Gio de Graauw, Naut Kragt (both L&D Amsterdam Pirates), Cal Maduro (ACL Royals Blue, Rookie League, Kansas City Royals-organization), Eric Mendez (Visalia Rawhide, Low-A, Arizona Diamondbacks-organization), Scott Prins (Hoofddorp Pioniers).
Catchers (2):
Dave Janssen (Twins Oosterhout), Yurdion Martie (Silicon Storks).
Infielders (6):
Sheadion Jamanika (Silicon Storks), Tyriq Kemp, Diamond Silberie (both Twins Oosterhout), Junior Martina (Wilmington Blue Rocks, High-A, Washington Nationals-organization), Tommy van de Sanden (DSS/Kinheim), Delano Selassa (L&D Amsterdam Pirates).
Outfielders (4):
Max Kops (Twins Oosterhout), Shean Michel (Rome Braves, High-A, Atlanta Braves-organization), Julian Rip, Jeandro Tromp (both HCAW).
Coaching-staff:
Sidney de Jong (Manager), Evert-Jan 't Hoen (Bench Coach), Eugene Kingsale (1B Coach), Jeroen Sluijter (3B Coach), Robin van Doornspeek (Pitching Coach).
Supporting Staff:
Quintijn van der Roest (Physical Therapist), Jeroen Sluijter also acts as Team Manager.
(September 21)