(Story by Marco Stoovelaar)

Criollos also wins second game in Puerto Rican Final
Nederlands



MAYAGÜEZ (Puerto Rico) - Criollos de Caguas also won the second game of the best-of-seven Championship Final of the Liga de Béisbol Profesional de Puerto Rico Roberto Clemente. On Friday-evening (January 22), the team won 7-5 against Indios de Mayagüez. The day before, Criolles opened with a 4-0 shutout-victory. Game 3 will be played on Saturday.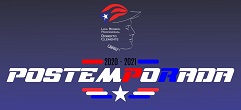 Both teams collected nine basehits, but no homeruns were hit at Estadio Isidoro García. Jeremy Rivera was 3-for-4 for Indios.
After stranding a runner on third base in the top of the first inning, Criollos opened the score with three runs in the third at bat off of starter Joel Huertas. The team got the bases loaded quickly without hitting a ball. Lead-off hitter Edwin Díaz was hit by a pitch, then both Rey Fuentes and Johneshwy Fargas walked. The latter was forced out on a grounder by Jarren Duran, but the other runners advanced and so, Díaz scored the first run. With runners at the corners, Nefi Ogando took over the pitching and he saw Duran steal second base. Hereafter, Fuentes was eliminated at the plate on a grounder towards third by Yadier Molina. In this situation, Duran moved to third base, while Molina was able to reach second base. Both scored when next batter José Miranda singled.
Indios got one run back in its third at bat off of starter Hector Santiago. Jeremy Rivera led off with a double and scored on an one-out double by Jack López.

Criollos added two runs in the fifth on only one basehit off of new pitcher Eric Stout. With one out, Yadier Molina singled and José Miranda walked. The two advanced on a grounder, then the bases got loaded when Vimael Machin walked. The first run in the inning was scored when next batter Jonathan Morales also walked. Stout then struckout Edwin Díaz, but strike-three ended in a wild pitch. And so, Miranda scored, the bases remained loaded and Criollos now led 5-1. A grounder ended the inning.
In the bottom of the fifth, Indios scored its second run. Jeremy Rivera led off with a single and later scored on a sacrifice fly by Ivan De Jesus, Jr. after Jack López had walked. A single by Emmanuel Rivera led to runners on first and third base and a pitching change. Both runners were left behind.
Criollos again scored twice in the sixth. New pitcher Andres Santiago hit lead-off hitter Johneshwy Fargas with a pitch, then gave up a double to Jarren Duran. The two runners respectively scored on a single by Yadier Molina and a sacrifice fly by José Miranda.
Now trailing 7-2, Indios scored another run in the bottom of the sixth. Jesmuel Valentín led off with a walk and scored on a single by Jeremy Rivera, but the team would leave runners behind on first and second base.
Indios got another scoring opportunity in the bottom of the ninth and then scored twice. Reliever Fernando Cruz gave up singles to Henry Ramos and Jack López. Two force play-grounders followed, which led to the elimination of the runner at second base. On the second grounder, Ramos scored. Moments later, the second run was scored on a double by Danny Ortíz, which narrowed the deficit to 7-5. Ortíz advanced on a wild pitch, but stranded on third base, as a flyout ended the inning and the game.
(January 22)