(Story by Marco Stoovelaar)


Arij Fransen replaces Orlando Yntema on Orange-roster; Team records exhibition-win
Nederlands



PUEBLA (Mexico) - A few days before the start of the WBSC Baseball Final Qualifier in Puebla (Mexico), there has been a change on roster of the Netherlands Baseball Team. On Sunday (June 20), the Orange team played an exhibition game and recorded a big win.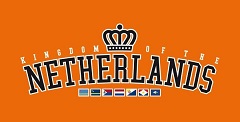 Righthanded pitcher Arij Fransen has been added to the roster as a replacement of righthander Orlando Yntema. It was reported the the veteran pitcher was not fit enough and that it was decided to replace him. Two weeks ago, Yntema left a game against L&D Amsterdam Pirates with an injury. He traveled with the National Team to Mexico, but he will not be ready in time.
The 20-year old Fransen plays professionally in the organization of the Cincinnati Reds. He was to make his professional debut last year, but then the entire Minor League-season was cancelled due to the coronavirus-pandemic (COVID-19). Instead, Fransen pitched in the Dutch big league for HCAW for whom he made his debut in the 2019 season. He then pitched in fifteen games (all in relief) and was 1-1 with four saves and a 4.91 ERA.
Last year, Fransen pitched in six games for HCAW, also a reliever. He then was 1-0 with four saves and an 1.00 ERA, striking out eight batters in nine innings.
Fransen also started this season for HCAW and appeared in two games. He was 1-0 and earned one save.
This year, Fransen will pitch for AZL Reds, the Rookie League-team of Cincinnati in the Arizona League.
On Sunday, the Netherlands Team played an exhibition game to prepare for the Baseball Final Qualifier, which begins on Tuesday. The team practiced a few days in Mexico City, then traveled to Puebla on Saturday.
At Estadio de Bťisbol Hermanos SerdŠn, the Orange Team won 17-1 in a 9-inning game against Mexico Navy. The team collected 16 basehits and had two big rallies. With an 1-0 lead, the team scored six runs in the fourth inning. After scoring once in the fifth, the Netherlands added five runs in the sixth at bat. Juremi Profar homered.
Lars Huijer started and threw the first two innings. Mike Bolsenbroek, Kevin Kelly, Mike Groen, Juan Carlos Sulbaran, Shairon Martis and Franklin Van Gurp then each threw one inning.
The Netherlands plays its first game on Wednesday against Venezuela, then meets the Dominican Republic on Thursday.
(June 22)