(Story by Marco Stoovelaar)

Caimanes comes alongside to force seventh game in Colombian Final
Nederlands



BARRANQUILLA (Colombia) - Caimanes de Barranquilla trailed, but won 8-2 in Game 6 against Vaqueros de Montería to equal the best-of-seven Championship Final of the Liga Profesional Colombiana de Béisbol at 3-3 on Saturday (January 23). With that, the team forced a seventh and deciding game, which will be played in Sunday.

In the opener last weekend, reigning champion Vaqueros won 4-3. Caimanes then won 5-1 in the second game, but Vaqueros re-took the lead on Tuesday by winning 4-2. The team took a 3-1 lead in the Final via a 3-1 victory on Wednesday. But on Thursday, Caimanes won 10-5 to force a sixth game.
In the sixth game, Vaqueros opened with two runs in the first inning, but was held scoreless in the remainder of the game. Caimanes answered with three runs in the second, then four more in the third at bat. Robinson Cabrera was 2-for-4 for Caimanes and scored three runs. Dilson Herrera also had two hits, scored twice and batted in a run. Meibrys Viloria was 3-for-3 for Vaqueros.
Vaqueros took an early lead in the game by scoring twice in the first inning off of starter Eduar López. The Dominican began with a strikeout, but then saw next batter Yonny Hernández reach on an error and scored on a following triple by Silva Rubi. After another strikeout, Rubi scored the next run on an infield-hit by Meibrys Viloria. Hereafter, Elier Hernández also reached on an infield-hit, but the team left two runners behind.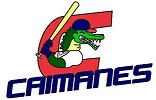 Caimanes was retired in order in its first at bat by starter Manaurys Correa, but then rallied for three runs in the second. With one out, Dilson Herrera singled, stole second base and moved to third on a single by Robinson Cabrera. He then scored on a sacrifice fly by Jhonatan Gálvez. With two outs, Christian Correa homered to put Caimanes ahead, 3-2.
Caimanes followed with a 4-run rally with two outs in the third inning to take more distance. Three runs were unearned. After the first two batters grounded out, Caimanes got productive when Harold Ramírez singled, Sandy León walked and Dilson Herrera added a runscoring single. Carlos Díaz then took over the pitching to face Robinson Cabrera. His grounder ended in a throwing error that enable both León and Herrera to score, while Cabrera himself ended up on third base. Moments later, Cabrera scored on a wild pitch to lift the lead to 7-2.
Caimanes added its eighth run in the sixth off of new pitcher Randy Cuentas. He gave up a lead-off infield-hit to Robinson Cabrera, who went on to score an unearned run on a single by Francisco Acuña.
After giving up the two runs in the top of the first inning, Caimanes-starter >Eduar López recovered and added five strong innings. In the second through sixth at bat, Vaqueros got only one runner in scoring position, who was to be the lone one in the remainder of the game. The team was retired in order in the second and third inning.
In the seventh inning, Randy Consuegra took over the pitching. He gave up a lead-off single, but then was supported with a double play. Vaqueros stranded a runner on first base in the eighth. Julio Vivas then retired the side in the ninth to close the game.
(January 23)