(Story & Photos by Marco Stoovelaar)
IN MEMORIAM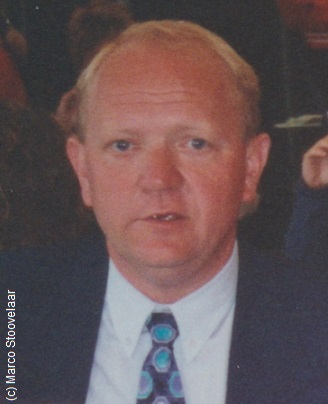 ...Dick Bliek...
(1946 - 2021)...
(© Photo: Marco Stoovelaar)


Former KNBSB-boardmember and Founder Trail Blazers Dick Bliek passed away
Nederlands

ČELADNÁ (Czech Rep.) - Dick Bliek, who served nine years as a member for softball-affairs of the Board of the Royal Netherlands Baseball and Softball Association (KNBSB), has passed away on Sunday, February 21 at the age of 75. Dick Bliek also has been a baseball-umpire, was closely involved in the Baseball Promotion Team Trail Blazers and has been active for the European Softball Federation (ESF) and International Softball Federation (ISF). He also has been a longtime executive in the hotel-business in Eastern Europe. Mr. Bliek, who lived in the Czech Republic, was already ill for some time.

Dirk Richard (Dick) Bliek was born on January 4, 1946 in Terneuzen. Although he was born in the southern province of Zeeland, Dick Bliek became involved in baseball in the northeastern province of Drenthe. It was there, in the city of Hoogeveen, that he founded the baseball-club The Caps in 1976. Bliek also briefly played baseball himself for The Caps, but in an interview with the author of this article, he said that he wasn't a good player. ,,I quickly learned that I was better in handling and organizing things than being on a field as a player'', Bliek then said. And so, he became a boardmember of The Caps, which he led as its Chairman for some years and also has been its secretary. The Caps became a very active club in the northeastern part of the country.

In 1979, Dick Bliek started umpiring in what then was the Rayon Het Noorden (Region North). A year later, he promoted to the national level and officiated games in the First Division, which then was the second highest league.

Some years later, Dick Bliek expanded his administrative activities. He was the interim-Chairman of the then Rayon Het Noorden, which represented clubs in the three northern provinces of the country (Friesland, Groningen, Drenthe) and served two years (1982-1983) in the KNBSB-committee that looks into penalties and suspensions. In those years, this committee was chaired by Martin Bremer with Ron Voerman as secretary. Other members were Leo van den Boomgaard, Teun Gaartman, Hans Geesink, Nico Heynemann, Loek Imhof and Hans Schotel.

Bliek's organizational skills were noticed and in 1984, he became a member of the Board of the Royal Netherlands Baseball and Softball Association (KNBSB). When he was elected as boardmember, Bliek retired as baseball-umpire, something he had done in the previous five years. ,,My thoughts were that it was not possible to combine both at the same time'', Bliek explained his decision to stop umpiring.

Dick Bliek was a KNBSB-boardmember for nine years (1984-1992). In the first six years, he was responsible for school-sports, but also worked closely with the members of the Promotional Committee, which included Freek Bos, Cees Goedhart, Ido de Groot, Gerda Krabbendam and Rob van Tuyl, amongst others.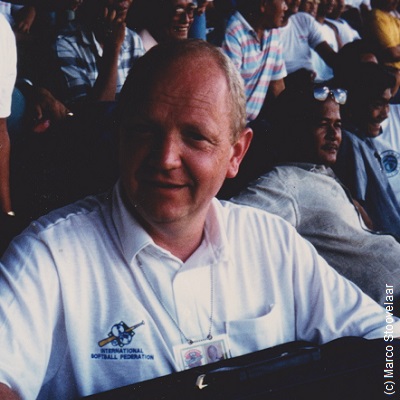 ...Dick Bliek in attendance during the 1992...
...Men's Softball World Championship...
...in Manila (Philippines)...
(© Photo: Marco Stoovelaar)

When Bliek became a member of the KNBSB-Board, it was chaired by Guus van der Heijden with Theo Vleeshhouwer as secretary and Dries de Zwaan as treasurer. Other members in those years were Frans van Aalen (1984), Aad van der Elst, Rob Hoogkamer, Jules de Pierre, Truus Ruiter, Wil Soolsma (1984), Nico van der Vlugt and Frank Voskuilen (1984). After the sudden passing of Guus van der Heijden in January of 1987, Peter Laanen became the new KNBSB-President, while Wim Kerkhoven succeeded Dries de Zwaan some months later.

In the same period (1985-1989), Dick Bliek was the chairman of the Softball-board of the KNBSB. Other members of that board were Rob Kruijk, Olga Lablans, Henk Leeflang and Gonnie Sijmons. Johan Kluijskens was a member in 1988-1989. This committee oversaw all softball-affairs, including the structure and formats of the national competitions.

In 1989, Paul Moerman took over as President when Peter Laanen stepped down. Early 1990, it was decided to restructure the Board, which was expanded and got some new positions. Henk den Duijn became the new KNBSB-President in 1991. In the new structure, Dick Bliek became the Vice-Chairman for Softball Affairs. In that fuction, he oversaw all softball-activities, including National Teams, competitions and international contacts. Since 1989, Bliek also was responsible within the Board for development support to Eastern European countries.

Other new boardmembers since 1990 were Wijnand Agbterberg, Ben de Brouwer, Frans Cleeren, Jan Esselman, Josephine Hofsté, Wil Kitslaar, Wil Koet, Rob Kruijk and Rolf Moll.

As KNBSB's Vice-President of Softball, Dick Bliek accompanied the Netherlands National Men Softball Team in 1992 when it first participated in a World Championship, which then was held in Manila and Pasig in the Philippines. In the same year, he also represents the KNBSB as host when the European Championship Women's Softball is organized in Bussum (Netherlands).

Due to his actvities and contacts in Eastern Europe, Dick Bliek becomes a member of the Development Committee of the International Softball Federation (ISF) in the early nineties. For some four years, he is part of this committee which coordinates development-activities in several countries around the world to support players, clubs and federations and promote the sport of softball.

After stepping down from the KNBSB-Board in November 1992, Dick Bliek returns to a position some years later, as for two years, he is the Baseball Umpires Commissioner, handling all affairs of the baseball-umpires. He succeeded Ben Lens in March 1999. In this position Bliek was the Umpire Commissioner during the 2000 international Haarlem Baseball Week in Haarlem (Netherlands). After stepping down in May 2001, Bliek temporarily was succeeded by Gerben Hardeveld, who was the interim-commissioner for some two months. André Schrijber then took over in July 2001.

In February 2004, Dick Bliek was elected Vice-President in the Board of the European Softball Federation for an one-year period through February 2005. In those years, the Federation was led by Mike Jennings (Great Britain), who was the ESF-President in 2003-2009, while Patrice Bienfait (France) was the Secretary-General. Bliek represented the ESF-Board during the 2004 European Cup Winners Cup Women's Softball in Moscow (Russia).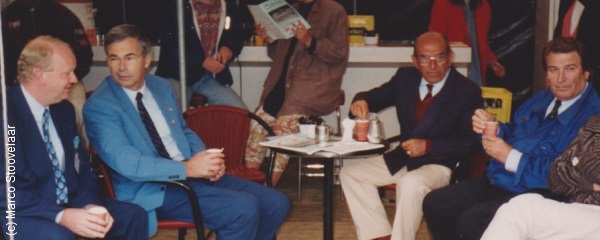 ...Dick Bliek with Jules de Pierre (KNBSB-boardmember),...
...Enrico Bertirotti (interim-President ESF) and Aldo Notari...
...(President CEB) during the 1992 European Championship...
...Women's Softball in Bussum (Netherlands)...
(© Photo: Marco Stoovelaar)

At that moment, Bliek was the sixth administrator from the Netherlands to serve in the ESF-Board. He was preceeded by Wim Oosterhof (pre-1976), Willem de Ruiter (pre-1976), Dries de Zwaan (1976-1977), Theo Vleeshhouwer (1977-1991) and Jos Gieskens (1993-2003). In later years, Dutch administrators Ruud van Zetten (2005-2009), André van Overbeek (2009-2017) and Petra Arends (since 2017) served in the ESF-Board.

In the nineties, the Bliek-family moved to the center of the country. There, Dick Bliek led Utrecht-based club UVV as its Chairman in 1997-1999. His son Jirka Bliek played baseball for UVV with whom he played in the Dutch big league in 2011-2014. Daughter Dyonne Bliek played softball at UVV, but in several seasons, she also is the physical therapist of the baseball-team when it played in the highest league. It was also in these years that Dick Bliek expanded his business-activities more and more to the Czech Republic.

Through the years, Dick Bliek has always been active to improve the baseball/softball-skills of others and promote the sport in other countries. While being the Chairman of The Caps, he started an exchangement with players from what was then Czechoslovakia (since January 1993 Czech Republic and Slovakia). He started to develop more and more contacts in Eastern Europe. Not only in Czechslovakia, but also in other countries.

In 1984, his interest in Eastern European countries, as well as wanting to promote the baseball-sport there, led to the founding of the Baseball Promotion Team Trail Blazers. Bliek became the chairman and within months, the first activities were organized. That were clinics in Czechoslovakia by coaches Cees Santifort and Piet Ferwerda and umpire Hans Schotel. Later in the year, a baseball-team is formed and a first trip is made to Czechoslovakia, but also to Italy. In the following years, the team makes tripes to not only Czechslovakia, but also the former Yugoslavia, Poland, Russia, Hungary, Bulgaria, Romania, Italy and the former West-Germany. All participants in the Trail Blazers-trip pay their own costs. In the organization of Trail Blazers, Dick Bliek closely works together with Rinus Paardekooper, who for many years worked at the Head Office of the KNBSB. He also frequently travels with Trail Blazers to Eastern Europe. The early clinics and first trips led to a growth of baseball in Czechoslovakia as well as the foundation of a National Federation. Especially since baseball had become an official Olympic Sport. Baseball was played during the Olympic Games of 1984 in Los Angeles (USA) and 1988 (Seoul, South Korea), then became an Ofifcial Medal Sport in 1992 (Barcelona, Spain).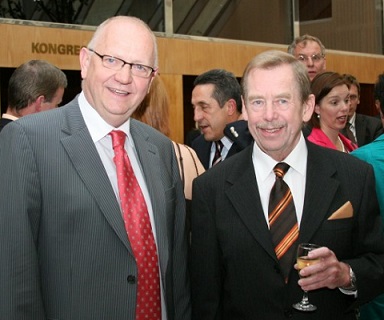 ...Dick Bliek with Václav Havel, who was...
...President of Czechoslavakia (1989-1992)...
...and the Czech Republic (1993-2003)...
(© Private Photo)

In an interview by Marina van Huissteden in Play Off Magazine in February 1988, Bliek looks ahead to an upcoming trip to Poland. As always, Bliek is very enthousiastic about his ambitious plans. ,,I intend to set up a comprehensive utility'', he said. ,,A big problem is the equipment. A solution must be found for this, because the enthusiasm is enormous.'' In following weeks, Bliek organizes an action in which Dutch club can donate equipment. He also proposes and exhange of players and teams. And of course, the Trail Blazers-team will make a trip to Poland.

Through the years, players from several Dutch leagues (incuding the highest) formed a team, traveled to East Europe, gave clinics and played games against local teams. One or more umpires accompanied the team and also conducted clinics. Besides that, the members of Trail Blazers gave instructions and advices regarding equipment and injuries.

Initially, Dick Bliek works in the photography business, but after some ten years, he starts his own travel company. Less than two years later, he opens two hotels in Czechoslovakia in capital Prague and in Špindlerův Mlýn, a ski-resort near the Polish border. Later, becomes the general manager of the four-star Imperial Hotel in Ostrava and moves himself to live in the Czech Republic, where he lived in the city of Čeladná, near Ostrava. He also has been the President of the Management Board of Suncani Hvar (Croatia) of the Orco Property Group.

In the nineties, Bliek is the founder of Comenius Ltd., which nowadays is located in both the Czech Republic and Georgia. Dick Bliek is the CEO of this hospitality consultancy company, which advises and operates prestigious properties in Central and Easten Europe, as well as group of 11 hotels in Croatia. The company also organizes regular seminars regarding communications and qualities in the hotel-business and has trained more than 2000 managers and other hotel-employees from twenty countries. The company won several awards.

Dick Bliek always spoke fondly about the baseball-help he offered to East-European countries. And he loved the Czech Republic, which became his second fatherland. His enthousiastic, cheerful and optimistic character will surely be missed by many.

The webmaster of Grand Slam * Stats & News offers his condolences to Dick Bliek's wife Monika, daughter Dyonne, sons Jirka, Michael and Dirk Gabriel and other family and wishes them a lot of strength with this big loss.

(February 23)