(Story by Marco Stoovelaar)

Caimanes completes comeback with shutout to win Colombian Final
Nederlands



BARRANQUILLA (Colombia) - Caimanes de Barranquilla completed a strong comeback on Sunday (January 24) with a 6-0 shutout-victory against Vaqueros de Montería in Game 7 to win the best-of-seven Championship Final of the Liga Profesional Colombiana de Béisbol. For Caimanes, this is the 11th title in club-history and its first since the 2018-2019 season. The team now will represent Colombia in the Serie del Caribe, which opens on January 31 in Mazatlán (México).

In the opener last weekend, reigning champion Vaqueros won 4-3. Caimanes then won 5-1 in the second game, but Vaqueros re-took the lead on Tuesday by winning 4-2. The team took a 3-1 lead in the Final via a 3-1 victory on Wednesday. But on Thursday, Caimanes won 10-5 to force a sixth game, which it then won with an 8-2 score.
Six Caimanes-pitchers held Vaqueros scoreless and gave up only four basehits at Estadio Édgar Rentería. Caimanes collected 12 basehits off of three pitchers, including three by Tito Polo, who also scored three runs. Evan Mendoza batted in three runs.
After the Caimanes-defense had turned a double play in the top of the first inning, the team opened the score moments later in its first at bat off of starter Pedro Echemendia. Tito Polo led off with a single, moved on a grounder and a flyout, then scored on a 2-out single by Sandy León, who earlier this month signed a minor league-contract with Miami Marlins.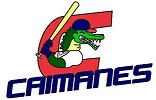 Caimanes added two runs in the third inning. Again, Tito Polo led off with a single (a bunt), which was followed by a throwing error, enabling him to reach second base. He then moved to third base via a sacrifice bunt by Evan Mendoza. After next batter Harold Ramírez had walked, Polo scored on a sacrifice bunt/squeeze by Sandy León. Ramírez then scored on a following single by Dilson Herrera.
Caimanes again scored twice in its fourth at bat. This time, Jhonatan Gálvez led off with a single, then Christian Correa doubled. With two runners in scoring position, Édinson Frías took over the pitching from Cuban Pedro Echemendia. He got a comeback-grounder by Francisco Acuña, which led to the elimination of Gálvez, who got into a rundown. The bases then got loaded when Tito Polo singled again. That was followed by a 2-run single from Evan Mendoza, which lifted the lead to 5-0.
In the sixth inning, Caimanes scored its sixth run. With one out, Francisco Acuña doubled, stole third base and scored on a 2-out single by Evan Mendoza.
Vaqueros got its first scoring opportunity in the top of the third inning off of starter Luis De Ávila. Meibrys Viloria then led off with a double and Elier Hernández walked, but a strikeout and groundout followed. With the runners on second and third base, another grounder ended the at bat.
In the fourth inning, David Holmberg took over the pitching for Caimanes. He saw Milton Ramos reach on an error with one out, then gave up a double to José Brizuela. A strikeout and groundout followed. This was the last time that Vaqueros got a runner into scoring position. The team was retired in order in its final two at bats.
Pitcher Eduar López was voted Most Valuable Player of the Final. Before the start of the Final, López was added to the team as extra player, as he pitched for Tigres de Cartagena in the regular sason and Play-Offs. It is common and according to the rules in these Winter Leagues that the two finalists are allowed to add one or two players to their rosters from teams that are eliminated.
(January 24)