(Story by Marco Stoovelaar; Photos by Alfred Cop & Marco Stoovelaar)
IN MEMORIAM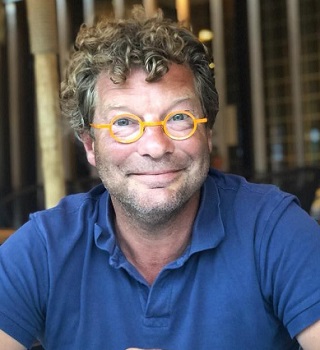 ...Huib Schrijvers...
(1965 - 2021)

Former HCAW-chairman Huib Schrijvers unexpectedly passed away
Nederlands

HILVERSUM (Neth.) - Huib Schrijvers, who led baseball- and softball-club HCAW five years as its Chairman, unexpectedly passed away on Tuesday, March 16, at the way too young age of 55. The former chairman had been hospitalized after a fateful fall in a domestic accident.

Huib Schrijvers was born on April 23, 1965 in Bussum. He started playing baseball at a young age with his brothers Frits and Robin at HCAW, where their father Ton also was active. Unfortunately, father Ton passed away on February 7 at age 82. Ton Schrijvers had been a youth-coach, but also was active in other ways and like his son Huib also would become involved in the club's leadership. In the eighties, mister Schrijvers was a member of a commission that set up a multi-year policy for the club, as well as a reorganisation.

For HCAW, this marked the fourth in a very short period and the fifth time since December that the club has to say goodbye to a beloved club-member.

On December 19, Bill Froberg passed away at age 63. Froberg had been the Head Coach of the big league baseball-team of HCAW in 2004-2005 and 2010-2011 and was also involved in youth development within the club.

On March 6, former player Wim Koenders passed away at age 80. He played for the main-team in the sixties when it promoted to and first played in the highest league. In the eighties, Wim Koenders was the Assistant Coach of the team that played in the big league, assisting four different Head Coaches in that span. In 1985, he assisted Craig Montvidas, then in 1986 Herman Beidschat. In August 1986, HCAW and Beidschat separated, then Koenders led the team as interim-Head Coach in the remainder of that season. The following year, Koenders assisted Jan Schriek, who was succeeded during the season by Martin Ronnenbergh.

A few days later, former youth-coach Bertus Klaver passed away at age 74. Through the years, mister Klaver had been very active for the club and was a loyal visitor of the games played by the main baseball-team.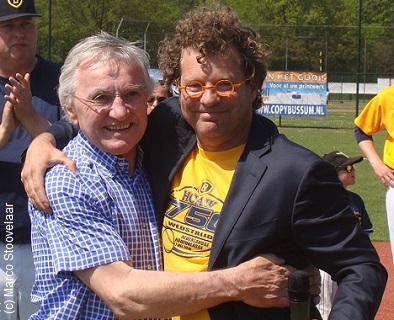 ...Huib Schrijvers with former sponsor...
...Ron Jaarsma on May 7, 2016 when HCAW...
...played its 1,750th game and its site was...
...named after Rob Hoffmann...
(© Photo: Marco Stoovelaar)

After his playing days had ended, Huib Schrijvers was not that closely anymore with the club. However, he returned when his own children also started to play for the Bussum-based club. Huib became a youth-coach and also got involved in several club-activities.

That eventually led to his candidacy for chairman of the club. In 2014, he was elected chairman and succeeded Wil Kitslaar. Schrijvers went on to lead the club for five years, before being succeeded by current chairman Bas Veerman in 2019.

In the years that Huib was HCAW's chairman, there were several highlights.

In 2014, the main softball-team of the club finished in the top-four of the second highest league ('Overgangsklasse') to qualify for the new Silver League that was introduced in 2015. In that season, the team finished in third place in the new division.

In 2016, the main baseball-squad of the club played its 1,750th official regular season-game in the Dutch big league since making its debut in the highest division 1967 to become the first club in history to reach this milestone. The game was played and celebrated on May 7 when the team hosted L&D Amsterdam Pirates.

The memorable game was attended by more than 50 former HCAW-players, as well as Ron Jaarsma, who had been the club's main-sponsor for thirty years with his company Mr. Cocker Lunchrooms.

During a ceremony before the game, Huib Schrijvers honored Jaarsma. The chairman also addressed the spectators and guests and announced that the complex of HCAW was renamed to Rob Hoffmann Valley, named after its former star-pitcher and club-legend Rob Hoffmann.

In 2017, the club celebrated its 60th anniversary. During the season, the festivities on its site were attended by Mayor Han ter Heegde of Gooise Meren, which is the Municipality where Bussum belongs to since January 1, 2016.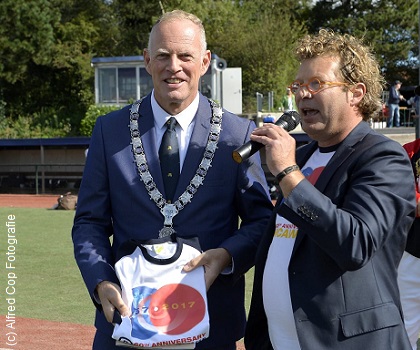 ...Huib Schrijvers with Mayor Han ter Heegde...
...of Gooise Meren during HCAW's 60th...
...anniversary in 2017...
(© Photo: Alfred Cop Fotografie)

In the same year, the baseball-team qualified for the Championship Pool in the big league for the first time in twelve years, as it had last played in the Play-Offs in 2005.

When Huib Schrijvers was on the HCAW-complex, no one could miss him. The enthousiasm he spread was energetic and he was visible for everyone. He walked around with a big smile on his face and was always doing something. Talking to everyone, cheering the baseball-team, drinking a beer and simply enjoying being on the field. His presence on the HCAW-site will surely be missed.

On HCAW's website, the following In Memoriam has been published:
,,Huib started playing baseball as a youth member at HCAW together with his brothers. Taken by their father Ton who was also active in baseball. He also remained involved later when he himself stopped playing. As the father of baseball-playing children, as a youth coach and as an enthusiastic organizer of activities such as the family tournament.

He has dared to pick up the chairrman's gavel in a difficult period (2014 - 2019) of the club and create peace and stability. With his positive approach (the glass was always half full) he managed to enthuse everyone. We are all going to miss him enormously on and around the field.

We wish his family and everyone who loved him a lot of strength in coping with this unexpected loss.''

The webmaster of Grand Slam * Stats & News offers his condolences to Huib's family and friends and wishes them a lot of strength with this huge loss, as well as to the families of Wim Koenders and Bertus Klaver.

(March 25)

For Huib Schriijvers, a condolence-register has been opened to leave personal messages.