Amsterdam Pirates led 3-0 halfway the seventh inning, but HCAW then scored four runs. The reigning champion avoided its fifth exhibition loss by coming alongside in the eighth inning.

Amsterdam Pirates opened the score in the top of the third inning by scoring three runs off of starter Dennis Burgersdijk. The righthander had retired the side in the first, then gave up a lead-off double to Denzel Richardson in the second, but he stranded on second base.

In the third inning, Max Clarijs led off for Pirates with a single and moved into scoring position via a sacrifice bunt by Raydley Legito. Clarijs then was safe on third base when a fielder's choice-grounder towards short by Roelie Henrique didn't end up in an out. Moments later, Clarijs scored the first run on a single by Kalian Sams, then Gilmer Lampe added a 2-run double, which gave Pirates a 3-0 lead. Lampe himself was eliminated at third base trying to stretch his hit into a triple. Denzel Richardson and Kenny Berkenbosch followed with singles, but they were left behind, as Burgersdijk closed with a strikeout.
In the next three innings, Pirates got into scoring position only once. With one out in the fourth, Max Clarijs walked and advanced on a grounder by Raydley Legito. Jasper Elfrink then took over the HCAW-pitching and got an inning-ending grounder. In the fifth, Elfrink walked lead-off hitter Kalian Sams, but then was supported with a double play. In the sixth, the lefthander gave up an one-out single to Mick Vos, who then was forced out on a grounder by Niels van Weert, who was left behind on first base.
HCAW was held scoreless in its first six innings thanks to some good pitching. Juan Carlos Sulbaran made his first pitching appearance of the season for the Amsterdam-team. He threw five solid innings, but faced a basesloaded-situation in the fourth.
In the bottom of the first inning, Victor Draijer singled for HCAW with one out, but hereafter, Sulbaran retired the next ten batters in a row.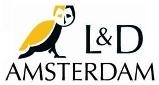 In the bottom of the third, there was a déjà vu moment. HCAW's lead-off hitter Berend Ruben fouled a pitch of Sulbaran which hit a lamp in a light-tower. The game had to be interrupted for a few minutes to clean up some glass and other debris. Last season, a home-game of HCAW against Curaçao Neptunus had to be stopped when a foul ball from Dashenko Ricardo destroyed a lamp. Maintenance work had to be done, but the game was to resume the following evening at the site of Neptunus in Rotterdam. However, that was cancelled due to rain. The game was then completed four days later in Bussum.
With Pirates leading 3-0, HCAW got a chance to do something back in the fourth. With two outs, Victor Draijer again singled, then Rodney Daal folllowed with a ground-rule double. The bases got loaded when Sulbaran hit Max Draijer with a pitch. The righthander then escaped unharmed, as he closed with a strikeout.
In the fifth, HCAW got two baserunners. With one out, Kevin Dirksen singled and with two outs, pinch-hitter Dion Frank walked. Sulbaran closed with his fifth strikeout.
In the sixth inning, Sulbaran was relieved by Gio de Graauw, who after last season transfered from HCAW to Pirates. De Graauw retired the side in the sixth, but then ran into problems in the seventh.
With one out in the bottom of the seventh, Max Draijer walked, advanced on an error, then scored on a single by Arthur Bonevacia. Hereafter, HCAW got the bases loaded when Jules Cremer doubled and Kevin Dirksen walked. That led to a pitching change and rookie Connor Prins was inserted. He got a grounder from Berend Ruben, which led to the force out at the plate of Bonevacia. But with two outs, HCAW scored three runs when Dion Frank, Julian Goins and Christopher Ge all walked. The inning ended and three runners were left behind when Linoy Croes grounded out, but HCAW now led 4-3. Due to the transfer-rule (fielder's choice), all runs were credited to De Graauw.
In the top of the eighth, Arij Fransen took over the HCAW-pitching, but he then gave up the fourth Amsterdam-run. The righthander walked lead-off hitter Gilmer Lampe, who stole second base with one out, then moved to third base on a wild pitch. When next batter Kenny Berkenbosch struckout, the third strike ended in a wild pitch, enabling Lampe to score the tying run.
In the top of the ninth, Max Clarijs walked for Pirates with one out and moved on a grounder, but was left behind on second base. HCAW got only one more runner in its final two at bats off of new pitcher Mike Groen. With one out in the ninth, Jules Cremer reached on an error, but stranded on first base.