(Story & Photo by Marco Stoovelaar)

No players elected into Major League Hall of Fame
Nederlands



NEW YORK, New York (USA) - For the first time since 2013, no players were elected into the National Baseball Hall of Fame. The outcome of the annual election by the Base Ball Writers' Association of America (BBWAA) was announced on Tuesday-evening (January 26). In December, the Eras Committee of the Hall of Fame was scheduled to have its election, but that was postponed one year due to the coronavirus-pandemic. This means that for the first time since 1960, there will be no new Hall of Fame Class in 2021.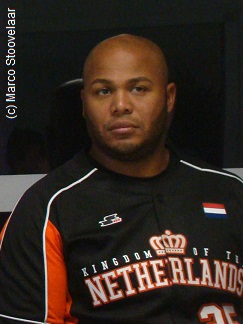 ...Andruw Jones...
(© Photo: Marco Stoovelaar)

In the BBWAA-elections in January last year, >Derek Jeter and Larry Walker got the call that they were elected into the Hall of Fame. They were to be officially inducted in July, together with former catcher Ted Simmons and former MLB Players Association-leader Marvin Miller, who were elected by the Modern Baseball Era Committee in December 2019. However, this ceremony was also postponed to July of this year. With that, only the 2020 Class will be inducted this year.

Players need 75% of the votes from the eligible members of the BBWAA to be chosen into the Hall of Fame. Pitcher Curt Schilling came closest, as he received 71 percent. In 2020, he received 70 percent of the votes. In his career, Schilling, who was eligible for the ninth time, won 216 games and struckout 3,116 batters. It was later reported that Schilling had written a letter to the Hall of Fame asking to be removed from next years ballot.
Third baseman Scott Rolen got much more votes than in his first three years of eligibility. Last year, he got 35.3 percent, this year 52.9 percent.
Andruw Jones also was eligible for the fourth time and climbed from 19.4 percent last year to 33.9 this year. The Curaçao-born outfielder played in 17 Major League-seasons for five clubs, including twelve with Atlanta Braves. Jones participated with the Netherlands Baseball Team in the World Baseball Classic.
Curt Schilling got the most votes this year. He was followed by outfielder Barry Bonds and pitcher Roger Clemens. Both got some more votes than a year ago. In 2020, Bonds got 60.7 percent and Clemens 61 percent. This time, Bonds got 61.8 percent and Clemens 61.6 percent. Both were eligible for the ninth time and both had Hall of Fame-statistics. But their rises on the list were modest, due to their possible connections with performance-enhancing drugs. The two will eligible for the final time next year. Thereafter, the Veterans Committtees can look into their cases in following years.
Players needed at least five percent to remain on the ballot for next year. Eight players (all first-timers) failed to attract enough votes and will be dropped from the ballot.
There were eleven first-timers this year. Three got more than five percent, being Mark Buehrle (11.0%), Torii Hunter (9.5%) and Tim Hudson (5.2%).
It marked the ninth time in history that the BBWAA didn't elect a player. And it is only the seventh time since the first elections in 1936 that there is no new Hall of Fame-class. 22 players were elected since 2014 though last year.
(January 26)