(Story by Marco Stoovelaar; Photos by Jan Kruijdenberg & Henk Seppen)

Gigantes captures Championship-title in Nicaraguan Final
Nederlands




RIVAS / CHINANDEGA (Nicagarua) - Gigantes de Rivas has captured the Championship-title in Nicaragua. On January 19, the team recorded a convincing 16-2 win against Tigres de Chinandega in Game 6 to win the best-of-seven Final of the sixteenth professional season of the Liga de Béisbol Profesional Nacional (LBPN) in Nicaragua. For Gigantes, this was its third Championship-title, but the first won at home. The team, managed by Puerto Rican Joel Fuenes, also won the title in the 2013-2014 and 2015-2016 seasons. Five years ago, Cuban Germán Mesa managed the team.

The regular season in Nicaragua began on November 13 with five teams. The four best teams then continued in a round-robin to decide the two finalists.
In the regular season, Tren del Norte de Estelí dominated and finished in first place with a 24-8 record. The team was followed by last season's champion Leones de León (18-14), Tigres de Chinandega (16-16), Gigantes de Chinandega (13-19) and Indios del Bóer (9-23), which was eliminated.
In the following round, Tigres ended up in first place with an 8-4 record, followed by Gigantes (7-5). Leones and Tren del Norte shared third place (4-7). This round opened on December 26 and closed on January 8.
Gigantes was the favorite before the start of the season, but needed some time to be successful. After a fourth place in the regular season and a second place in the second round, the team struck in the Final.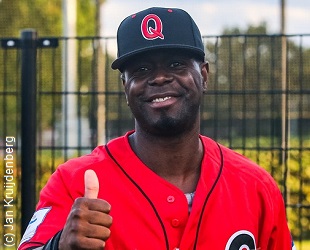 ...Roger Bernadina played for...
...Quick Amersfoort in 2020...
(© Photo: Jan Kruijdenberg)

On December 14, a month after the start of the season, Dutch outfielder Roger Bernadina joined Leones de León. With that, the 36-year old Curaçao-born Bernadina played in his third season in Nicaragua. He last played there in the 2005-2006 and 2006-2007 seasons when he was active for Fieras del San Fernando.

Bernadina played in his first game for Leones on December 17 and then was 1-for-4 with an RBI in a 3-2 win against Tigres. The outfielder, who played with uniform number 50, played in four more games for Leones in the regular season and recorded a bashit in all games. On December 20, Bernadina homered. In the five games, he batted .273, scored two runs and batted in six.

In the next round, Bernadina played in 11 games and was 13-for-38 (.342) with two homeruns. He scored eight runs and batted in seven for Leones, but his team was eliminated for the Final. Leones was managed by Sandro Guido, who played for the National Team of Nicaragua in 2001-2016.

Roger Bernadina played in the Major League in 548 games for Washington Nationals (2008-2013), Philadelphia Phillies (2013), Cincinnati Reds (2014) and Los Angeles Dodgers (2014). He then played for Kia Tigers (2017-2018) in South Korea. Hereafter, the outfielder signed with Ishikawa Million Stars (April 2019) which plays in an independent league in Japan, but less than three weeks later, Bernadina signed with Lamigo Monkeys (2019) in Taiwan. Through the years, Bernadina also played in Winter Leagues in Venezuela and Mexico. After being released by his Taiwanese team in June 2019, he went on to play for Algodoneros de Guasave in Mexico. There, he was released in February last year. Bernadina then returned to the Netherlands, where he last had played in 2001-2002 for Sparta-Feyenoord. In 2020, the outfielder played in seven games for Quick Amersfoort in the Dutch big league, hitting .286 (8-for-28) with one homerun, scoring five runs and batting in three. He then didn't play for the team in the following Bottom-4 Pool, as he was sidelined with an injury.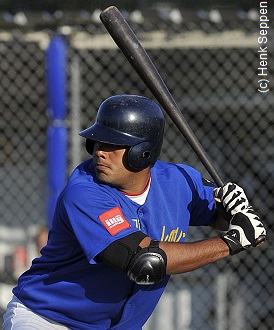 ...Wuillians Vásquez hitting for...
...HCAW in 2010...
(© Photo: Henk Seppen)

37-year old Venezuelan infielder Wuillians Vásquez played for Gigantes in his tenth season in Nicaragua. In 2010, Vásquez played in the Dutch big league for HCAW. He also played in the Minor Leagues for New York Yankees in 2001-2004 (Rookie League, Single-A) and in Italy for San Marino. In 2011, Vásquez played for the National Team of Venezuela in the 2011 World Championship in Panama. He was the Most Valuable Player of the 2016-2017 season in Nicaragua when he also played for Gigantes and led the league in hitting (.407), homeruns (11) and runs batted in (55). In 2019, he played for the National Team of Nicaragua during the 2019 Pan American Games Qualifier in São Paulo (Brazil), then the Pan American Games in Lima (Peru).

This season, Vásquez was the best hitter of Gigantes in the regular season with a .322 batting average. The second baseman scored 18 runs, batted in 13 and hit six homeruns.

The best-of-seven Final between Gigantes and Tigres went underway on January 12 at Estadio Efraín Tijerino Mazariego in Chinandega. Tigres rallied for five runs in the fifth and four in the sixth en route to a 12-4 victory. Jesús López batted in four runs for Tigres.

In Game 2, on January 13, at Estadio Yamil Ríos Ugarte in Rivas, home-playing Gigantes won 5-2 after trailing 2-0. The team scored three runs in the seventh, then added two runs in the eighth.

Two days later, back in Chinandega, Tigres won 8-6. Tigres rallied for five runs in the first inning, but led only 5-4 halfway the seventh. Tigres then scored its sixth run, however, Gigantes came alongside by scoring twice in the eighth. Tigres reacted with two runs in its eighth at bat to win and take a 2-1 lead.

In the fourth game, on January 16 in Rivas, Gigantes nipped Tigres 6-5 to equal the Final at 2-2.

In Game 5, on January 17 in Chinandega, Gigantes struck early by scoring three runs in the first inning and five more in the second. The team won 11-7 on 15 basehits, including four by Isaac Benard, who batted in three runs. Wuillians Vásquez and Chris Roberson both homered for Gigantes. Ramón Flores homered twice for Tigres.
On January 19, the sixth game was played in Rivas. Again, Gigantes was the better team and led 10-0 after six innings. Gigantes collected 15 basehits. All nine players hit at least one, six of them had two.
The team scored three runs in the second inning. Cheslor Cuthbert homered, then two runs were scored with two outs on singles by Gustavo Pierre and Isaac Benard. Gigantes then added four in the fifth at bat. The first two on a triple by Alexander Váldez, who then scored himself on a triple by Denis Phipps, which was followed by a runscoring single by Elmer Reyes. Some errors led to three more runs in the sixth.
Former Major Leaguer Yohan Flande was the starting pitcher for Gigantes and went on to win his second game. The lefthander dominated and held Tigres scoreless in six innings. He then gave up a pinch-hit homerun to Juan Carlos González in the seventh inning. Flande was relieved with two outs in the eighth inning. The 35-year old Dominican pitched in 37 Major League-games for Colorado Rockies in 2014-2016 and then was 3-9. He also played in South Korea for Samsung Lions (2016).
Gigantes scored another run in the seventh when Chris Roberson homered. A 5-run rally followed in the eighth, highlighted by a 3-run double by Isaac Benard. Tigres scored twice in the ninth, but that was to be it.
By scoring 16 runs, Gigantes tied a Championship Final-record. On January 19, 2014, Gigantes also scored 16 in Game 4 against Bóer. On January 11 last year, Leones scored 16 in the third game against Tigres. The record is 19, which was accomplished by Bóer on January 20, 2008 against San Fernando.
Isaac Benard and Yohan Flande were both named Most Valuable Player of the Final Series. Benard was the best hitter with a .481 average and set a record with 13 basehits. He also tied the RBI-record with eleven. Flande won two games and struckout ten batters.
(January 27)