(Story by Marco Stoovelaar; Photo by Henk Seppen)



Jurickson Profar signs again with San Diego Padres
Nederlands



SAN DIEGO, California (USA) - Jurickson Profar, who nowadays is listed as an outfielder, will play again for San Diego Padres this season. The 27-year old Curaçao-born utility player was a Free Agent since October, which followed his first season with San Diego. In the past days, it already was rumored that there was a deal between San Diego and Profar, but that was officially confirmed on Wednesday (January 27). Profar agreed to a 3-year, 21 million dollar, contract with San Diego, which has developed into a contender in the National League West Division.. In the off-season, the club also added pitchers Yu Darvish (trade with Chicago Cubs) and Blake Snell (trade with Tampa Bay Rays) and infielder Ha-Seong Kim (free agent). Darvish was Profar's teammate with Texas Rangers.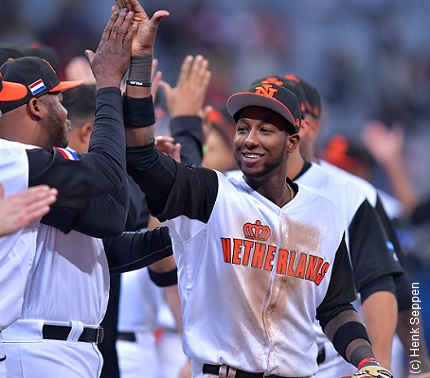 ...Jurickson Profar with the Netherlands Team...
...during the 2017 World Baseball Classic...
(© Photo: Henk Seppen)

Also these days, several sources reported that Andrelton Simmons was to sign with Minnesota Twins and that Didi Gregorius most likely will return to Philadelphia Phillies. However, this was not confirmed. Mostly, these reports are true, but are confirmed by a club several days later, mostly after a physical of the player concerned or final agreements in the contract.

In the shortened season last year, Profar played in 50 games and batted .278 (50-for-180) with six doubles and seven homeruns. He scored 28 runs and batted in 25. Despite the short season, it is labeled as his best so far.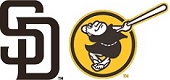 The switch-hitting Profar developed into a true utiliy player, which makes him capable to play every position on the field, except pitching and catching. With that, he also will be a valuable bench-player, who can play anywhere at any time and also can be inserted as a pinch-hitter.. Last season, he became a popular player in the team of San Diego, on the field and in the clubhouse.
Jurickson Profar signed his first contract with Texas Rangers as a short stop in June 2010. He made his Major Legue-debut in 2012 with Texas and then hit a homerun in his first at bat. Profar played in nine games that year. He then became a regular for Texas in 2013 (85 games), but missed the next two seasons due to an injury. Profar returned in 2016 and played in 90 games. After having played in only 22 Major League-games for Texas in 2017, the infielder/outfielder became a regular again in 2018. In that season, Profar played in a career-high 146 games and also had personal highs with 133 basehits, 35 doubles, six triples, 20 homeruns, 82 runs scored, 77 runs batted in and a .254 batting average.
In December 2018, Profar was part of 7-player trade between three teams and became a player of Oakland Athletics for whom he played in 2019. He played in 139 games for Oakland and although he again hit 20 homeruns, scored 65 runs and batted in 67, his batting average dropped to .218.
In December 2019, he was traded to San Diego Padres. After completion of the 2020 season, Profar was a Free Agent, but he now has a new agreement with San Diego.
In seven Major League-seasons, Profar played in 547 games and recorded 428 basehits, including 59 homeruns. He scored 250 runs, batted in 222 and is hitting .238.
In 2013 and 2017, Jurickson Profar played for the Netherlands Baseball Team in the World Baseball Classic.
(January 27)