(Story by Marco Stoovelaar; Photo by Henk Seppen)

Chadwick Tromp, Sherten Apostel first Dutch players in action in Major League Spring Training
Nederlands




SCOTTSDALE / SURPRISE, Arizona (USA) - The Major League Spring Training-season went underway on Sunday (February 28) with 14 games, seven in Florida, seven in Arizona. Spectators are allowed at the games, but at every site only some 20% percent of the capacity is used with strict measures due to the coronavirus (COVID-19).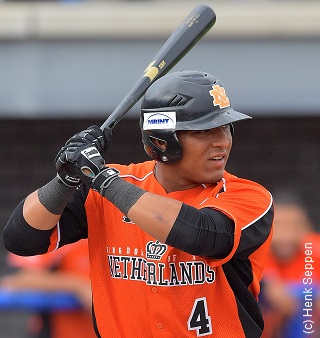 ...Chadwick Tromp hitting for the...
...Netherlands during the 2016 European...
...Championship in Hoofddorp (Neth.)...
(© Photo: Henk Seppen)

That means that some 2,000 fans are able to watch a game from the stands, which are divided into boxes from which a maximum of six persons can sit. Fans also must wear face-masks and there is a social distance of six feet. There is no interaction between fans and players before (or during) the game. Normally, there is a lot of contact with players during Spring Training-games.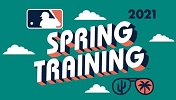 On the first day that games were played, two of the eleven Dutch players in Spring Training got into action. That were catcher Chadwick Tromp and infielder Sherten Apostel. Both made their debut in the Major League last season.
The eleven Dutch players are Ozzie Albies (Atlanta Braves), Sherten Apostel (Texas Rangers), Xander Bogaerts (Boston Red Sox), Didi Gregorius (Philadelphia Phillies), Kenley Jansen (Los Angeles Dodgers), Carter Kieboom (Washington Nationals), Jurickson Profar (San Diego Padres), Jonathan Schoop (Detroit Tigers), Andrelton Simmons, Zander Wiel (both Minnesota Twins) and Chadwick Tromp (San Francisco Giants). All are on the 40-man rosters of their respective team, except for Wiel. He was added as a non-roster player some two weeks ago.
In Scottsdale, Chadwick Tromp entered the game against Los Angeles Angels as new catcher for San Francisco Giants in the top of the fourth inning, taking over for Buster Posey. Tromp got his first at bat in the bottom of the fifth and then grounded out. He got his second at bat with a runner on first base with one out in the bottom of the seventh. This time, Tromp grounded into a double play. That also ended the game, which was won by Los Angeles with a 5-2 score.
In Surprise, Texas Rangers lost 3-2 in a 6-inning game against Kansas City Royals. With one out in the top of the sixth, Sherten Apostel was inserted as pinch-hitter for designated hitter Khris Davis and grounded out.
(February 28)