In the first six innings, Neptunus was outhit 5-3 by Storks. But in the final three at bats, Neptunus added seven basehits, while Storks added only three. In those three innings, Neptunus also scored five of its eight runs.

Neptunus has to do without Belgian player Benjamin Dille at the moment. Due to the current measures and protocols against the coronavirus, he is currently unavailable, as persons from abroad have to observe a period of ten days in quarantine. Of course, that is not workable for the player for each time he travels back and forth between Belgium and the Netherlands, so he has to wait for the moment that measures are eased more. It was Stephen Henson of Storks, who accounted for the first basehit in the 2021 season. At 7:41 PM, the second baseman hit the ball into leftfield for a single off of Neptunus-starter Diegomar Markwell in the bottom of the first inning. Moments later, he was eliminated in a double play on a grounder by debuting Yurdion Martie. Markwell started his sixth consecutive Opening Day-game for Neptunus.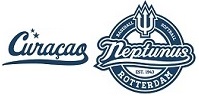 After having been retired in order in the first inning, Neptunus opened the score in the top of the second inning off of starter Jayden Gonesh. In the second at bat, the righthander walked lead-off hitter Roger Bernadina. The former Major Leaguer played in centerfield for Neptunus, as regular centerfielder Shaldimar Daantji is recovering from a groin-injury. Bernadina then scored the when next batter Gianison Boekhoudt hit the first homerun of the 2021 season, which he did at 7:51 PM. Gonesh retired the next three batters.
In the bottom of the second inning, Storks got a chance to get one run back. With one out, Ibrahin Redan doubled. But with two outs, he was eliminated in a rundown after overrunning third base on an infield-hit towards short by Raibiëntly Mercalina. And that ended the at bat.
Storks got another scoring opportunity in the bottom of the third inning when it got the bases loaded with two outs. Brendly Martina then reached on an infield-hit, which was hit first big league-basehit and Stephen Henson walked. Hereafter, everyone was safe on a fielder's choice-grounder towards second base by Yurdion Martie and that loaded the bases. Diego Markwell and Neptunus avoided giving up runs, as a following grounder by Sheadion Jamanika closed the at bat.
After Storks was held scoreless, Neptunus added a run in the top of the fourth. With one out, Gianison Boekhoudt walked and Dudley Leonora singled. The two runners advanced on a passed ball, then Dashenko Ricardo grounded to third baseman Brendly Martina. That led to the elimination at the plate of Boekhoudt. With runners at the corners and two outs, Quintin de Cuba struckout, but reached on an passed ball, which enabled Leonora to score. Another strikeout closed this at bat, but Neptunus now had a 3-0 lead.
In the top of the fifth, Stijn van der Meer led off with a walk, which led to the first pitching change of the season. Rookie Obed Hernandez took over from Jayden Gonesh and got some defensive support in his big league-debut. On his second delivery, John Polonius hit a comeback-grounder to Hernandez, which resulted in an 1-6-3 double play. Herafter, he gave up a single to Dwayne Kemp, but he was caught stealing moments later.
In the top of the sixth inning, it was Neptunus that left three runners behind. With one out, Obed Hernandez walked Gianison Boekhoudt and with two outs, the righthander got the bases loaded when he also walked Dashenko Ricado and Quintin de Cuba. But Neptunus was unable to add a run, as the inning ended when Gregory Muller grounded out.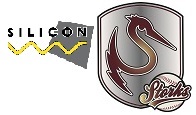 Neptunus then did score another run in the top of the seventh off of new pitcher Jiairo Samboe, who also made his debut. With one out, the lefthander gave up an infield-hit to John Polonius, who then was awarded second base on a balk and stole third base. Moments later, he scored on a single by Dwayne Kemp. Roger Bernadina followed with a double, but Neptunus left runners behind on second and third base.
After having left three runners behind in the third inning, Storks got only one runner in scoring position in the next three at bats off of Diegomar Markwell. That was in the fourth inning. Ibrahin Redan then led off with a walk, but was forced out on a grounder by Joran Berkhout. He then moved to second base on a passed ball, but Markwell struckout the next two batters.
Neptunus took more distance in the top of the eighth inning by scoring three runs. With one out, Quintin de Cuba and Gregory Muller walked, then the bases got loaded when Stijn van der Meer followed with a single. The first two then scored on a double by John Polonius. That led to another pitching change and Gabriel Statia become the third Storks-pitcher tonight to make his debut in the Dutch big league. The righthander got a grounder from Dwayne Kemp, but that also enabled Van der Meer to score and lift the lead to 7-0.
With Neptunus leading 4-0, Misja Harcksen had taken over the pitching from Markwell in the seventh inning. In that at bat, Storks left a runner behind on first base, but in the eighth, the team got a runner on third base. With one out, Sheadion Jamanika walked and Ibrahin Redan singled, which led to runners on first and third base. But they were left behind.
Neptunus scored again in the top of the ninth to make it an 8-0 score. With one out, Dashenko Ricardo walked and Quintin de Cuba doubled, then Gregory Muller added a runscoring single. Hereafter, the Rotterdam-squad got the bases loaded when Stijn van der Meer walked, but a double play ended the at bat.
Berry van Driel closed the game for Neptunus in the bottom of the ninth inning. The veteran righthander gave up a lead-off infield-hit to Darren Winklaar, which was hit first big league-basehit, but he was forced out. Two grounders then ended the first game of the 2021 season.