(Story by Marco Stoovelaar; Photos by Henk Seppen)

Ronald Jaarsma new Head Coach of Amsterdam Pirates
Nederlands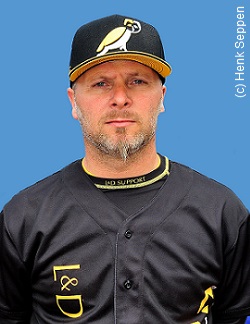 ...Ronald Jaarsma...
...new Head Coach of...
...L&D Amsterdam Pirates...
(© Photo: Henk Seppen)

AMSTERDAM (Neth.) - Ronald Jaarsma is the new Head Coach of reigning champion L&D Amsterdam Pirates, the club announced on Friday (October29). With that, Jaarsma has a new club eight days after he was let go by Curaçao Neptunus on October 21 after having lost the Holland Series. Jaarsma returns to the club where he already has been a coach before and succeeds Michael Duursma, who stepped down on October 18, a day after leading the baseball-team prolonged its Championship-title, winning the Holland Series against Neptunus. Allan Hazel, who this season was the 3B Coach at Pirates and Pitching Coach Rob Cordemans will return to assist Jaarsma next year.

Four days after Duursma announced he was unable to combine coaching at a high level with his job as Coordinator or Baseball Academy Kennemerland Rabbits, Neptunus and Jaarsma separated. At that moment, he immediately became the prime candidate to fill in the vacant post of Head Coach at Pirates, as he already had coached there before.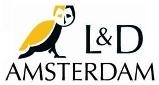 In an announcement on its website on Friday, Amsterdam Pirates stated:
,,Ronald Jaarsma is one of the most experienced baseball coaches in the Netherlands. Jaarsma is a top coach who fits in well with the experienced and successful team of L&D Amsterdam and the policy of the club. He has won several national and European championships as a coach. His goal is to create a competitive team that excels in the top league and also in Europe, while at the same time preparing youngsters for top baseball. Pirates wants to share the experience of professional baseball and club players such as Sams, Richardson, Martis, de Blok and Berkenbosch to prepare a new generation of young players for the highest achievable in baseball. By having them train and play together, success is assured for several years.''
Ronald Jaarsma coached Neptunus in five seasons (2017-2021) and led the team to the Holland Series in each of his five seasons. In all these Championship Finals, Neptunus faced Amsterdam Pirates. In his first two seasons as Head Coach, the Rotterdam-team captured the title in 2017 and 2018 and also won the European Champions Cup. The team then appeared to be en route to another title in 2019, as it then won the first three games of the Holland Series. However, Pirates then became the first team in history to come back from a 3-0 deficit and win the next four games to capture the title. In last years Holland Series, Neptunus lost the first two games against Pirates, but the Final was then halted due to measures against the coronavirus (COVID-19). This year, Neptunus lost the first two games, then won the next three, but Pirates came back to win Game 6 and 7 to prolong its Dutch Championship-title.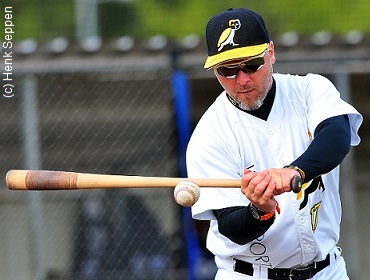 ...Ronald Jaarsma has been the 3B Coach...
...at Amsterdam Pirates for four seasons...
(© Photo: Henk Seppen)

By becoming Head Coach, Ronald Jaarsma returned to the club where he had been the 3B Coach for four seasons (2013-2016). In 2013, he first was the assistant of then-Head Coach Sidney de Jong. Jaarsma then stayed on as 3B Coach when Charles Urbanus succeeded De Jong in 2014. In those years, Jaarsma's name already was named frequently as the possible successor of Urbanus. However, an unexpected separation between Pirates and Jaarsma followed less than a week before the start of the 2016 Holland Series, as he was then discharged of his duties by the club's Board. The reason for this unexpected decision was the fact that Jaarsma had been approached by Neptunus for a coaching role at the Rotterdam-squad in 2017, which he accepted. As Neptunus was the opponent in the Championship Final, the Board of Amsterdam Pirates decided to 'give Jaarsma a honorable relief of his duties'. Back then, the Pirates-Board stated: ,,,Amsterdam Pirates has had a fantastic cooperation with Ronald Jaarsma for four years. Also due to his knowledge, enthusiasm and efforts, L&D Amsterdam won the European Cup and again plays for the Dutch Championship. With pain in our hearts, we respect his decision, but we regret that Ronald now has come in a sticky situation. With the coming Holland Series approaching, we have decided to relief Ronald Jaarsma honorably, but effective immediately, of his duties as Assistant Coach of L&D Amsterdam.''

However, back then, it was made clear immediately that this simply was a decision to protect Jaarsma against possible conflicts of interests during the Championship Final between Pirates and Neptunus. Is also became clear that the Pirates-door always would remain open for Jaarsma to return to Amsterdam and that a possible coaching job in the future stayed a possibility. That was underscored today, as Jaarsma is back in Amsterdam. This time as its Head Coach. Almost surely, he will wear his familiar uniform number 17, which he also had when he was the team's Assistant Coach and when he was the Head Coach of Neptunus and as a player. This season, the number was worn by pitcher Robyn Clara, who therefore will have to switch to another uniform number.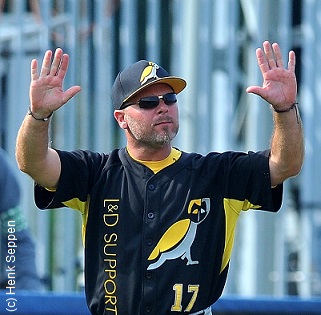 ...Ronald Jaarsma as 3B Coach of...
...Amsterdam Pirates in the 2015 season...
(© Photo: Henk Seppen)

Before turning to coaching, Ronald Jaarsma played in the Dutch big league as an outfielder mostly for HCAW, but be also played for Neptunus. After having started his career in youth-teams at HCAW, he went to Neptunus after the 1992 season. There,he played for Tridents (the second team of Neptunus) in 1993-1994, but returned to HCAW, where he played in its second team in 1995. Hereafter, he went back to Rotterdam, again played for Tridents, but also made his debut in the big league-team. Jaarsma then played for Neptunus in 1997-1998 and was on the roster for the 1999 season, but left the team in the first month of the season and returned again to HCAW, where he finished the season. Jaarsma continued playing for HCAW and retired after the 2008 season.

Jaarsma then became the 3B Coach of HCAW, assisting Jurjan Koenen (in 2009) and Bill Froberg (in 2010). During the 2011 season, Jaarsma took over as interim Head Coach of the Bussum-squad in the second half, replacing Froberg. In the remainder of the regular season, the team was led by Jaarsma and also in the Play-Downs to finish in sixth place overall. After not having coached in 2012, he became the 3B Coach of Sidney de Jong, who was named as the new Head Coach of Amsterdam Pirates for the 2013 season. During the 2013 season, Jaarsma filled in for two games at Pirates when Head Coach Charles Urbanus was stricken by the flu.

In 2017, Jaarsma then coached in his first full season as Head Coach in the highest league when he first led the team of Neptunus. While most Head Coaches do the coaching from the dug-out, Jaarsma went on to coach himself at third base, making him one of the few to do so in the highest league. While coaching, Jaarsma almost always characteristically wore dark sunglasses. In his first season, Jaarsma won the European Champions Cup with Neptunus, captured the Championship-title and won the Award for Coach of the Year.

In 2001 and 2002, Ronald Jaarsma played twelve international games for the Netherlands National Baseball Team. In those years, he participated with the Orange Team in one World Port Tournament (2001), one European Championship (2001) and one Haarlem Baseball Week (2002).

Ronald Jaarsma will be the second new Head Coach in the big league next year. On October 12, HCAW announced that Danny Rombley will be its new Head Coach in 2022 as the successor of Roy Berrevoets.

(October 29)