(Story by Marco Stoovelaar)

Tomateros wins title in Mexican Final
Nederlands




HERMOSILLO / CULIACÁN (México) - Tomateros de Culiacán is the champion of the Liga Mexicana del Pacifico (LMP), but needed seven games in the Final Series. On Saturday (January 30), Tomateros won Game 7 against Naranjeros de Hermosillo with a 7-6 score in ten innings. For Tomateros, this is its 13th title in club-history and as champion, the team now will represent México in the Serie del Caribe, which opens on Sunday in the Mexican city of Mazatlán.

The best-of-seven in the Mexican Winter League began on January 22. At Estadio Sonora in Hermosillo, the home-playing Naranjeros nipped Tomateros 2-1 in the opening game. The following day, Tomateros recorded a 6-1 victory.
The Championship Final then shifted to Estadio Tomareros in Culiacán, where the visiting Naranjeros won 5-4 in the third game on January 25. The team then won only 1-0 in Game 4 to take a 3-1 lead.
But hereafter, Tomateros turned the Final its way by winning the next three games. In Game 5, the team won 4-3. Hereafter, back in Hermosillo, Tomateros equaled the Final (3-3) by winning 6-2 on Friday to force a seventh and deciding game.
In the seventh game, on Saturday, Naranjeros opened the score in the bottom of the first inning off of starter Edgar Arredondo. Norberto Obeso González led off with a single, advanced on a sacrifice bunt and a grounder, then scored on a single by Víctor Hugo Mendoza.

Tomateros answered with four runs in the top of the second. Joey Meneses led off with a walk, then scored the tying run when Efren Navarro and Michael Wing followed with singles. After the bases got loaded when Jesús Castillo Montaño walked, the team took the lead on a following single by Alexis Wilson Delgado. Hereafter, starting pitcher César Vargas was replaced by Marcelo Martínez, but he was greeted with a 2-run single by Cuban Yoelkis Guibert. The bases got loaded again when José Guadelupe Chávez Martínez and (with two outs) Sebastián Elizalde Ramos both walked. This time, the three runners were left behind, as a flyout ended the at bat. But Tomateros led 4-1.
The home-team got a run back in its second at bat. Rolando Acosta led off with a walk and Julián León doubled, then the first scored on a sacrifice fly by Jasson Atondo. With León on third base, two grounders followed.
Tomateros scored another run in the third when Jesús Castillo Montaño homered with two outs.
The visitors increased the lead to 6-2 in the fifth inning. The team scored once, but that could have been more. New pitcher Wilmer Ríos struckout lead-off hitter Joey Meneses, but he reached first base when the third strike ended in a passed ball. The bases then got loaded when Efren Navarro singled and Michael Wing walked. With three runners on base and no outs, Ozzie Mendez was inserted as new pitcher, who then saw Jesús Castillo Montaño hit into a sacrifice fly-double play. Castillo flied out, Meneses scored (sacrifice fly), Navarro moved to third base, but Wing was eliminated at second base (double play). Navarro stranded on third base.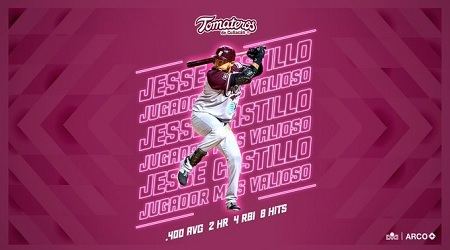 ...Jesse Castillo was named MVP...

Naranjeros was able to score again in the bottom of the fifth. Jasson Atondo led off with a walk, which was followed by a pitching change. Carlos Vázquez took over and gave up an one-out double to José Alejandro Cardona. Moments later, Atondo scored on a grounder by Cuban Yadiel Hernández, which was followed by another pitching change. New pitcher Jesús Adrian Castillo got an inning-ending flyout.

Naranjeros then came alongside with two outs in the bottom of the seventh inning. New pitcher Carlos Torres walked Norberto Obeso González with one out, then gave up a single to José Alejandro Cardona. The two moved on a grounder, then scored when Isaac Paredes followed with a homerun. That brought in new pitcher Sasagi Sánchez. He gave up a single, then hit a batter, but a grounder closed the at bat.

Naranjeros got runners on first and second base with one out, but then an infield fly and strikeout ended the inning. With that, the game went into extra innings.

In the top of the tenth inning, Jesús Castillo Montaño hit his second homerun in the game with one out to give Tomateros a new lead. Hereafter, Alexis Wilson Delgado doubled and Yoelkis Guibert singled, but they were left behind.

In the bottom of the tenth inning, Alberto Louis Baldonado, who had taken over the pitching in the ninth, retired the side. The Panamanian lefthander began with two strikeouts, then a grounder then ended the game and the series.

Jesús 'Jesse' Castillo Montaño was named Most Valuable Player of the Final Series.

(January 30)