(Story by Marco Stoovelaar)
IN MEMORIAM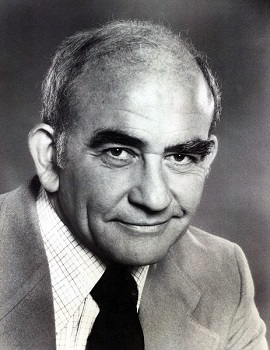 ...Edward Asner...
(1929 - 2021)

Legendary TV-actor Edward Asner (Coach in 'Perfect Game') passed away
Nederlands

TARZANA, LOS ANGELES, California (USA) - Veteran American actor Edward Asner, who had a career in television for over sixty years, passed away on Sunday (August 29) at age 91 at his home in Tarzana, which is a suburb in the San Fernando Valley-region of Los Angeles.

Edward Asner was a television legend and for many viewers, he will always be known as Lou Grant, the character he played in two series, The Mary Tyler Moore Show and Lou Grant. He is also known as the voice of Carl Fredricksen, the main-character in the Oscar-winning animation movie Up.

His link with baseball and therefore, this In Memoriam on this site, came in 2000, when he played a Little League baseball-coach in the movie Perfect Game.

Yitzhak Edward Asner was born on November 15, 1929 in Kansas City, Missouri in family with a Jewish-Russian background. His father was born in Lithuania, his mother in Russia, who immigrated to the United States. After attending college, he studied journalism at the University of Chicago, Asner worked in different jobs. In the late forties, Asner was drafted in the US Army and primaly performed clerical duties when he was stationed in France. In the early fifties, he joined a theatre company in Chicago.

Edward Asner made his acting debut in 1957 in the TV-series Studio One. Since the sixties, Asner became a familiar face on TV and also became know for his distinctive voice, as well as his appearance. He played parts in many series, including wellknown series as Alfred Hitchock Presents (one episode, 1962), The Untouchables (four epiodes, 1962, 1963), The Virginian (one episode, 1963), Dr. Kildare (two episodes, 1962, 1963), Voyage to the Bottom of the Sea (one episode, 1965), Gunsmoke (two episodes, 1964, 1966), The Fugitive (three episodes, 1965, 1967), Mission: Impossible (one episode, 1969), The F.B.I. (three episodes, 1966, 1968, 1969), Ironside (two episodes, 1967, 1969), The Mod Squad (three episodes, 1970, 1971, 1972) and Hawaii Five-O (one episode, 1975). All these series were also shown on television in the Netherlands.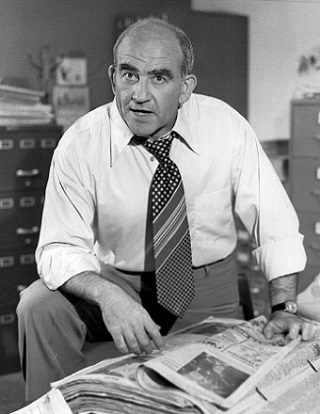 ...Edward Asner as Lou Grant...
...in TV-series Lou Grant (1977)...
(© Publicity Photo CBS Television)

He also played in two wellknown mini-series in the seventies. The first was Rich Man, Poor Man (1976) in which he played the recurring role of Axel Jordache. In the Netherlands, this drama-series was titled De Jordaches. He played another recurring role in the biographical and historical drama-series Roots (1977) as Captain Thomas Davies. For both roles, Asner won an Emmy Award.

His most known role came in 1970 when he first played the part of Lou Grant in the comedy-series The Mary Tyler Moore Show. In the series, Lou Grant was a sometimes grumpy newspaper editor. In the 8-year run of the series, Asner played the role in 166 episodes. In 1974, he also played the part once in the series Rhoda, which was a spin-off of The Mary Tyler Moore Show. Towards the end of the MTM-Show, Lou Grant was promoted and became the West Coast-editor for a Los Angeles-newspaper. That was the beginning of a new series (and another spin-off) which centered around Lou Grant. The drama-series Lou Grant (1977-1982) ended after five seasons and 114 episodes.

From the late eighties, Asner continued to star in recurrring roles in several more TV-series. Amongst them were drama-series The Bronx Zoo (1987-1988) in which he played the part of Principal Joe Danzig, who led a high school in The Bronx (21 episodes) and comedy-series Thunder Alley (1994-1995) in which he appeared in 27 episodes as retired stock car racer Gil Jones. In 2003, he played the role of Dr. James McNulty in three episodes of the hospital-series ER. And he played guest-roles in many more series.

Edward Asner mostly played in TV-series, but sometimes, he also appeared in movies. In 1962, he played in his first film, which was an uncredited minor role in Kid Galahad, a musical which starred Elvis Presley, Gig Young and Charles Bronson.

In later years, Asner played in the western El Dorado (1966) in which he played opposite John Wayne. Asner also played in crime-drama Fort Apache the Bronx (1981) starring Paul Newman and the biographical drama JFK (1991), which starred Kevin Costner, Gary Oldman, Jack Lemmon and Walter Matthau.

In 2002, Asner played Cardinal Angelo Roncalli, who went on to become Pope John XXIII, in the Italian biographical TV-movie Papa Giovanni - Ioannes XXIII, also known as John XXIII: The Pope of Peace.

Asner also appeared in the family-movie Elf (2003), starring Will Ferrell, James Caan, Bob Newhart, Zooey Deschanel and Mary Steenburgen. In that film, Asner was Santa Claus, a role he played in several productions.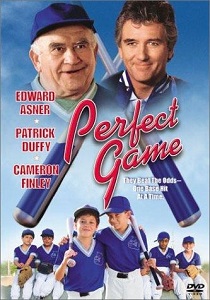 ...The poster of...
...Perfect Game...

In 2000, Edward Asner starred in the made-for-DVD family-movie Perfect Game. In this movie, Asner plays the part of baseball-coach Billy, who helps 11-year old Kanin Crosby to find a way of overcoming obstacles in his young life. The boy joins a Little League baseball-team and thanks to Coach Billy, the boy has the best summer of his life. The team is initially led by Coach Bobby Geiser, who has a bad influence and gambles. With the help of Kanin's mother Diane, Geiser is replaced by Coach Billy, who teaches the children about baseball and having fun. Also starring in the movie were Patrick Duffy, who played the role of Coach Bobby Geiser, Cameron Finley, who plays Kanin, and Tracy Nelson as Kain's mother Diane. The film was directed by Dan Guntzelman, who also wrote the story.

In his more than 60 year career, Edward Asner acted in all kinds of genres, including drama, western, crime, adventure, mystery and comedy. He played in more than 400 different roles, most of them in TV-series. He also played in radio-plays and narrated several documentaries.

Since the late nineties, Asner also had a long career as voice-actor in animated TV-series. Amongst the voices he did was that of Jabba The Hutt in the radio-drama series Star Wars: Return of the Jedi (1996). On television, he was the voice of newspaper-editor-in-chief J. Jonah Jameson in 35 episodes of the animated series Spider-Man (1994-1998). Other animated series he worked on include Captain Planet and the Planeteers (1990-1995), Gargoyles (1994-1996), Batman: The Animated Series (1992-1994), Buzz Lightyear of Star Command (2000), Johnny Bravo (2000, 2001) and Family Guy (2001).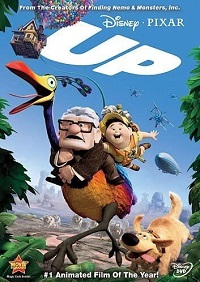 ...The poster of Up...

In 2009, he was the voice of Carl Fredricksen, the main-character in the successful Disney/Pixar-animation movie Up, directed by Pete Docter and Bob Peterson. The film won the Oscar for Best Animated Feature Film of the Year, as well as for the Best Achievement in Music for Michael Giacchino.

Beginning in 2016, Edward Asner toured three years across the United States playing in the play The Soap Myth in which he played the role of a Holocaust survivor.

Asner had recently completed working on eight different projects. Three of them (two series and a movie) are completed. Five others are currently in post-production. His final acting credit was the part of Max Perlmutter in the thriller Deadly Draw. The movie is currently being filmed and is expected to be released next April.

In his long acting career, Edward Asner won 38 Awards and was nominated for 27 more. Asner won seven Emmy Awards and was nominated for this Award 21 times. He is the only actor to win an Emmy for the same role in both a comedy series as well as a drama series. In 1971, 1972 and 1975, he won the Emmy Award for Performance as a Supporting Actor for his role as Lou Grant in the comedy-series The Mary Tyler Moore Show. In 1978 and 1980, he won the Emmy Award for Outstanding Lead Actor in a Drama Series for his title-role in Lou Grant. By winning seven Emmy Awards, Asner is the most honored male actor in the history of this Award. Mary Tyler Moore also won seven. The most Emmy Awards were won by actresses Cloris Leachman and Julia Louis-Dreyfus, who both won eight. Asner also won five Golden Globes.

In 1981-1985, Edward Asner was the President of the Screen Actors Guild for two terms. Through the years, the actor was also known as a political activist. Asner also was a member of several nonprofit organizations, including being on the Entertainment Board of Directors for The Survivor Mitzvah Project, an organization which is dedicated to providing emergency aid to elderly and impoverished Holocaust survivors in Eastern Europe. He also was a board member of Defenders of Wildlife, which is a wildlife conservation organization.

In 1992, Asner got a Star on the Walk of Fame in Hollywood.

In 1996, Edward Asner was part of the twelfth class that was inducted into the Television Hall of Fame, along with writer/producer Steven Bochco (Hill Street Blues, NYPD Blue, L.A. Law), production duo Marcy Carsey and Tom Werner (The Cosby Show, Roseanne 3rd Rock from the Sun, That '70s Show), journalist Charles Kuralt (CBS News Sunday Morning), actress Angela Lansbury (12 seasons Jessica Fletcher in Murder, She Wrote), producer Aaron Spelling (Charlie's Angels, The Love Boat, Dynasty, Beverly Hils, 90210, Melrose Place, Charmed) and talent agent/studio executive Lew Wasserman (MCA/Universal).

In 2002, Edward Asner received the Lifetime Achievement Award of the Screen Actors Guild.

The webmaster of Grand Slam * Stats & News extends his condolences to the family of Edward Asner and wishes them a lot of strength with this big loss.

(August 30)